Hello, my dear deviants! My name is Mariusz Meus, but please, call me
Dan Gref
.
I'm from Poland where be dragons, and I live in dragons' city - Kraków. So I have enough reasons to love this incredible creatures! I even have at home one of them. You don't believe? So... just look at my arts where you can see my little friend, who I have found at April 21th 2013, as a small black egg. His name is
Toother
(in polish "Zębatek") - he has hatched out on June 6th 2013. He belongs to Night Furies group, but in fact, he is a Carpathian Fury.
On my page you will see a drawings on which I will show you our common live...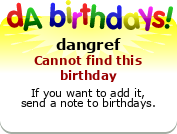 Get a FREE visitor map for your site!
My personal profile:
www.facebook.com/dan.gref.96
My geodesic action page
www.facebook.com/pages/Honorowy-Południk-Krakowski/
www.pinterest.com/dangref96/
dangref.tumblr.com/
Favourite Visual Artist
Salvador Dali, Alphonse Mucha, Zdzisław Beksiński, Antonio Gaudi
Favourite Movies
Fountain, 12 Monkeys, Fight Club, Sunshine, Long time since (Jay Anania), How To Train Your Dragon
Favourite TV Shows
House MD, Vikings, Battlestar Galactica, Maried with children, Red Dwarf, Sailor Moon,
Favourite Bands / Musical Artists
Shania Twain, Daft Punk, Hans Zimmer, David Guetta, Łona, Audiomachine, Sting
Favourite Books
Chronoliths, Diuna, Król Bólu (King of Pain), Lód (Ice), W kraju niewiernych (In land of infidels), Solari, Powrót z gwiazd (Back from the stars), s,
Favourite Writers
Jacek Dukaj, Stanisław Lem, Frank Herbert, Adam Mickiewicz
Favourite Games
Contra , Super Mario Bros,
Favourite Gaming Platform
-
Tools of the Trade
Pencils, Ink pens
Other Interests
Drawing, writing a SF stories, geodesy, propheties, astronomy