Ok so apparently NyxTheShield, who writes songs for the famous series "Glitchtale", used my Jevil art (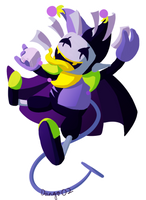 ) for a video two months ago AND NO ONE TOLD ME!
Just want to be clear. I'm not mad or anything. I'm just REALLY surprised! I got credit in the description and I really appreciate it if someone wants to use and credit my art but please PLEASE I'M BEGGING YOU tell me if you want to use it and ask for permission!!
It's kinda scary for me to find my art on other accounts or social media, even with credit given. A simple comment saying "Hey, I want to do that and that, could I use your art please?" would be enough and I'd be really thankful!

So yeah! It's now 1:33 am but now I'm totally awake because of this... Dunno how to feel about this but its also nothing bad. I just REALLY want to be informed if someone uses my art. Thx!
Have a good night!
Dango02