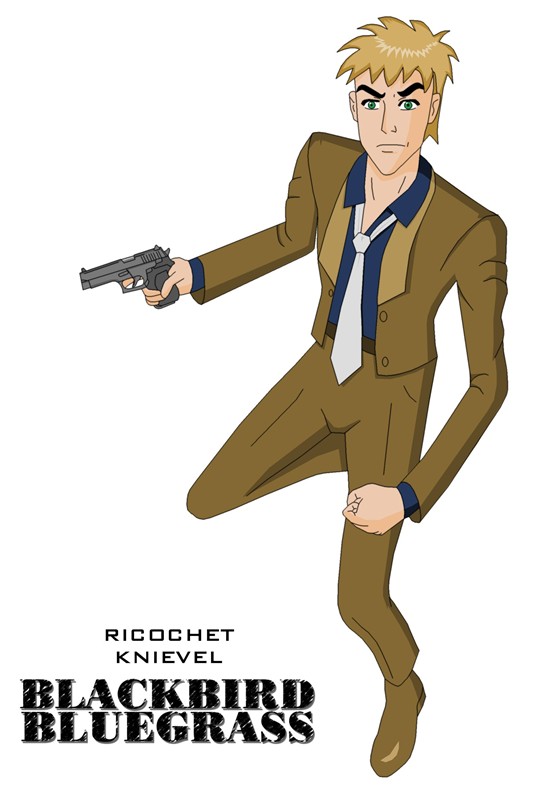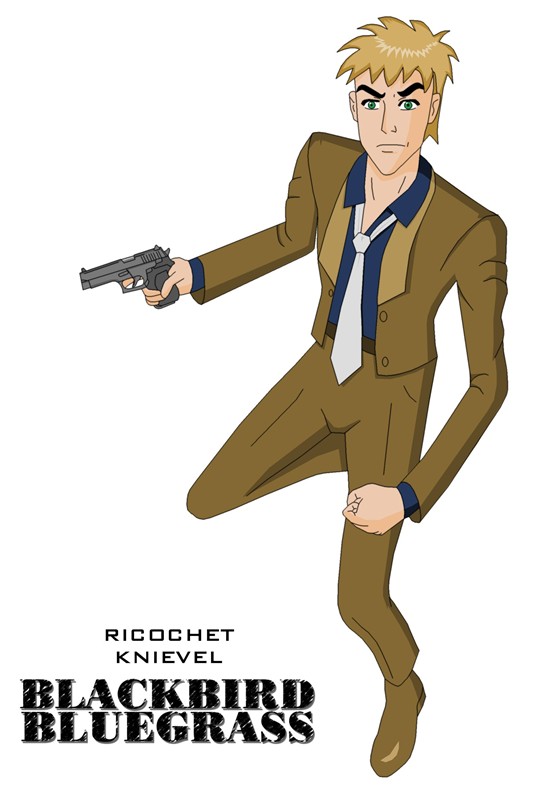 Watch

title and character: color refined rendition of
Ricochet Knievel
from
Blackbird BluegrassABOUT BLACKBIRD BLUEGRASS
Blackbird Bluegrass chronicles the adventures of two globetrotting bounty hunters Ricochet Knievel, a disgruntled ex-Navy SEAL, and Stacy Lovejoy, a beautiful and sexually-dressed former Vegas magician with incredible powers.
Together with hotshot stunt pilot and cold war vet Ace Jackson and half-human, half-android living computer A.L.I.C.E., they roam the world in the Bluegrass (their heavily modified SR-71 Blackbird reconnaissance jet) in search of wanted criminals for big rewards. From thieves to terrorists, serial rapists to super villains, Ricochet and Stacy will stop and nothing to bring the bad guys to justice and collecting a lot of bucks while doing it.
Ricochet Knievel
- Ricochet Knievel (formerly US Navy Lieutenant Junior Grade Sonny Bridges) is the son of a New York-based Mafia don who wanted to get away from his dark past by joining the military where he became an ace FA/18 pilot and decorated Navy SEAL. While stationed in Afghanistan, Ricochet discovered that his unit's commander, who later oversee operations in Iraq, made a deal with several Afghan Opium warlords, who were notorious for their human rights violations and brutality towards the local population, to help expand their heroin-growing operations in exchange for turning in terrorist suspects. On the verge of exposing his commander's corruption to a military court, Ricochet was double-crossed by his unit and engaged in a violent shootout that nearly left him for dead. After recovered at a local village, Ricochet went AWOL, change his name and identity, and returned to America as a drifter. He later joined a disgruntled ex-CIA agent named
Ace Johnson
and together they opened a bounty hunting operation.
Ricochet is a lost soul, having an intense hatred for government policies and is cynical when it comes to cooperating with authorities. He also has a hard time reconciling with his estranged wife (whom he married in his first year in military service, but never communicated much when he came home after the fateful incident in Afghanistan) and son. Despite being the resident troublemaker, he sports a cool and carefree attitude, yet is a cover for his hidden rage and an overwhelming sense of justice. He is a chain smoker and has a serious gambling addiction. His favorite hobbies are listening to bluegrass music, playing pool and sports betting. His favorites are instant ramen noodles and salted pretzels.
As a former pilot and Navy SEAL, Ricochet has experience in several combat fields, including aircraft piloting, survival tactics, field medicine, close-quarters combat and reconnaissance. He is a black belt in the same disciple of Kung Fu as famous martial arts star Bruce Lee, and is also experienced in amateur wrestling. He is a qualified expert with small arms and sniper rifles; his preferred handgun is a Sig-Sauer P226 9mm. He is also experience in advanced driving techniques and high-speed pursuit. His drives a 2009 Chevrolet Camaro, modified by his friend Ace Johnson and fitted with front bumper EMP (electromagnetic pulse) harpoon guns (used primarily to law enforcement as an effective anti-vehicle armament) and smokescreen containers for defensive purposes.
Inspirations/influences
- Spike Spiegel (Cowboy Bebop)
- James West (The Wild Wild West)
- Sonny Crockett (Don Johnson) (Miami Vice)
- Nash Bridges (Don Johnson) (Nash Bridges)
EDIT (2/29/08) - Updated character profile
Blackbird Bluegrass gallery