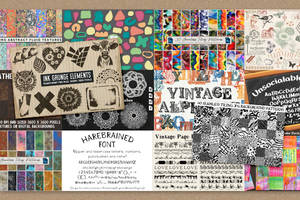 HG Designs Subscriber Area
Lots of high resolution goodies for graphic design including textures, photoshop brushes, seamless patterns and more.
---
Suggested Premium Downloads

Kirby Krackles Illustrator Brushes
Description
-- EDIT Feb. 7, 2020
This file works with all versions of Adobe Illustrator from AI 10 through CC.
EDIT LIST

I shortened the name from previous versions.
I cleaned up the description and removed old Edits.

Instructions are easier to understand.

New tips and tricks.

WHAT TO DO?

Download the AI file. (It might look like a PDF) It's for Illustrator, not Photoshop.
If you open it directly it will have the image above posted on layers. (With an old message from me on one of the layers.)
Don't panic! People used to complain that the file was just the image above. It's not.

WHERE'S THE BRUSHES?

The brushes are in the brush menu, play with them and see what they can do for you.
TRANSFER BRUSHES TO A NEW FILE-
If you want to use them in another document please follow these directions:
1- Place the file in your PLUGINS folder with your other brush palette plugins. Use as you would your other brushes.

Or-
2- OPEN ILLUSTRATOR
create a new document where you'll make your new art.
open WINDOWS
open BRUSH LIBRARIES
open OTHER LIBRARIES
browse for KIRBY KRACKLES FILE
open the file and only the brushes will open in a separate fly away menu box.
To move the brushes to your new document just click on the actual brushes you want to transfer.
If you want all of them just click on each brush and they will transfer to your new document.
TIPS:
SCATTER BRUSHES-

Use the top Scatter Brushes at the top of your Brush palette to create patterns or fill space quickly.
This is for filling big areas with a lot of random krackles, or creating the vacuum of space, or even making a choppy horror effect.

You can make a bunch, expand their appearance (Object-Expand), Use Free transform to stretch them into perspective. Make a cool effect!

Create circles and click on different versions of the brushes for radial versions and big explosions,
ART BRUSHES-
Use the lower Brushes to draw krackles at an angle. You can even make speed lines with them!

If you draw with the krackle brushes keep piling them on top of each other for a more intense effect.
TRICKS:

Make white krackles on top of black and create a different look.
Smaller, bigger, multi-color, just pile them on each other!

Vary the dot sizes with the stroke tool.
Expand your brush strokes and use Free transform for even more interesting looks.

ORIGINAL TEXT-
In homage to Jack Kirby-
I just created this brush set to do some cool energy effects for my new Marvel book..
I've applied it to some art from my Iron Man: Hypervelocity miniseries.
There are a bunch of brushes in the source file with various settings. I hope you get some use out of these.

THE BOOM BRUSH WORKS GREAT WITH A 5pt. STROKE ON A CIRCLE
Brian Denham
Want to buy me a coffee?