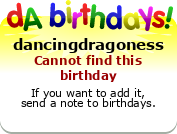 My Tumblr: dancingdragoness.tumblr.com/
My Twitter: twitter.com/DancingRyu



(Too much to deal with. Sorry.)


(Only as of right now.)


(Nothing more to say.)


(Same as with commisions.)


(I'm sorry. Not something I'd like to do as of right now.)


(I'm sorry, but kiribans are just something that I don't want to do.)


(If I have the time, I may make a gift for you.)

To do list:

Art trades:


- Her OC Kiata fav.me/d6d86pa as a dragon Status: Digital Art in the works.


- Her OC X-Spray fav.me/d5d9ofq Status: Line art in progress (halfway complete)

Please be patient with me when it comes to art trades. I promise my part will be done.

Fanfictions:

The Solar Blade Ch. 1

  Beaten and dying, the light of the sun shining through the "wonderful" world of the twilight that is now no more in the world of light.  Ganondorf lay close to death.  He began seeing a light much brighter than there was already present.
  "Well… I guess this is the end, isn't it?" he said quietly to himself.  He knew his time was coming to an end.  He felt lighter and lighter, as if his soul was separating from his body, but then that feeling reversed.  His soul was being pulled back in and the light was getting dimmer.  He was regaining his strength back, but how?  He opened his eyes and saw a familiar figure.  He was wearing a twili helmet and a cloak which blow in the wind as he hovered over Ganondorf. "Zant?" he asked.  The figure nodded his head.
  "My Lord, I have saved you from death, so that you may rise again," Zant said, bowing.  Ganondorf The Solar Blade (I'm very sorry, but this fan fiction will most likely not be continued. (If I do by some amazingly slime chance continue it, the story will be rewritten so that it doesn't seem like I'm just repeating and/or ripping off one of the games' story and for creativity and originality). I will leave up what has already been written for all time's sake though. Please note that I wrote this fic years ago so the writing is sub-par in its current state.)

Animations:

Wolf Run Cycle (In Progress)

Stamps!





























: