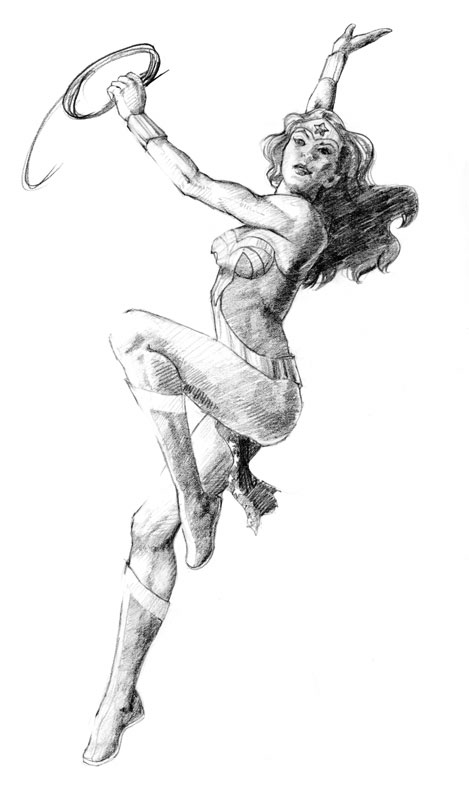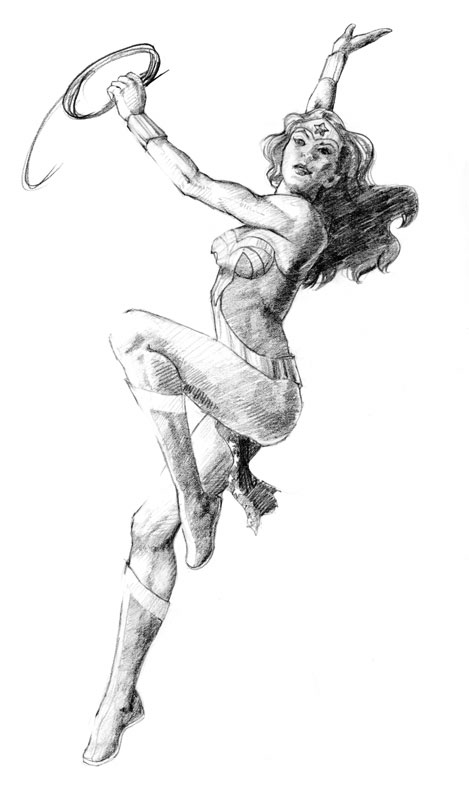 Watch
I decided to take a few liberties with my Figure Drawing I assignment. The prof will probably have my head for this, but I couldn't help myself. I don't want to be a Fine Artist who displays in Galleries and is Serious All the Time. Because that, my friends, is something I find deathly dull. Therefore...Wonder Woman.

This was referenced from a photo by Mark Smith from the book The Figure in Motion.

so thats where i saw this pose. i bought that book yo. its a kick ass book.
Reply

I love this! You chose a great reference pose and your pencil work is just beautiful. Excellent shading and such energetic lines. She was one of my favorite characters growing up. Your professor is crazy.
Reply

HAHAHA

holy shit, who broke her underroos? Was that before or after they tied her up? ;D
Reply

Excellent job. Very lively drawing. I wonder if the reason superheroes started wearing tights in the first place was that artists like to draw detailed anatomy.
Reply

Thank you. Superheroes wear spandex because nude or nearly nude bodies can be drawn faster than the complex swirls and folds of loose clothing. Artists are always looking for shortcuts if there's a deadline looming.

Reply

Haha, now this is quite a figure study.
Sexy and the proportions are awesome, really nice work.
Reply

Gorgeous! This could easily be a cover for a comic book!

Reply

I hope your professor can look beyond the choice of drawing something from (OMG the humanity!) a comic book to see that you've done an excellent job on this piece! Beautiful! Her left foot seems just a touch too short... but her face and the pose you selected from your reference really capture the essence of this superhero

Reply

Oh bugger. You're right about her foot. I had that class today, so it's a bit too late to fix. Prof made the sort of face that happens after you bite into something a bit past the expiration date, and said "So you like that illustration stuff, hmmm?" I've got illustrator germs. You do too. We must remember not to cough on anyone. It could be catching.

Reply

LOL, illustration germs! I had similar problems with most of my teachers. I did a huge watercolor painting based on the Kabuki comicbook by David Mack, and my teacher (the department head, at that) was... tolerant of my ways, at least in public. She told me it disturbed her that I drew so much fantasy-themed artwork. So much for self-expression and drawing what you love. Not in art school, anyway

*coughs in your teacher's direction* Coooooties!

Reply

I love it! If I were your professor I would reward your intresting choice of subjects for the assignment. WELL DONE! A+ from me

Reply