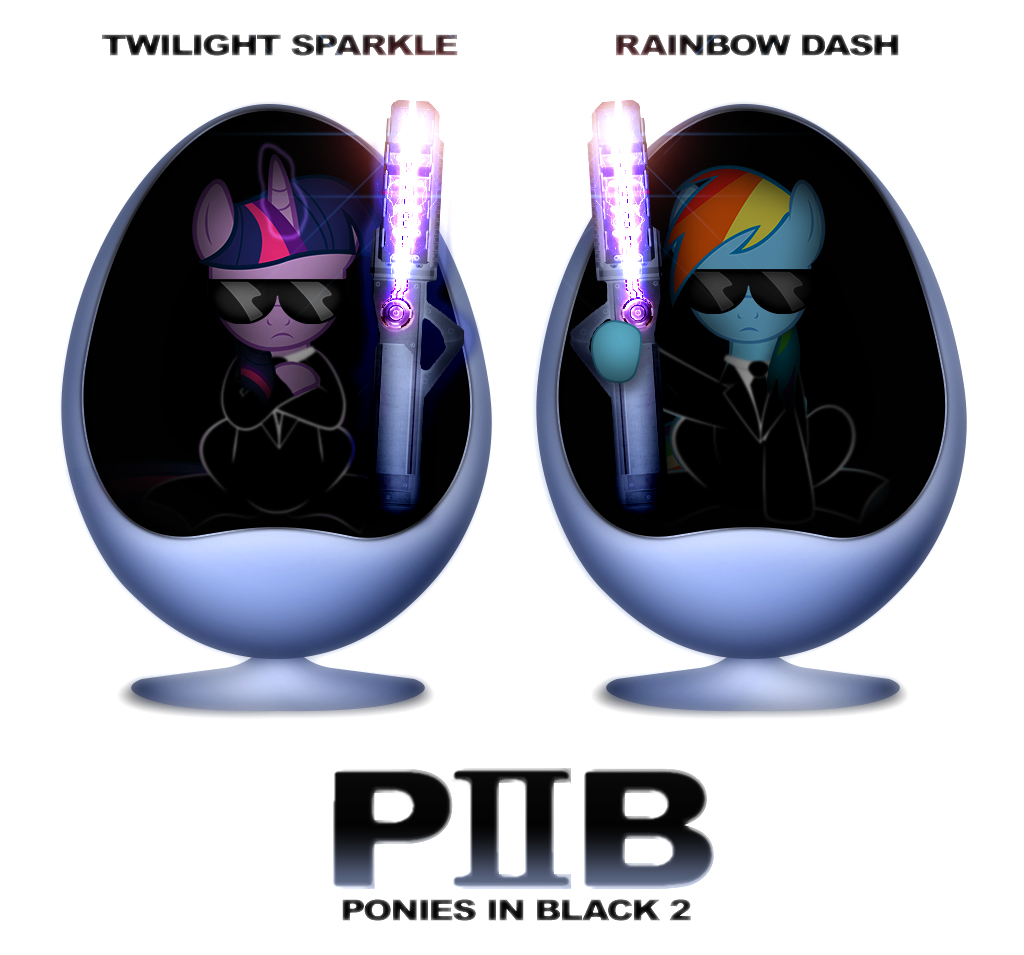 Watch
Some fitting music for the image:
www.youtube.com/watch?v=pNneuB…
PIB Ponies in Black 1:
PIB Ponies in Black
PIB Ponies in Black 3:
PIB Ponies in Black 3
As the moon rises in Equestria and the sun sets all is quiet but one mirror antique store is disturbing the peace with magical glow coming out of one of its mirrors. Suddenly Sunset Shimmer jumps out of the mirror in human form. Well this wont do... - she looks at her self, and starts to magically change shape in to a pony. The moment the transformation is over out of nowhere a unicorn thug jumps at her from behind with a levitating knife at her throat. - Well hello there beautiful you taste good. One of Sunsets Shimmer hoofs turns back in to a hand a grabs him by the head. Magic energy starts to flow out of him is he falls to the ground colorless and grey. Thanks, you to - Sunset Shimmer smiles...
Rainbow Dash and her new partner wearing all black are walking over to old house in Ponyville. Hey freak open the door! - the partner bashes it with his hoof. Now Jeff lets take it easy, his new and very stupid - Rainbow Dash cautiously says wile giving a bad look the her partner. A loud obnoxious snarl comes out of the door. Hey we don't have all day you freak come on - the partner keeps yelling. Suddenly the door slams open to reveal a huge muscle bound human - Jeff Smash puny pony!!! - he yells slamming them both with his fists. Rainbow falls to the side as Jeff charges over to her partner full speed. Boy Jeff you've been working out - Rainbow takes out a small magical energy gun and shoots at Jeff's feet - Don't make me do this Jeff! Go back to your house! Your roaming privileges are over and think about what you done. Jeff snarl's and slowly turns in to a pony walking back inside the house. You hurt? - Rainbow help's her partner up. Just my pride. - The partner gets up with small moan - Come on lets go for a snack.
Both of them sit in a small restaurant eating apple pie as Rainbow asks - why did you join? I like the glory i like the action. - The Partner answers confidently. You want to be a hero? Well tell me something, have you ever herd of a pony named Rainbow Dash? No. Well she saved Equestria from a Brony invasion two years ago, if you want to be a hero your in the wrong business. - Rainbow takes out her Neuralizer and flashes it on him - go home, have a family.
Rainbow walks in to a big room with a huge ventilator to the side of it. Morning Frank - she greets the bum pony that sits there and reads some torn up magazine. Morning, i see you lost your partner... again - he says barley looking up at her. Bite me Frank! - Rainbow responds with annoyance entering the elevator. Rainbow enters the PIB HQ walking to Celestias offices. I said im busy! look you try raising the sun every single day will see if you got the time for parties. - Celestia yells with anger in to a phone. Oh its you. So is Jeff taken care of? - Celestia looks up at Rainbow - wheres your new partner? Let me guess. You Neuralized him?
He was no good ran in there like an idiot and disturbed Jeff - Rainbow Dash explanes. That maybe true but you still need a partner. Look i have a new assignment for you - Celestia levitates a small picture of Sunset Shimmer in-front of Rainbow Dash.
Rainbow Dash: Didn't Twilight took care of her along time ago?
Celestia : Yes well she didn't finish the job, something about friendship, i don't know. Any way shes back and shes looking for the elements of harmony again. She has gown more powerful, shes one of the rare humans with magic abilities and from what our intelligence tells us she amassed a human army at her command. All she needs are the elements of harmony witch i gave to Twilight before YOU Neuralized her to.
Rainbow Dash : Look she asked for it, she couldn't take the pressure anymore so i helped her out.
Celestia : Where is she now?
Rainbow Dash: She works at the post office with Derpy.
Celestia : Bring her in, Now!
Rainbow enters a small post office in Ponyville where an unusual amount of ponies line up in-front of Twilight. Good ponies of Ponyville, id like to have you attention please. in order to facilitate your shipping needs , id like to remind you that all packages must be properly wrapped, this is and example of go home and do it again. - Twilight levitates up a badly wrapped gift basket.
Rainbow Dash : Twi.
Twilight Sparkle : That's Miss Sparkle to you slick, packages go to box over there.
Rainbow Dash ; You don't remember me but we used to work together.
Twilight Sparkle : I never worked in a funeral home is there something i can do for you?
Rainbow Dash : Ok straight to the point then, im part of a secret organisation that monitors humans in Equestria you used to be an agent and i need your help.
Twilight Sparkle: There is a free mental clinic two blocks from here. Next!
Rainbow Dash : I have no time for this.
Rainbow Dash walks over a small table and raises it above the ground to revel Derpy but with two human hands throwing paper packages with extreme speed while eating a muffin. Twilight in a calm but shocked state walks over to her and takes he muffin away. - no eating in the work place!. Well that explanes the weird eyes.
Derpy: I was one of the early ones they gave me defective spell. Witch by the way when are you going to fix it?
Rainbow Dash: We are working on it but we currently have bigger issues.
Derpy : Typical PIB.
Rainbow Dash : You coming?
Twilight Sparkle : Fine fill me in on the way.
Rainbow Dash and Twilight walk over to a black flight carriage.
Twilight Sparkle: Where are the Pegasuses?
Rainbow Dash: We don't need no Pegasuses. - Rainbow Dash smiles
They both get in as the carriage transforms into a small get.
Twilight Sparkle: what is this!
Hold on to your plots! - Rainbow Dash yells as they blast off at mach 2 speed.
Hello my little ponies! - Sunset Shimmer blows threw PIB HQ doors. Ponies in black rush at her but she blasts them away while some ponies from behind turn in to humans and grab the remaining agents. Sunset shimmer walks in to Celestias office. - well hello there no time no see. Sunset Shimmer levitates Celestia off the ground by her neck. Where are the elements of harmony?
Celestia spits in her face - i wouldn't tell you even if i did know. Scum like you are why we created the PIB.
Twilight Sparkle: EAT FRIENDSHIP!!! - a blast of magical energy blows Sunset Shimmer away from Celestia. - Step away from the princess. - Twilight says holding a huge smoking Magic particle canon next to Dash. Twilight reloads as a big magically infused shell drops on the ground.
Rainbow Dash : Shes not so tough.
Sunset Shimmer gets up squishes the gun with magic and levitates Twilight in the air. - Well , well , well its been a long time, you never call, you never wright, what did i do?
Twilight Sparkle struggling - How about trying to take over Equestria ... Twice.
Sunset Shimmer: You cant let small things like that ruin our friendship Twi.
Twilight Sparkle: We are not friends.
I am going to enjoy this - Sunset Shimmer starts to suck out Twilight's magical life force.
Rainbow Dash : Hey two legs!
Sunset Shimmer looks over at Rainbow Dash and laughs. - What are you going to do? You don't even have magic.
Rainbow Dash : No. But i do have good old fashioned brute force! - Rainbow Dash blasts with a sonic rain-boom at her with full speed blowing her through multiple walls away from PIB HQ.
Twilight base vector:
Unamused Twilight
Rainbow Dash base vector:
mlprainbow.com/2013/04/08/quel…