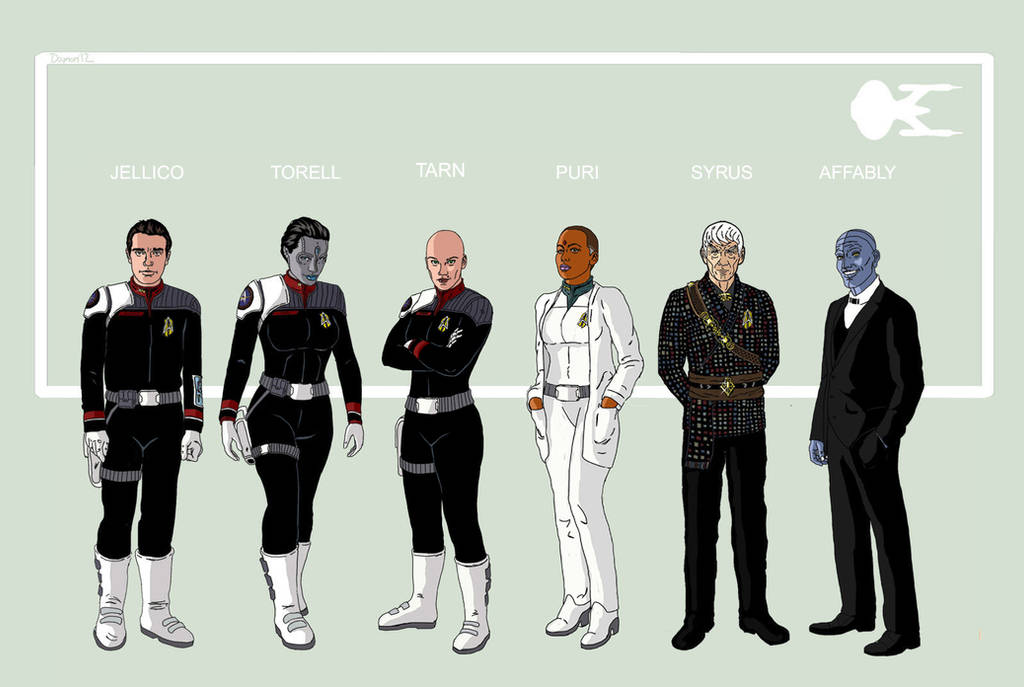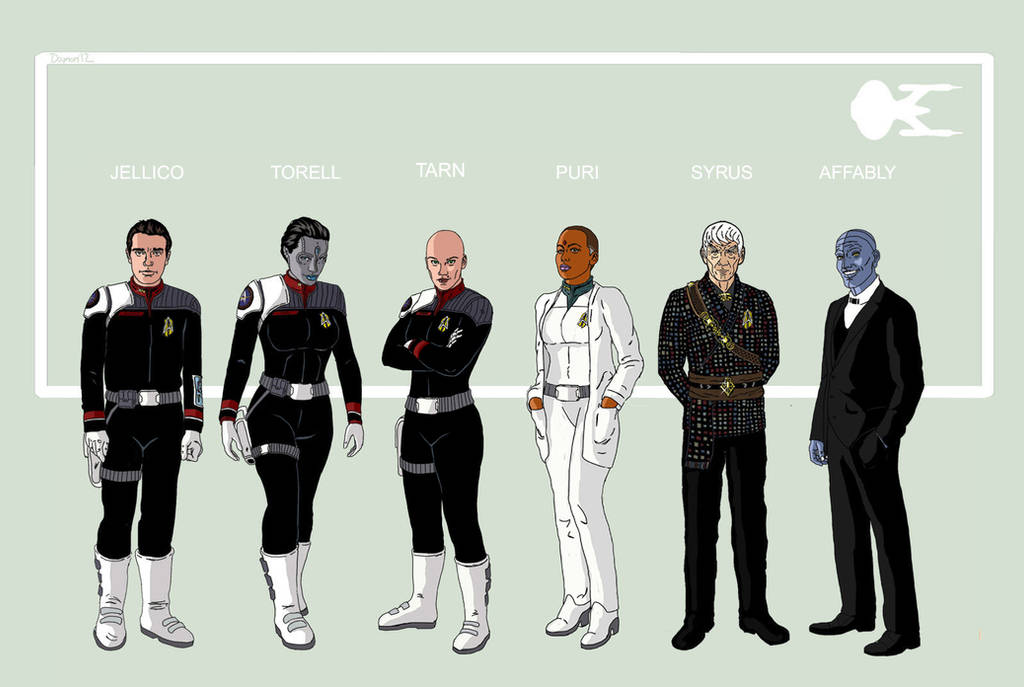 Watch

Geniale Fortsetzung von Teil 1! Sie sind wirklich alle supergut geworden und sehen nicht nur interessant sondern auch lebendig und individuell einzigartig aus.. rundherum wundervolles Charakter Artwork!
PS. Bei den Augen ist es sicher der beste Navigation Officer der gesamten Flotte! XD
Reply

Vielen lieben Dank

Und ja, Que-Kekh ist wohl der Hypnotoad von Star Trek. Wäre sicher der ideale Verhörmeister. Er müsste einen nur anstarren. Die reinste Folter

Reply
You've done a wonderful job here.

I looked at the other part of this as well, and what I see here that I really like is that this version of Starfleet seems a bit more prepared to be a
military
, which is certainly a reasonable consequence of the devastating war the Federation went through in DS9. Even the patch, which goes back to ENT, is a nice touch because it looks more like the militaries of today. That armor on the shoulder is a bit Storm Trooperish, though.

I like that you don't over-rely on humans--after all, you don't have a TV budget to be concerned about, so you can be more "realistic." And even the humans you
do
have come from diverse cultures, and that's another plus.
The characters themselves are drawn very well. I love the Cardassians!
The one flaw I see is that it seems like you aren't quite consistent with the size and proportions of the comm badges. But overall, I like it!!

Oh, and I'm also curious about that Bolian executive. I take it you do not see the Federation as having a Communist society--even with the lack of money. I wonder how that works...
Reply

That's excellent work, I love the Cardassian, have the Cardassian's joined the Federation or something?

Reply

Oh my god. That is seriously awesome. (And it's a Cardassian!

)
Reply

Jellico Jr., eh? I wonder if he's as much of a likeable hardass as his dad was, lol. I thought Jellico Sr. was the best role actor Ronny Cox had second only to his villain part in Total Recall.

Que-Kekh's eyes...they're staring into my soul... O_O
Reply

I agree. I really liked Cox as Jellico. It was a differend kind of character and he brought a bit of fresh air to TNG, much like Ro Laren. I always enjoy Jellicos appearances in the books. Jr. is not such a hardass, he's not even an especially good officer.
And yeah, Que-kekh is pretty much the hypnotoad of Star Trek

Reply

Hopefully, Eddie is more mellow than his dad. Cardassians look pretty good in the Starfleet uniform. A couple of the aliens appear to appear to be original creations, which makes sense since every Star Trek series introduces new aliens to its cast. The Bolian in the suit intrigues me; I wonder what his story is. Did his company have a hand in designing part of the Enterprise G perhaps?
Reply

I have to wonder if Jr. is anything like his father.
Reply

Reply