Hanna Semaan
Hanna Is My Name And Nope I'm Not A Girl.
Art Director, Working In Advertising, Dubai.
It's Nice Except For The Fact That I Don't Have Neither Time Nor Energy To Practice My Photography Or Other Arts Anymore.
Trying As Much As I Can To Stay Connected With This Side Of Mine And Snap A Picture Or Sketch A Drawing Every Now And Then.
Enjoy Your Journey Into My Gallery.
Cheers : )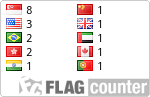 Current Residence: Lebanon
Favourite genre of music: SymphonicGothicDoomBlackDeathMelodicVikingMetal
Favourite style of art: Abstract
MP3 player of choice: iPod
Favourite cartoon character: Jerry
Personal Quote: What'sDoneIsDoneJustLeaveItAloneAndDon'tRegretIt