"You're taking me to him, right?" Moriz asked when they'd passed the lab and entered the mostly deserted hallway that led to the north wing. Moriz still remembered the route. On the left was a small kitchen with a coffee machine and a fridge. Ahead was the double door that led to the north wing.
"Yes," Vasiliev answered. He paused for a moment and raised an eyebrow. "How so?"
"It's nothing," Moriz smiled. "I've just been mistaken about the layout."
Though Moriz was very sure his memory was accurate. There was activity elsewhere. He felt it, just like he felt that the shadow still followed them. It observed them from a distance, both curious but hungry at the same time.
"Hey" a small voice sounded. Moriz felt a cold breeze on his face. Something pulled his coat. He turned around to look straight into the face of a little boy with large dark eyes. The child was at least as surprised as he was. "You can see me?" he noted.
Moriz felt it slide over his skin, the feeling of electricity. It was cold, but at the same time it burned the thin hairs on his arms when it hit him. The air suddenly felt heavy, burning like fire. Moriz gasped. His mouth filled with the taste of metal. He swallowed.
"I'm scared," the child whispered, his narrow fingers clasped tightly around the fabric of Moriz's white coat. His pale skin was almost the same color as the fabric of his coat. The child glowed. Everything about him, not just his skin. His energy felt strange, distorted, incomplete.
"I want to go home" he whispered. "When can I go home?"
As soon as you get better, Moriz remembered his answer from last time. The same answer as he always gave the children at the hospital to calm them down. Those same words lay on his lips again. A lie. He swallowed it.
"I don't know" he answered instead.
It was too intense, that feeling around his body, and the way that child stared at him. His stomach felt heavy. He felt like throwing up. The next moment something broke inside his head. The icy cold was broken by a warm feeling that found its way down to his chin. Red drops fell on his coat. And suddenly Vasiliev was there again.
"What's with you?" the neurologist asked, clearly worried.
"I --" Moriz wiped his hand under his nose. He felt light headed. "A nosebleed."
"Sheesh! You too?"
5178 was a dark year.
From my Emion (not so) short story called "5175"
If you like the stuff I do and want to support me, please
buy me a coffee

Moriz and Fourteen from my
Emion
project.
More about him here: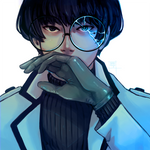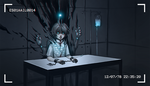 More from this project: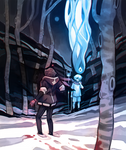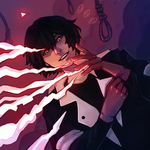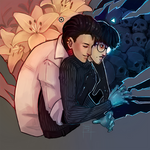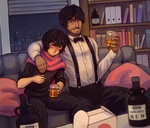 Find me here:


Buy me a coffee

www.facebook.com/DamaiMikazArt

www.instagram.com/damaimikaz/

twitter.com/DamaiMikaz

www.youtube.com/user/DamaiMika…

F.A.Q.