Even long after the events in 5178 it kept haunting him. Feelings of guilt over what happened, perhaps? For the people he couldn't save? Was he still capable of having such feelings, even after all they did to him?
Work in Azatz wasn't the same after the disaster. On the outside it remained. The same cold and endless nights of snow, the same long days spend in his lab working on his research. Trying to decipher the data on the black box. But the few precious remaining vials of blood gave him an eerie feeling as he held on to them. As if he were being watched. As if something was looking down on him, watching his every move, judging him. Moriz had never needed much sleep, but he had even less of it after 5178. When he did fall asleep, he had restless dreams about him wandering through a distorted landscape. A place that felt strange, but eerily familiar to him at the same time. At times he met those children. Fourteen -- He knew there was two of them now. One of them tried to approach him. The other, the one that wore the triangle, just watched. His stare cold and judgmental, as if he wanted to say "that's what you get for getting yourself involved, you foolish man".
The moral of the story: Don't mess with the triangles.
If you like the stuff I do and want to support me, please
buy me a coffee

Moriz and Fourteen from my
Emion
project.
More 5175: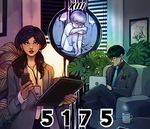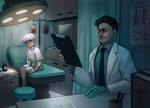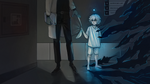 More from this project: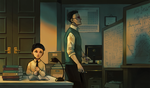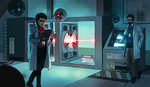 Find me here:


Buy me a coffee

www.facebook.com/DamaiMikazArt

www.instagram.com/damaimikaz/

twitter.com/DamaiMikaz

www.youtube.com/user/DamaiMika…

F.A.Q.
Image details
Image size
1400x823px 1.25 MB