Karim had to admit, he was hesitant about Sato. At first he confused him for a student. The kid really did look like one. Young, with a boyish face and a body too frail to really carry the weight of an aura. There was a point Karim doubted the kid even had powers at all. Maybe Neorasa was some kind of elaborate joke from a bunch or arrogant assholes that wanted to scare the world and earn some quick money. But Sato's powers didn't turn out to be a joke, and his approach to it was frightening. Karim was the empathetic type. He didn't like to hurt people, not even his enemies. He tried to avoid it at all costs, even if it meant he himself got hurt. Sato was the opposite. Cold, rational, almost ruthless. To say that Karim didn't like his approach was an understatement. But he did have skills, and over time Karim learned from him, just as Sato learned from Karim. It turned out the kid wasn't all bad, just hardened by many battles. A great ally, if you managed to stay on his good side.
If you like the stuff I do and want to support me, please
buy me a coffee

Karim and Sato from my
Emion
project.
More from them: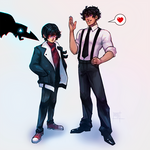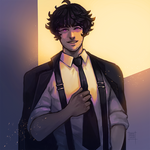 More from this project: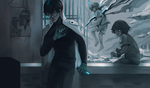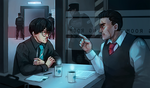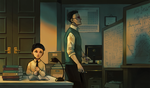 Find me here:


Buy me a coffee

www.facebook.com/DamaiMikazArt

www.instagram.com/damaimikaz/

twitter.com/DamaiMikaz

www.youtube.com/user/DamaiMika…

F.A.Q.
Image details
Image size
1300x1021px 1.47 MB