Another study I did on body language, focusing on the way hands are used to express certain emotions.
Hope it helps you out as much as it helped me when drawing these.
If you like the stuff I do and want to support me, please
buy me a coffee

More body language: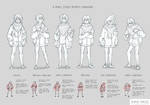 Find me here:


Buy me a coffee

www.facebook.com/DamaiMikazArt

www.instagram.com/damaimikaz/

twitter.com/DamaiMikaz

www.youtube.com/user/DamaiMika…

F.A.Q.
Image details
Image size
1800x1773px 1.55 MB