- How long have you been on DeviantArt?
Nearly 10 years. Seems like longer!

- What does your username mean?
Dalgoda was one of my favorite indy comics from the 80s, and I used to draw little cartoon heads of the character on napkins when I'd go to a restaurant. At some point I tried using it as a username on a website years ago, and was told it was not available, hence 'Dalgoda7'.

- Describe yourself in three words.
Cartoonist. Daydreamer. Obsessed.

- Are you left or right handed?
Left for mousing, right everything else.

- What was your first deviation?
A scratchboard of a theme I'd done years prior, combining Captain America with the Red Skull.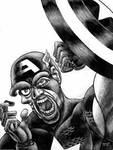 - What is your favourite type of art to create?
Fully inked & lettered comic pages, although I have to admit I really love doing cover recreation inking exercises even though they're not 'my' art.

- If you could instantly master a different art style, what would it be?
Digital coloring.

- What was your first favourite?
This 'beauty', I can barely remember that far back!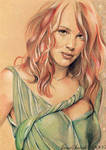 - What type of art do you tend to favourite the most?
I tend to favorite other black and white comic art the most, it's my favorite.

- Who is your all-time favourite deviant artist?
Huh, I can't pick just one, but over the years I think I've become pretty decent pals with cluedog , LarryKingUndead , besnglist , and curtsibling , exchanging art or collaborating on projects, etc. There are a dozen or so more folks on here where I like everything they do.

- If you could meet anyone on DeviantArt in person, who would it be?
At least the four nice folks above, along with a few more.

- How has a fellow deviant impacted your life?
LarryKingUndead and I have collaborated on what I would call some of my finest work to date. At some point we'll be printing that work as a book. I think that's a pretty decent impact! When I win the lottery, he's first on my list to bring into the comic book creator compound that I'll build in Portland.

- What are your preferred tools to create art?
Raphael 8404 brush, Koh-i-noor drawing ink, Strathmore 300 bristol paper. Photoshop, for constructing layouts.

- What is the most inspirational place for you to create art?
Just at my boring 'ol drafting table/studio.

- What is your favourite DeviantArt memory?
Getting a Daily Deviation for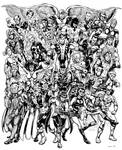 was pretty darn awesome.