I'm an 18 year old guy with blonde hair and blue eyes. My height is 6'2 and my zodiac sign is a Pisces.
I am currently living in Texas, I used to live in Las Vegas, Nevada and Southern California.

My favorite video games are Pokemon and Legend of zelda and my favorite anime's right now are Jojo's bizarre adventure, Kill la Kill, Gurran Lagann, etc.
My favorite Pokemon are Umbreon, Luxray, and out of Gen 7 Litten and Lugarugan (Lycanroc).

Favorite food: Pizza!

Favorite color: Blue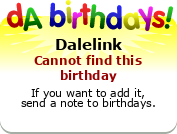 Yay!!
Pokemon:






Sonic:

:thumb286978422:
Zelda:




Anime: myanimelist.net/animelist/Dale…



Heres my Steam Account: steamcommunity.com/id/Dalelink…

Some other Anime's that I like:
Chuunibyou, Jojo's Bizarre Adventure, Serial Experiments Lain, Danganronpa

Some of my favorite games:
3ds/Ds: Legend of Zelda OoT 3D, Fossil fighters, Tomodachi Life, Pokemon Moon, Animal Crossing New Leaf
PC: Jet Set Radio, Stardew Valley, LISA, Cave Story, Sonic Adventure 2, Danganronpa: Trigger Happy Havoc


PS...If you give me a Llama or if I give you one don't expect me to reply to you or thank you for giving me one, I will just give you one back if you give one to me.