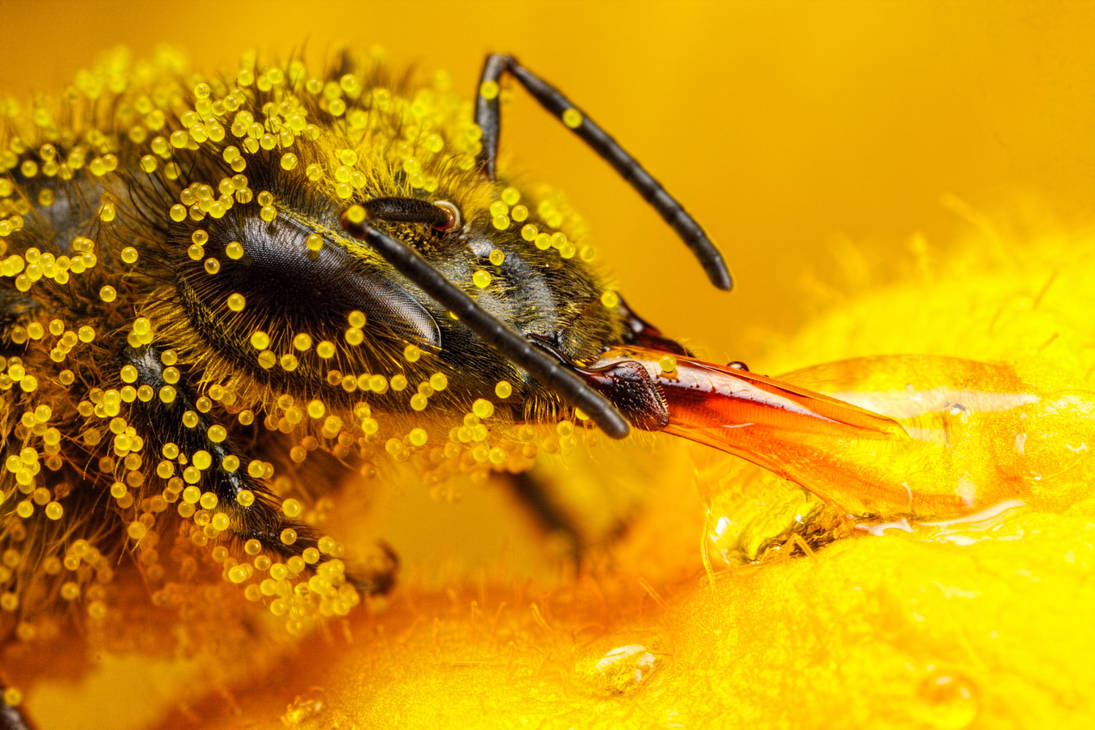 Inside a honeybee's proboscis is a pipe cleaner like appendage called the glossa (also called a tongue). The honeybee uses it to pull nectar up into its proboscis, and it's difficult to photograph since the bee is constantly moving it. But if you look closely at the honey drop in this image you can see it. Shot at twice life size this is a single, un-cropped, frame taken hand held.
Definitely a good piece, well in focus (could have pulled focus slightly further behind, so that the proboscis and glossa were more in focus), and no distortion/noise/fringing/aberrations which would distract from the main piece. colours are well suited, yet less flat yellow could have been achieved possibly from a different angle? It reduces the depth of the image, and considering its a macro, depth is quite important, the use of singular colour to make it striking is nice though. the black and yellow does add very nice contrast though.

Nothing original for subject matter, but nice thought to focus on the pollen on the hairs, so above average here.

Technique scores meh, cause bokeh! obviously this coincides with my previous point about depth and the over abundance of yellow, but the background needs more vividness, being a wildlife shot, its very tempermental to get a shot like this, so i cant be too harsh, if the yellow bee lands on the yellow flower with yellow pollen, well, you get the yellow shot.

Overall impact is good, but staring at this much yellow isn't as long lasting as an impact, especially if it holds little detail beyond whats in focus. The actual subject matter has very big impact though, especially the minute details of the pollen.

Overall? I like it, Id have it on my wall, though it trades background detail for colour vibrancy, and this would be alright if more colours were involved.

Conclusion: Bokeh, Slightly more thought of where focus should be, and colours.
The Artist thought this was FAIR
8 out of 10 deviants thought this was fair.