I pulled a muscle last week so I had to forgo my usual Tuesday antique store visit, but this week I resumed the pony hunt and I feel like I just hit the jackpot today. Just look at all these ponies!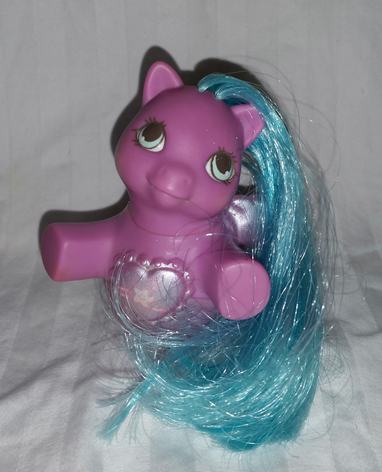 Baby Sea Shimmer! She's in great condition, just a few rubs on her tail but otherwise absolutely lovely.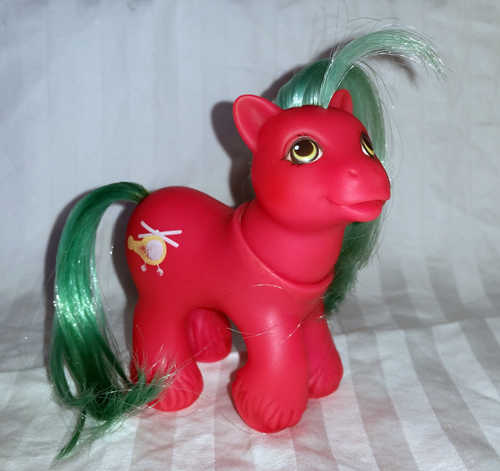 Baby Whirly-Twirl! I haven't found a G1 boy pony in the wild since I was 7-8 years old, so when I saw feathered hooves in a bag I was so excited I was shaking haha. He's in pretty good condition, although his symbols are sadly rubbed up. I think he might have some tail rust too but his head attachment is kinda scary to think about taking apart so I'll have to work up my courage to mess with it later, if I can.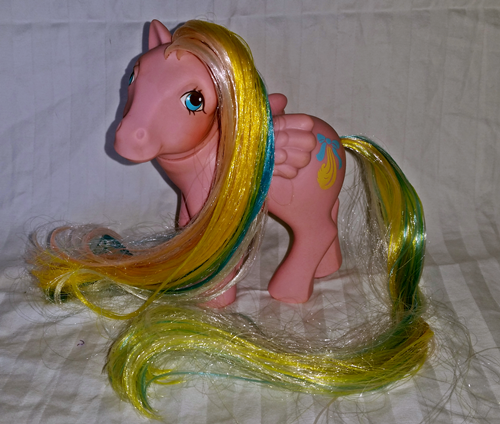 Brush 'n Grow Curly Locks! She's the very first Brush 'n Grow in my collection, and oh my goodness is she lovely. Her hair is silky smooth and still has some of that lovely pink to it (you can't see it very well in the photos, sadly), and as far as I can tell, neither her mane or tail are cut. Her symbols are perfect with no scratches or rubs at all! She's a little discolored, I think, and she has a couple unnoticeable age marks behind one of her wings, and a bit of ingrained dirt that I'm sure I could probably get out if I tried harder.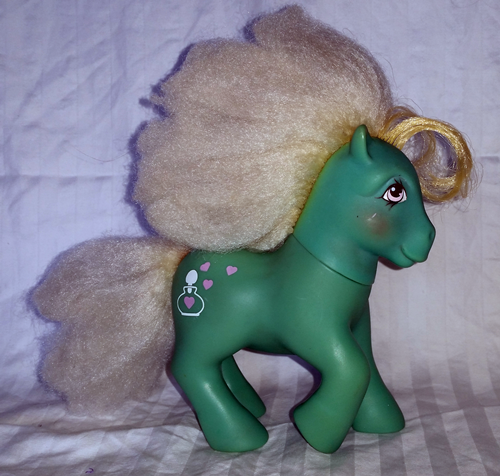 Perfume Puff Daisy Sweet! This poor gal has seen better days, but I don't care because I've always hoped to find a Perfume Puff pony in the wild and here she is! She's got some pretty bad discoloration, faded hair and a few marks.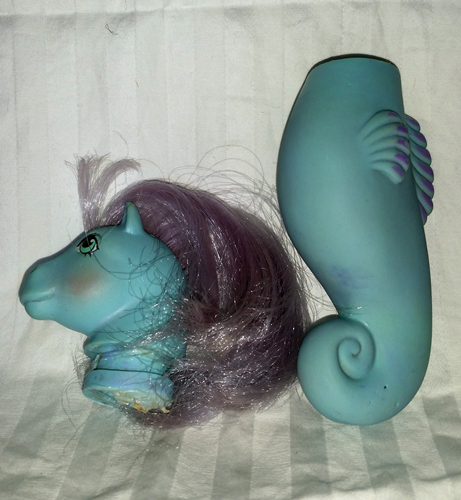 Lastly, I got Seawinkle (please excuse her beheaded-ness, I'm currently letting her dry)! I've always wanted to find a sea pony in the wild, ever since I was little. Today that dream came true! Now this was a pony badly in need of a good scrubbing. Her hair was badly discolored by the rust from her weights. Her neck plug was actually all torn up from part of the weight that had gotten stuck inside her head, and the weights themselves...yuck. The inside of both her head and body were completely covered in rust, but with a toothbrush, some soap-y warm water and a lot of patience, I managed to get her cleaned up pretty good! It looks like a cat might have gnawed on her a bit but that's okay <3 Below are some pics from before I cleaned her up.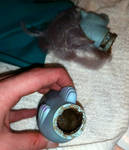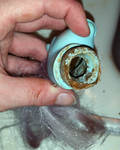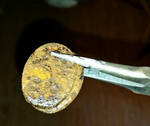 I also got my first Totsy fakie, and a Little Pretty Puppy Melody! The Totsy has some issues but the Little Pretty is lovely with just a few marks I think I can get out.