EDIT: Concept is released and can be seen here: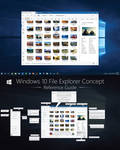 ALSO, A USERVOICE SUGGESTION HAS BEEN POSTED REGARDING IT, VOTE FOR IT IF YOU WANT! windows.uservoice.com/forums/2…

A journal for those who are interested, I am developing a NEW Windows Explorer concept. This new concept will be consistent with the OFFICIAL Windows 10 design language (as much as possible because the language is still kinda confusing and inconsistent here and there) and will feature a few new ideas that I have yet to see anywhere else (not saying this to brag, but to say that I'm not copying other people's ideas). The concept is the result of quite a bit of sketching, thinking of ideas, a bit of inspiration, and trying to figure out how to keep Explorer simple but also present a brand new overhauled design with fresh ideas.
The concept will take a few ideas from the V3 concept I designed a few months ago, but will feature a revamp. I.e. I will reuse some ideas but try and make things more streamlined, touch and mouse/keyboard friendly, and consistent with the new Windows 10 design.
V3 concept here: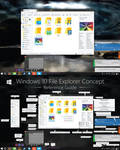 Sketch of some of the ideas (I know they're sloppy lol):