UPDATE, SIMPLINE OFFICE 2013 EXPANSION IS AVAILABLE NOW: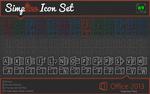 I'm working on a new icon set (probably)! I call it "Simpline" and it will (if the idea is popular) an icon set based off of the 'simple line' style that many companies and OS's such as Windows 10, iOS 8, etc. are doing lately.
My plan is to release different segments of the icon set in different deviations based on relation. What I mean: a release for Office 2013, OS-specific icons, social media, popular apps, etc. So that way it is more tailored for what you want. If you don't want, for example, OS-specific icons, you can just get what you wanted in the set, such as popular apps.

So each segment of the set will be in separate downloads!
I may charge a little bit of money for each set (depending on the amount of icons involved), I will not charge very much however.
I actually plan to release a Simpline set for Office 2013 VERY soon, perhaps even tomorrow!

Here's a sneak preview


I am
only
charging for the actual icons used. So in this case, there are 26 icons in
THREE
different styles! The icons will be in black, white, and colored. I will not be counting the other colors as separate or additional icons.


What are your thoughts/suggestions?
By the way, I am still working on my Simply Styled Icon Set, and that will continue for quite some time! In fact, look out for an update in the coming weeks.