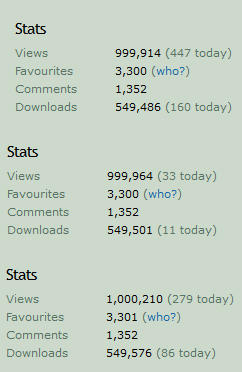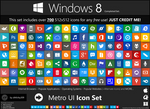 This is what I watched over the course of about 3 hours (and overnight). The first two statistics are from about a 3 hour difference (the days reset, that's why the number of views on the second stats image is much lower). The THIRD image is what I woke up to this morning! I meant to stay up until it happened officially but I forgot.
I cannot believe this has happened. I uploaded the set back in January of 2012 just for fun and I never would have imagined something I've made would become so popular. This set is what got me my start in graphic design and especially got me truly interested in graphic design. I originally planned on being a cartoonist. Before this set, I just made stuff cause I could, no experience, no training, just cause I had the software to do it. Ever since I was little I've wanted to make things! I wanted to make things look pretty, not just functional. On my first computer, a junky old Windows XP desktop computer from the late 90's, I spent many hours customizing the way it looked and felt. It was a lot of fun. Then I started trying to use Paint (a nightmare at the time) to make pictures. Then started designing cursors and soon, images like icons and stuff.
I was inspired to make this set when Windows 8 first was shown off by Jensen Harris on a Microsoft video talking about the Windows 8 Start Screen. I saw those, what I thought were, beautiful and colorful tiles and thought "I want custom Windows 8 tiles!"
So I searched far and wide across the internet expecting that SOMEONE would have made some custom Win8 tiles to download.
To my surprise... NO. I couldn't find a single Metro icon anywhere.
So I decided to make my own!
I used PowerPoint 2010 cause that's what I had at the time.
Using PowerPoint to originally make the tiles was quite a challenge, but quite a bit of fun too. No Illustrator, no image editing software, just PowerPoint and Photoshop to place the white icons on the colored background. I posted my icons to DeviantArt and they immediately got lots of views and downloads... and comments of people asking for more! So I gave 'em more as best I could with what I had!
Every single day since then, the Metro UI Icon Set has gotten anywhere from 400 to 2,000 views in a single day! There was never a day (except for the very beginning probably) that it didn't surpass 100-400 views in a day. That still runs true to this day. In fact, at the end of the day for the past couple years or so, whenever I check the set's stats, the counter was never below 400 views. I can't believe how that happened.
This is what gave me my start in freelance design and development of my graphic design skills. I took a few classes in school to teach me how to use the software and the rest was self-taught. I'm still taking classes on graphic design in college to further my skills in hopes of becoming a professional one day. It's such a blessing to see how all this has happened. God has blessed me with a plethora of things these past few years, really leading me into this path of what He apparently wants me to do, and something I love doing! I couldn't be more thankful.
Thanks for reading, and thanks for supporting me through all the tough times and good times.