The "Windows 10 Google" or "If Google Made Windows 10" project is taking off, and we are here with some more information and another teaser today, this time of a news app: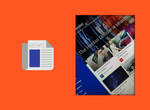 It's a little cryptic, we know, but maybe it'll give you some ideas.
Here are a few more important details:
1. Dates have been set. As you may have noticed, we have been following a weekly release schedule with updates being posted on Monday; August 10 was the official project announcement, August 17 was the Mail App teaser, and today, August 24, is the News App teaser and a bunch of more details. We will be sticking to that schedule, with a big release scheduled for September 7, where Phase 1 (see below) will be revealed.
2. We started the project with big plans and no real schedule. The one-release-per-week schedule was established as the concepts started being finished up (see above), and now we are starting to set longer-term goals. We have divided up the project into two phases.
The first phase is that of redesigning the desktop environment and apps and putting them into a first concept, with a bunch of teasers on the way. The release date for the final Phase One presentation is September 7th, so save that date!
The second phase is taking our desktop redesign work and shaping it into a mobile operating system. This phase will also include refinements to Phase One work and lots of other fun stuff. There is currently no deadline set for Phase Two.
The third phase is a broad one that is completely open as of right now. We have plans for a video series explaining our work, as well as a behind-the-scenes "making of" video with all of the software that we used and the process of doing the project. We might even mock up some concept hardware to launch on. Keep tuned in general for updates on this.
3. We are open to suggestions! If you have any ideas, please leave them in the comments below! If we use any of your ideas you will be credited!
Keep tuned for a lot more that will be coming!
Windows 10 Google Project Team
wwsalmon
,
Kamalq97
,
DriftShift
,
dAKirby309
,
DaKoder