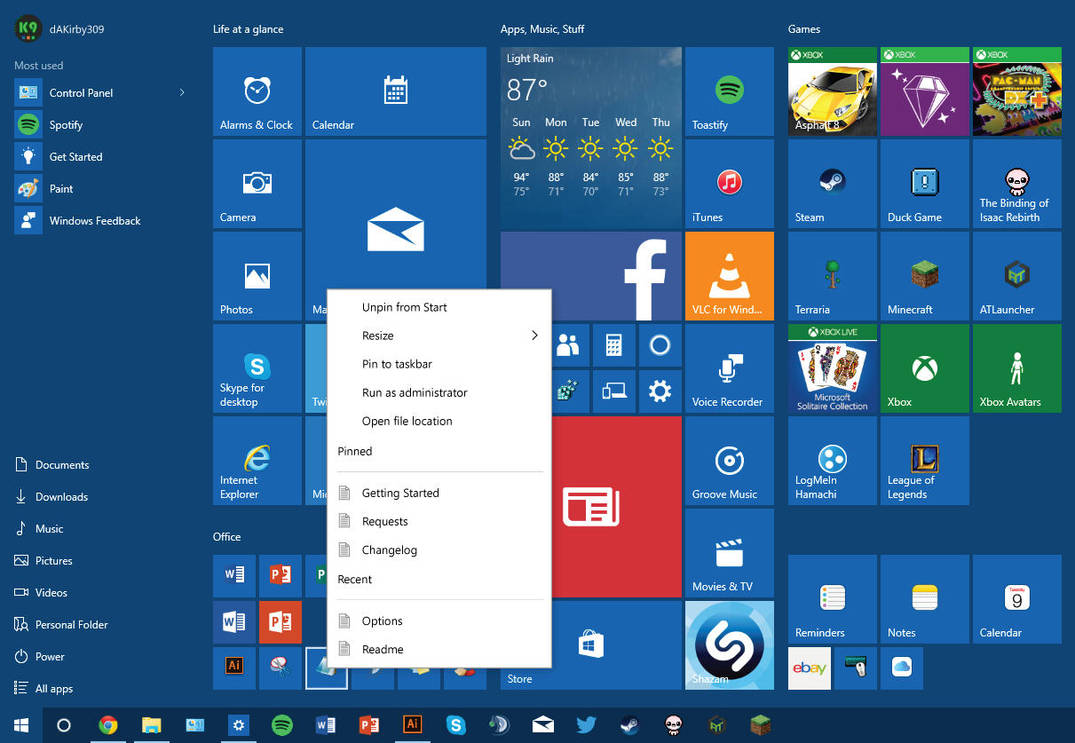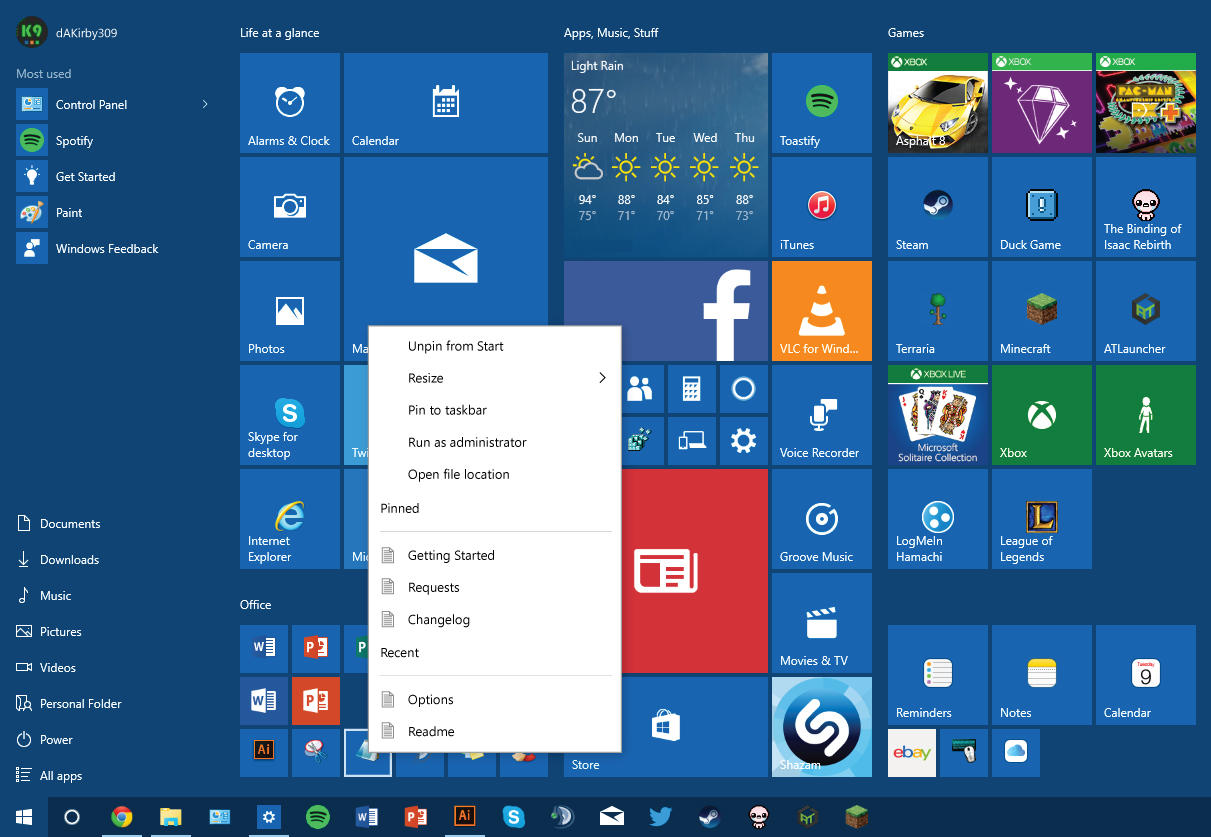 Watch
UPDATE: Windows 10 now officially supports jumplists in the Start Menu!

I don't know about you, but I think that right clicking an app pinned to Start (or even an app found in the All apps area) should show the jumplist for that particular app. This would be especially useful if you don't have that app pinned to the taskbar but still want to quickly access some recent or pinned files from the app.

Another part of this right-click menu concept includes, as you can see, a more consistent color/layout design rather than those dark grey colors that really don't go with the OS at all (except for maybe dark mode).
Anyone think this should be a thing or have any suggestions?

File Explorer concept (V4): fav.me/d93y6td

Reply

New build (10532) adds improvements to context menus, especially right click start (windows+x)
Reply

I heard about this, have you tried the build? I'm really excited about this context menu update and the colored title bars!
I doubt they will implement a right click jump list but making the context menu consistent is fine! Thanks for the info

Reply

Its great, they made context menus bigger and easier to read. And right clicking on taskbar is colored menu
Reply

Reply

I'm either missing it or Microsoft needs to build in a native way to change app icon tiles for the start menu. Seriously "Here's a much larger Icon but its the same small crappy icon if its an application and not an app." They need to tar and feather the MS team that over looked something so integral to there design idea.

:::EDIT:::

Also the Power button not being at the bottom really gets to me for some reason
Reply

Love it, black theme as well?
Reply

It would be nice that the context menu colors would change across the ENTIRE OS to a dark color when using the dark theme (probably best to be optional because some people won't like dark menus). But yes, this ought to have the current dark grey color rather than white when using a dark colored theme.
Reply

It seems that MS is now officially doing this. Jumplists are now part of the Start menu context menu for win32 apps in the latest Insider build:
www.neowin.net/images/gallerie…

Reply

I think they should make it an option to have it in a submenu or something similar. I understand where you're coming from, I don't mind having it directly on the context menu though. However, for one thing, I think it would be a little slimmer if they reduced button padding. But otherwise, I wouldn't mind either way.

Reply

How would they go about integrating jumplists into interactive tiles? Also, Jumplists are more for power users anyway, those who are more familiar with quick file management... even though jumplists is just on the verge of being a power user feature.
Reply

Well technically there are loads of features in any OS that are geared specifically for power users such as keyboard shortcuts, management console, Task Scheduler, Regedit, etc. But I know those are primarily separate and have features that most users will never need access to.
I'm not too sure what you mean by 'small icons redirecting to quick actions'. You mean like small buttons on the tiles of win32 applications on the Start Menu that open the jumplist somehow or something?
If not, I have trouble imagining how jumplists would integrated into their coming feature/idea of interactive tiles, especially on small tiles. Please know I'm not trying to be critical, I'm just trying to get an understanding of what you mean.

Reply

Simple keyboard shortcuts such as ctrl+c/v/x, ctrl+z/y, etc. are for average users but more advanced shortcuts like Win+tab (which doesn't matter anymore since Windows 10's multitasking button), Win+shift+right/letf/up/down, ctrl+shift+esc, etc. are geared
more
for power users as most people have no idea they can even do commands like that or even be able to remember them. So that's why keyboard shortcuts are iffy in that regard. Some are for enhanced productivity that few know about, and others are for quick jobs that most people know about (especially the keyboard shortcuts that are shown in context menus.
mk7wig.by3301.livefilestore.co…
here is a really quickly put together example of an idea of what MS's interactive tiles would be like (a very quick concept, just spent a couple minutes on it). I know that interactive live tiles have been in discussion for Windows 8 for quite a while but their conceptual funcitons have yet to be implemented.
I can clearly see the benefit of them and watched a video presenting their idea a while back and rewatched it today and I would love that kind of functionality. But I don't see the practicality of having interactive buttons on small tiles, such as Notepad shown. The hitbox would be a little too small for touch while still showing the icons without intrusion of a button or function. You can't really fit more than a single secondary function on a small tile in particular, so if modern apps that support both jumplists
and
another function such as live information were a small tile, there would be clear complications in this regard showing both a function to display a jumplist button and expand the tile for live information... this could however be ailed by a "..." button instead which could show a pull-down menu which gives more than one option. But again, this would have intrusion issues due to space. I do see your point though.
Also, if they just decide not to support any live interaction on small tiles then the jumplist would still be challenging to access without pinning to the taskbar or right-clicking on the tile.
Reply

Nice concept! The context menu consistency has improved quite a bit in Windows 10 over Windows 8 or previously, but yes, I agree that this should be necessary.

Also, I sent you a note.
Reply

Actually I would venture to say that context menu style is even more inconsistent in Windows 10, there are at least 5 or 6 distinct styles. Whereas in Windows 8 there were only 3, maybe 4 max... unless there are other instances I'm not recalling as I don't have Windows 8 installed anymore.
Reply

Really? The only first party menus that I know of are the right-click and touch-hold menus, and the only different is the spacing. Some outdated third-party apps still use Win7 or Win8 menus, but I think the experience has already improved muchly.
Reply

Windows 10 context menu styles:
www.windowscentral.com/sites/w…
there are 7 styles here but they left out the context menu style that shows when you right click in File Explorer's Ribbon menu. So that counts 8! Which is insane. However, I don't technically count the Jumplist style as a context menu so that reduces the number by 1.
Windows 8 had these context menu styles: the Ribbon context menu, and from the picture: numbers 2, 4, and 6.
7 styles in Windows 10 and 4 styles in Windows 8. We have a problem.

Reply

i agree with this, microsoft need to revamp their metro apps too like the movie and tv app it doesn't show any preview even the icon view wont show my custom icons just plain white folders
Reply

Reply