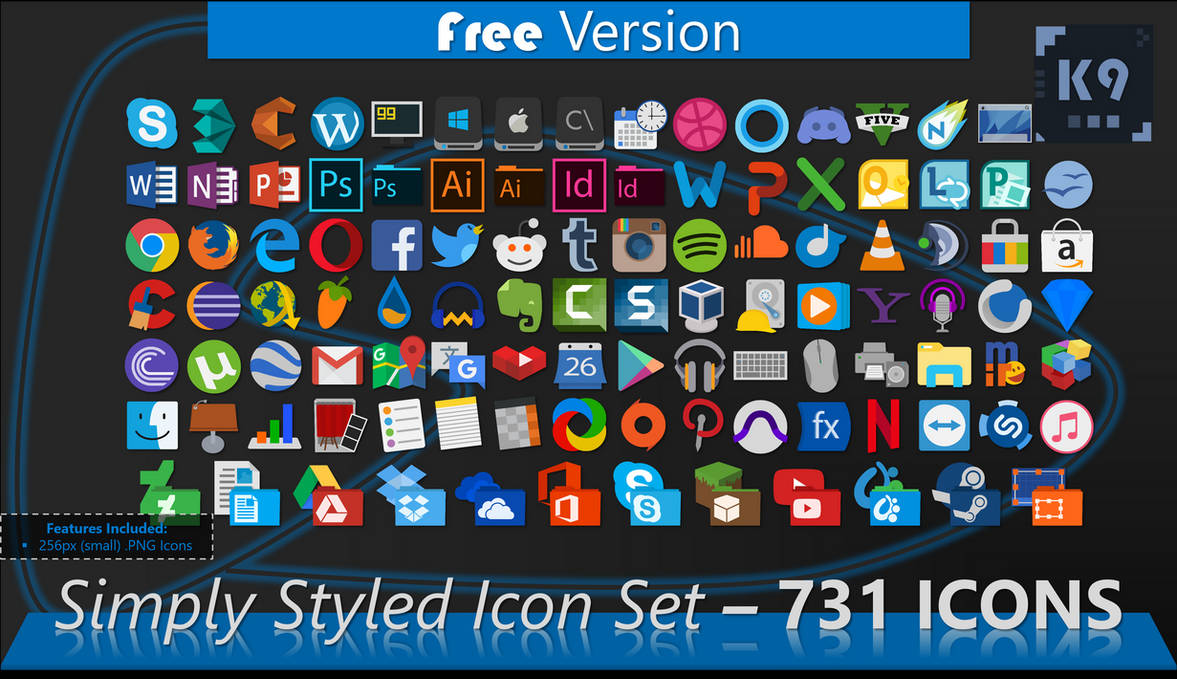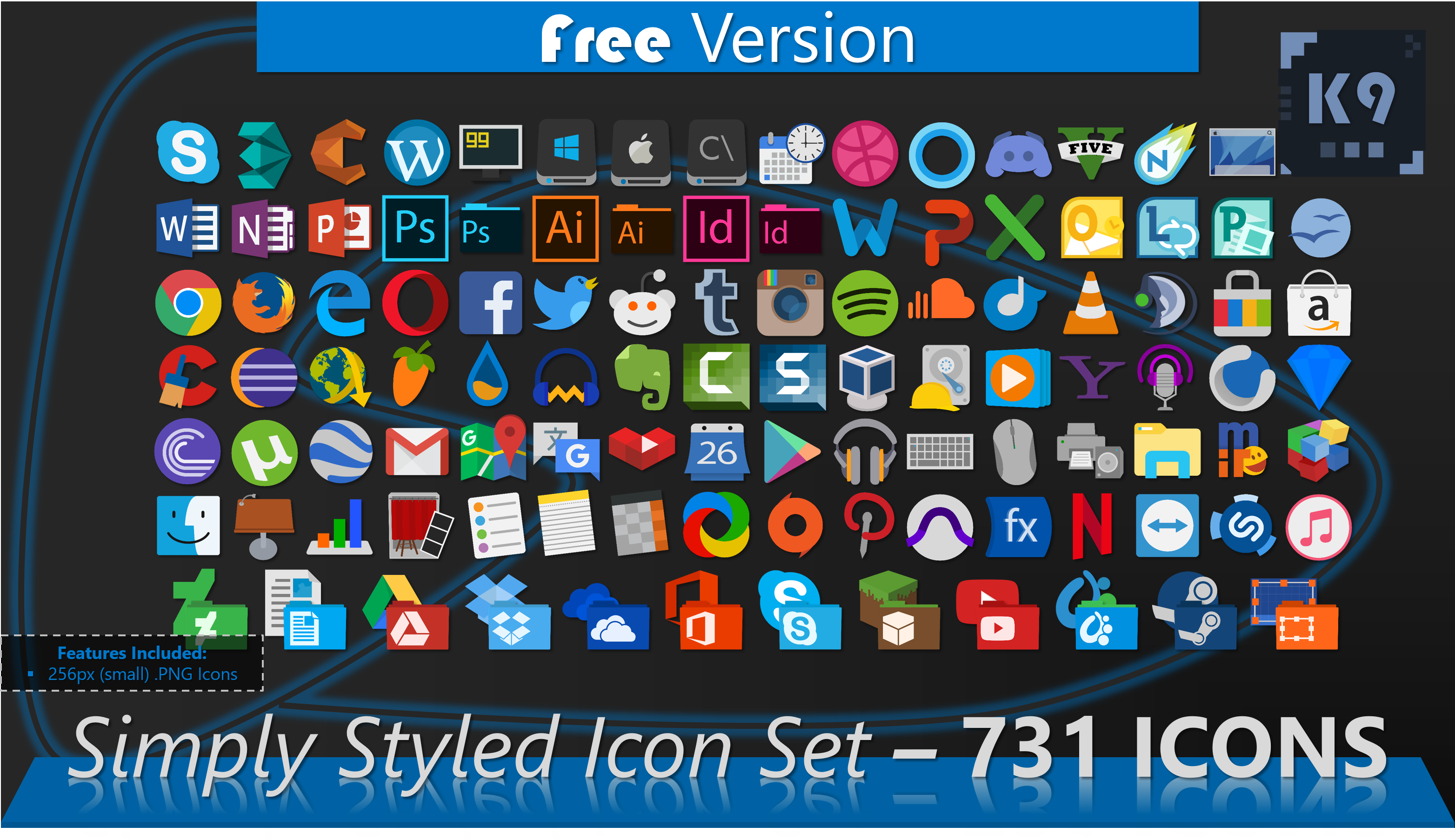 Previews:
---
Uploaded:
7/21/14
Last Updated:
4/30/17
---
PREMIUM VERSION:
The PREMIUM version has all icons from this set but revamped with many other features such as:

All 731 icons at 1024x1024 (HD) resolution
(4x larger than FREE version)


All icons also have a drop-shadow version for a nice-looking popout effect!

All icons also in .ICO format for changing and customizing system icons!

Special Feature:
StarDock Icon Package automatic install for a quick change of system icons (requires IconPackager installed, trial version can be used)!
Click the thumbnail below to check it out!
---

Please keep in mind, if you want to stay up to date, then please

me and be notified when it's updated! Thanks.


---
Request Info:

I am now taking requests!

---
■ ICON SET INFO SECTION:

THIS SET
CURRENTLY
INCLUDES
731
256
x256
.PNG Dock Icons!

Previously known as "Flat Colors Icon Set"
---

RULES FOR USAGE:
You may use these icons
however
you like,
BUT
if you post them online for others to see,
you
must
provide appropriate credit to
me and this set
and selling
ANYTHING
that contains my icons in any way
is strictly prohibited
UNLESS
you are willing to give me a portion of your earnings via Paypal, on ANY site!
---
■ SPECIAL SECTION:

DONATIONS OF ANY AMOUNT FOR ALL MY HARD WORK ARE ALWAYS ACCEPTED AND HIGHLY APPRECIATED!


CLICK HERE TO DONATE TO ME!
Thank you so very much!
---
■ FOR A BUSINESS TRANSACTION:
If you're interested in using these icons or interested in having me make something for you for a commercial product or service, you can contact me by sending me a Note here on DeviantART!


---
Changelog:
7/21/14 Initial release
7/25/14 Changed many icons and ADDED one!
12/16/14 Added over 80 icons and changed 15!
1/19/15 Added over 100 icons and changed 45!
11/20/15 Added over 150 icons and changed 204!
Changes:
LARGEST UPDATE EVER!
4/30/17 Added 67 icons and changed 199!
[UPDATE] Simply Styled Set CHANGELOG (30 April 17)
---
Like this set? You may enjoy these too! (Made by me)
<da:thumb id="294529071">
Very nice indeed.

Didn't take long to look them over in detail, but two small things jumped out at me.
1. The DeviantArt icon...I'm relatively sure you meant for the DA logo to extend past the square border on the left side, but it doesn't look intentional. The square border color is almost the same color as the DA logo so they run together, and the logo only extends a small amount on one side. I would maybe change the border color to give it a lot more contrast to the logo, and/or decrease the square size so the logo extends further out and on both sides.
2. The folders, the contrast between the folder color and the image (download, Office, OneDrive, etc) could be higher. When they are viewed smaller, that image fades quite a bit. I just finished remaking all my folder icons for that very reason...granted they were .ico files and viewed in the explorer tree and at they tiny sizes. If these are intended for a custom dock or something larger...then ignore me completely!

Something I've been thinking about trying myself was to change the perspective of icons that are viewed at an angle, so they are viewed straight on...truly "flattening" the look. Everyone flattens the existing view, so the change would be unique and consistent throughout. I 've got examples of a few I've done I'll post in my Icon Gallery if you're interested.

For example, Windows Media Player...everytime I make that one as you have it, it doesn't quite look right, especially with the others that are not at an angle perspective. I ended up making just the square, circle and arrow, flat on and dropped the "layers" on the right side.

I'm not suggesting that...but was curious and seeking other opinions and viewpoints

You've been very busy!
The Artist thought this was FAIR
25 out of 25 deviants thought this was fair.
This is a really great icon set, with nice flat colors. However, I feel like some sizing looks a bit weird :
1) The YouTube looks a bit fat, I know you got inspired by the Android app icon, but I'm not a huge fan of it. Something like
this
could have been better.
2) The Office 2013 product icons also looks a bit fat, I would reduce the width of the "letter container". It also seems like the OneNote icon is a bit smaller.
3) The security approved and denied white glyphs are bit too big compared to the whole icon itself.
4) The shortcut icon looks pretty outdated, you might consider something less curved
5) The folder icons look to rectangular to me, you should probably use a more triangular shape
6) The Google + icon doesn't look well centered to me
7) I really don't like how the download glyph looks (I know it's from the metro UI set, but the shape is just too basic to me)
These are not related to the shape but :
8) The blue in the calculator icon looks too strong
ç) Why do the Windows icon have a background ? Are these meant to be start orbs ?
The Artist thought this was FAIR
16 out of 18 deviants thought this was fair.