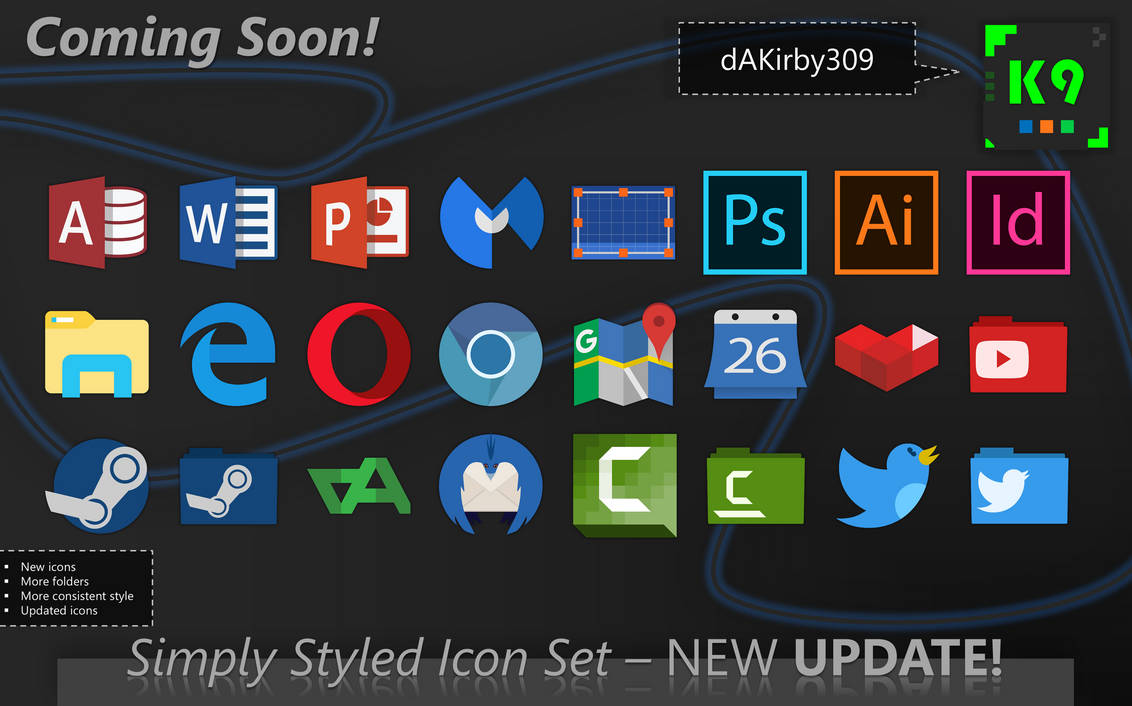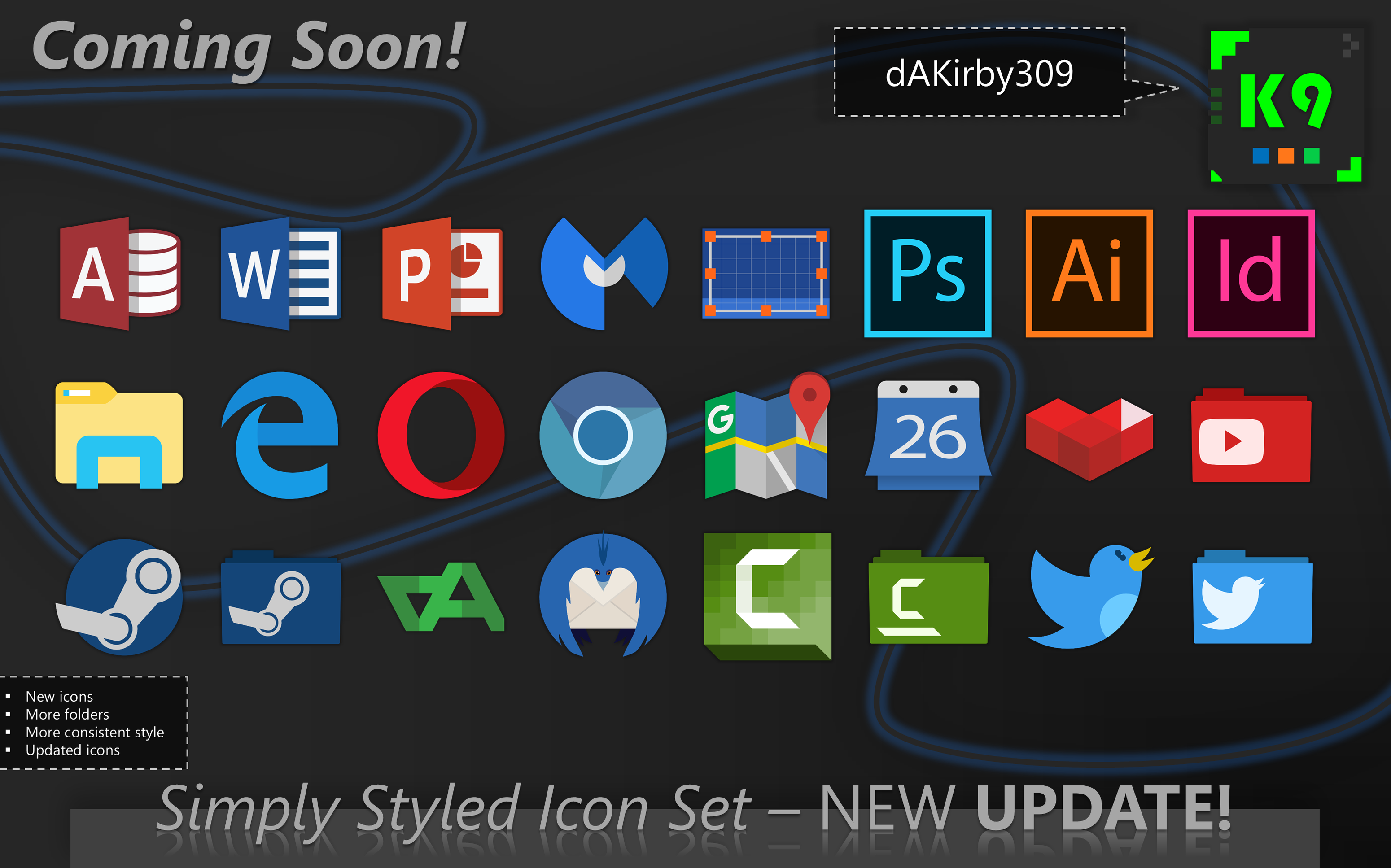 THE UPDATE IS LIVE AND READY TO DOWNLOAD!
---
CHECK OUT THE THE ENTIRE UPDATE (Icons are still bound to change and more icons are on the way!): sta.sh/06b6l6syw00
---

Here's a preview of a handful of the icons in a coming update to my Simply Styled Icon Sets!

Premium:
fav.me/d7rmp7a

Free:
fav.me/d7rmhyo
Those shown in this preview are only about 1/8 of all the icons that are included in the update. I still have some more to make and some that are shown either in this preview image or the stash link above are subject to change before the update is released.

This update will include
new icons
,
more folders
and alternatives,
updated icons
,
a more consistent style
, and larger elements to make them
easier to see at smaller scales.


I don't know when the update will be released but probably
VERY SOON!
No ETA, just count on soon. I'm almost done with all of it.
Please feel free to give questions or concerns regarding the icons made thus far. Sorry for the long wait, but hopefully you like them.


Nice work

I love the blend between 2D and 3D
Reply

Thanks

Glad you like the style! I've never been sure if people like the mix of 2D and 3D or not.
Reply

Excellent job as always! Taking requests?
Reply

Yeah, taking a few requests for the next update (in the works).
Reply

Very good i can't wait

Reply

I really like the look of these preview icons, especially the blue Steam client/folder ones.

Reply

Awesome. I know you'll do an excellent job, as always. Are you taking requests for this update?
Reply

Thanks! Yeah, that's why the list of new icons is so long haha. If you want to request some, I'll listen. But I can't promise all of them will be added if your list is too long, unfortunately.
Reply

Reply

Ok this is looking AMAZING! Good work!
You MAY want to think of making a Linux these with this, this style is popular right now, especially with the theses "Arc GTK" and "Paper GTK". and some places actually do make money from the "premium" themes that they make (more app iconsand extra folder and system icons = "premium"). See any of the Nitrux-done icon themes...
nitrux.in/category/artwork/ico…
Reply

Awesome as usual Michael. I especially love the Inkscape and Outlook icons. Can't wait for the update.
EDIT: Oh! And A new explorer icon! Even better.

Reply

Thanks! Looking forward to finishing the update.

I may change up the Inkscape icon as it's nearly identical to the actual icon, so that is a copyright concern. But I won't change it too much.
Yep, new Explorer icon to accommodate Windows 10

I might add some more Windows 10 icons too, not sure yet.
Reply