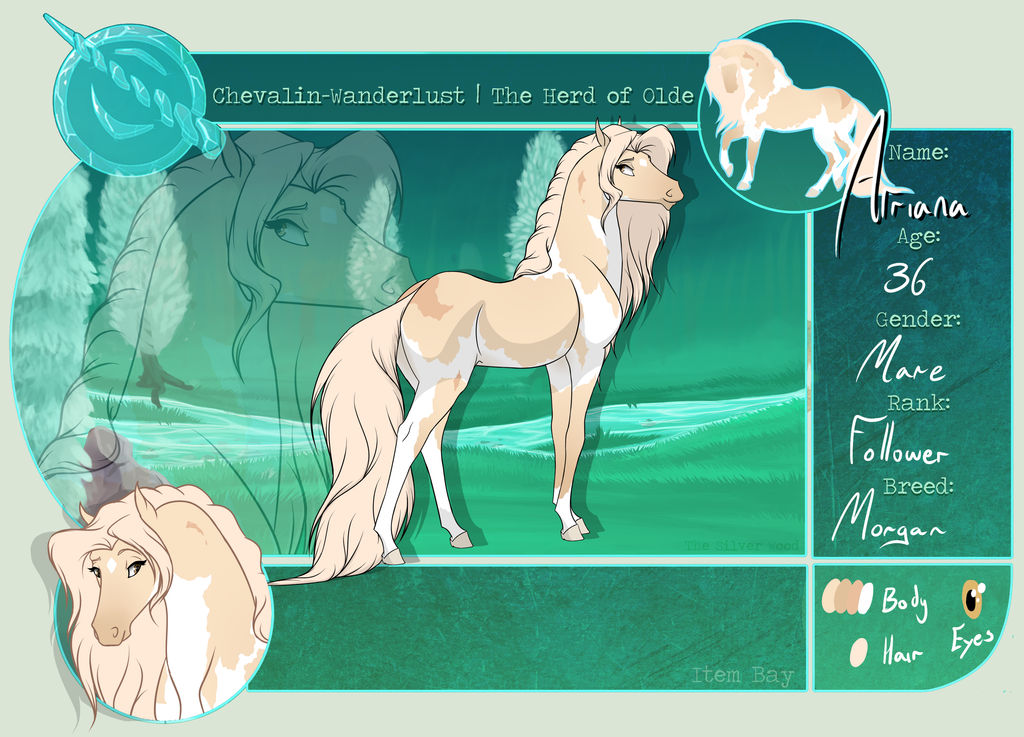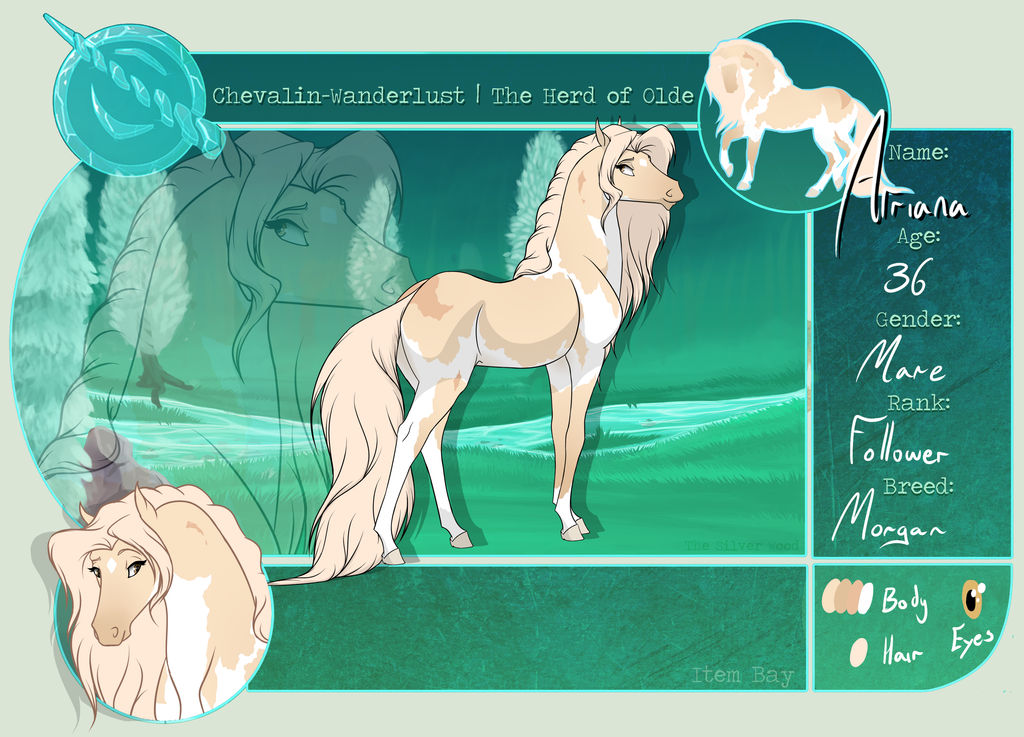 Watch

<<tier tracker>>
ARRIANA

(pronounced = Ar-ri-anna)


Nicname: Ari, Anna


Gender: Mare


Herd Aff.: The Exile Herd


Location: Olde Isle


Orientation: Straight


Rank: Follower


Breed: Morgan Horse


Height: 15.1hh


---
PERSONALITY

Mature
No matter what the situation, Arriana is level headed and collected. She views the world with a calm mind. Sensible and nuetral, the mare very rarely will loose her emotional control.

Elegant | Proud
Arriana's sweeping walk and clear voice stem from her pride. She is proud of herself. She survived many hard ships and heart breaks, and she carries herself with the regal ways of a knight after the battle. She is not vain, nor cocky, simply proud of herself and a mare.

Brave
Arriana wouldn't do well in a fight, but she would protect anyone she loves with an unstoppable protective instinct. She is bold in her opinion and her voice and a mare. In the Bachelor herd, she often was reprimanded for this, but it only made her more affirmative.

Motherly
A mother herself, Arriana is natural maternal and protective of everyone around her. Whether is be tender foals, aged elders, or brave guards, Arriana is a warm hug and a kiss after a hard day. She will listen to your woes and offer a shoulder to cry on.

Selfless | Forgiving
Arriana's life is last to everyone around hers. She will fuss for everyone but herself, going to the ends of the earth to make everyone happy and healthy. It can often be her downfall, and more than once she has been taken advantage of. But Arriana will never hold hate in her heart. She has inner peace, and is never ruffled or upset. Anger never touches her (unless her babies are involved). She can let go of negative emotions like a breeze through her mane.

Loving
Although her heart has only ever belonged to one stallion, she is easily swept away by the right stallion. She truly believes in the power of love, and always encourages those struck by cupid to chase the horse of their dreams.


---

HISTORY

Born to the Olde herd, Arriana grew up with a loving mother and father. Adeline and Ryko were deeply in love, but sadly Ryko passed from sickness and age when Arriana was seven. Years past, and eventually Adeline fell in love with a passing loner named Jones.



She fell pregnant, and when Arriana was 12, her baby sister Ziara was born. However, Jones ran from his new family. Scared of the commitment, he disappeared.



Years past, and a friendship bloomed between 16 year olds Arriana and Vasska; Prince of the Olde herd. Their friendship steadily grew into love, though it was never fully realised. Innocent young love, the two would spend hours together playing and pretending to be unicorns.

One day, a sad day, a new mare and filly arrived to their herd. A beautiful filly, so pale she was like mist in the morning sunrise. Valentine, the King and father to Vasska, adored the small child. In Valentine's eyes Arriana was unworthy of his son. In a show of power, he banished Arriana and her family from the island.

It was a dagerous swim to the Eastern Island, and with young Ziara on her back, Adeline would die of exhaustion soon after they reached the shore.
Alone on the Bachelors homeland, the mares would remain safe for an entire years in the wilderness... almost as if someone was watching over them.

Arriana and Ziara were then captured by the Bachelors. The dun mare instantly fell pregnant, while Ziara remained safe due to her young age.

Her first foal was born, a colt, whom she named Elixir. He quickly was adopted into the males of the Bachelors and although he grew up to be kind by Bachelor standards, he was taught he be hard and commanding by his father.

Two years past, and she had another son. Beside her, a mare with a cold heart and a hard life lay next to her still born foal. The mare, Hina, had foaled many still borns. Something in her womb killed her poor babies.
In an act of great kindness, Arriana gave the mare her son. She had foaled Elixia, whereas this mare had never given a foal to the Bachelors. Arriana's son would spare Hina's life. He looked more like his sire, than Arriana, and would get away with being Hina's child. Hina was grateful when Arriana gave her the foal, but she hated the colt. Arriana returned, telling the foal was stillborn.


Arriana would watch for many years as her son was left to cry in the night and go hungry. She loathed Hina for being so cruel, but the truth would have them all punished. The colt would never know Arriana was his real mother. He would be name Troy.


Arriana would birth her third and final foal for the Bachelors, a beautiful filly she named Phillipa.

Years past, and the night before Ziara's 16th birthday the mares would escape. Arriana did not wish her daughter, nor her sister, to suffer as she had. Surely Valentine would take her sister in again? She was innocent.

Arriana planned to help her sister escape, sparing her of the life she had suffered. However, they were almost caught. But a strange, convenient, enormous distraction pulled the Bachelors attention away and the mare was free.

Ziara would return safely back to the Olde herd, but Arriana remained with the Bachelors to raise her young filly.

Unfortunately a travesty occured some years later. The young filly was taken by Grassbeasts, and Arriana was devastated. But now was her chance to leave, and the Bachelors wouldn't leave her alone for long before impregnating her for a fourth time. Arriana escaped, and met a stallion on the shoreline of Bachelors.

The horse was Jones, but both mares would never know this. He had been watching over his daughter and her sister since that first night on the Eastern isle and had kept them safe. He also caused the distraction that set them free.

Arriana returned to the Olde herd. Vasska was now king, and welcomed them home. Arriana has not seen her two sons for years since.

_____________________

Ryko, Adeline, Jones, Phillipa (c) Myself and MythicalPrancer (Npc's)
Vasska & Valentine (c) Elesette