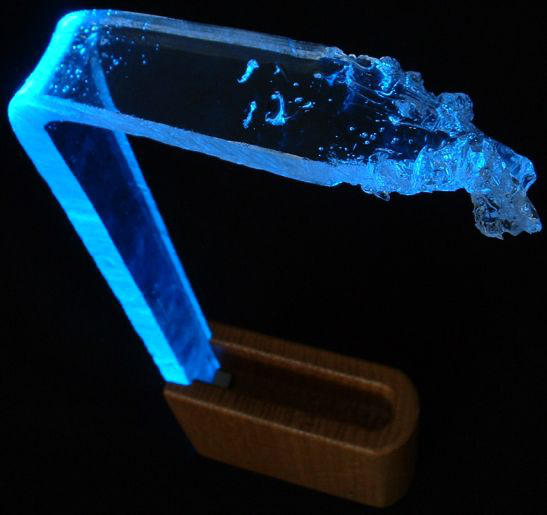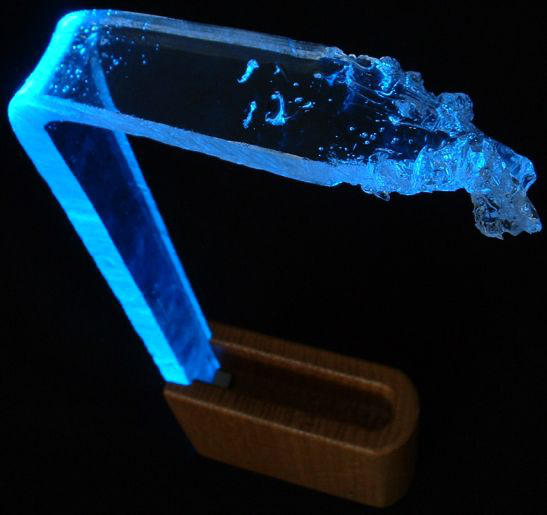 Watch
this is a lamp built out of plastic and wood and useing the optic properties of the plastic to obtain an interesting effect as the light travels through.

light: blue LED
materials: wood, plastic (clear)
power source: 3v lithium battery

I'd buy one from IKEA

It's unique without being way out there, a lovely little bedside light.
I'm guessing the LED light is in the wood box right under the acrylic?
Reply

This thing is awesome. I gotta try this sort of thing. What kind and where did you get the plastic? And what's the technique you used to bend it?
Reply

it's acrylic

i got it at a surplus shop
used a heat gun, pliers and various pointy things
Reply

that's just plain plexiglass, or what? hmm this seems like a very interesting effect... do all transparent plastic behave like thid, do you know?
Reply

this is acrylic; but yes most clear plastic will do that

it all depends on how transparency of the material
less transparent will stop the light sooner.
for example if you look at the edge of a sheet of glass is is green.
Reply

that's so cool looking!! *envy*

i love these kinds of lights..
Reply

Cool

Reply

Wow

Great effect.
How long do you think it will stay lit?
Reply

I think i got around 100 or so hours on a battery ....
maby more??

math says:
1000 mAh battery and the light uses about 7mA
1000/7=142.86 hours
Reply

Nice effect, great color, and terrific texture/detail at the tip. Nicely done!
Reply