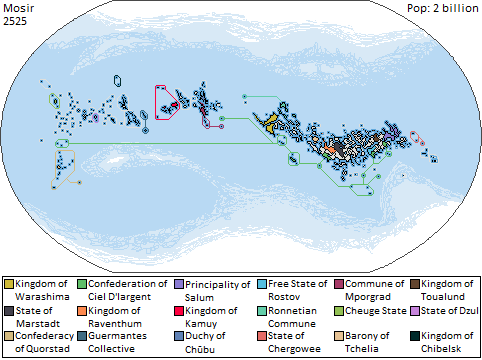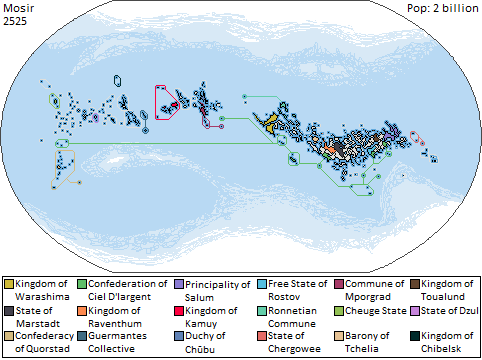 Watch
Mosir​
Ganymede, better known by 2525 as Mosir, is the seventh and largest moon of Jupiter and is thus a primary component of the Jovian Trellis; the grand confederacy of moons, Lagrange-point stations, Trojan habitats and orbital situates that constitute the most powerful polity in Sol. Initially terraformed relatively early in the mid-2200s, Mosir is an icy water moon with permanent ice-caps at either pole and a string of artificially construed archipelago across it's comparatively warm equator even as it freezes over in winter. These small islands are inhabited by all manner of snow beast, from coywolf[1] to moose to deer to llama to yaks and polar bears and alpine eagles to the reindeer so typical of Siberia and penguins of Antarctica. They accompany an ocean that possesses millions and millions of relocated and genetically adapted sea life, including whales and sharks and truly giant squid and sea lions and great white sharks and orca and countless variations of fish.
Mosir is populated by some 2 billion inhabitants, all of which are genetically modified in-utero to increase marrow density and limit muscular stratification against the debilitatingly light gravity so typical of colonised moons[2].
These citizens are primarily descended from Carolingians[3], Hokkaidoans, Siberians and Vermonters, with lesser numbers of Mongolians, Sotho, Irish and the multiracial South Africans. Politically fragmented but largely peaceable, the moon's many polities include bureaucratic syndicates, corporate imperialists, consensus-based technocracies and maritime confederacies. Despite their political differences each of these states trend towards a similar state of affairs whereby a collection of coastal archologies lord over a series of small, self-contained communities linked by endless monorail. For those few landlocked states their archologies are built on the edge of lakes or atop the frigid alpine peaks where fresh water may be readily harvested. As of such there are hundreds of thousands of local dialects only perilously mutually intelligible, further complicated by the fusion of Hokkaidoan Kana, Siberian Cyrillic and the Carolingian Roman alphabet thus making for endless forms of written language. However, the archologies tend to be more homogenous linguistically and culturally and most Mosirites speak some form of Solar Afriquan[4] as their second or third language.
They are known as the Fishery of the Solar System -much to Europan chagrin- and with their cool climate, fully serviced archologies, stunning views of Jupiter and surprisingly good beaches attract tourists from afar as Jinxia and Ahriman[5]. This is backed up by an investment banking economy plugged directly into the Jovian Trellis and the Confederal Bank of Jove keeps its reserves in the Marstadtian capital of Alsatia. On a local level and due to the regionalist sentiment of most Mosirites, individual craftsmen dominate and the Guilds and conglomerates of the wider Solar System have found penetration of these markets difficult not only because of the backlash to mass-manufactured goods but the incompatibility of many products considered a stellar standard with those locally produced models. Mosir, as the bristling heart of the Trellis and so fiercely autonomous from the greater Stellar Shura, does not follow the Intraministry for Measurements and Guidelines'[6] set standards, and so goods manufactured in the factories of Hetu and Bahrad[7] do not line up with those on Mosir. Attempts to regulate this are ferociously resisted, and the Court of Jove has ruled in Mosir's favour time and time again.
This seemingly minute pathology undercuts a wider narrative in the Solar System and the transtellar colonies, whereby beyond the administrative core of Earth, Jinxia and Otared[8] much discontent with the Stellar Shura is felt. Whether that be by inundating planetary cultures with a supposed pan-Solar identity or emplacing policies by supposedly impartial AI that roundly benefit the Cislunar[9] community. To this effect, the only conflict that does mar Mosir is that of terrorism. By Jinxian Supremacists against autonomist politicians and bureaucrats and, conversely, Mosirite Independentists who bomb the embassies and harass tourists from the Cislunar community.
However, this terrorism aside, Mosir remains a pristine and peaceful world and the wealthiest per capita celestial body in Translunar space. It should remain so for the foreseeable future and has, as of recently, expanded into the realm of transtellar trade even with the many loops their traders have to jump through, and healthy Mosirite communities are springing up across such systems as Ibeji, Tian, Srinagar and Usamljen with alarming speed.
[1] – The combination of wolves and coyotes and some domesticated dogs, which evolved out of north-eastern North America and completely displaced their parent species. Though traditional wolves are still found in most of the rest of Earth.
[2] – This was to get around having creepily tall, skeletal bastards flopping about. Besides, I can't imagine that Humanity would be able to completely adapt to increasingly small amounts of gravity as we expand across the Solar System.
[3] – The Carolingian Republic (Sometimes called Carolign) entails France, Germany, what remains of the low countries and northern Italy sans-Venice. Their language tends to sound like a Latinised form of German though areas such as Bavaria, Tuscany, Marseille and parts of Zeeland remain aggressively distinct.
[4] – The African Union came to dominate Earth just as stellar colonisation was really getting up and running, so Solar Afriquan became the standard. It's a Frenchified form of Swahili with a great many borrowings from Mandarin and Arabic.
[5] - Venus and Eris, respectively.
[6] – The Intraministry for Measurements and Guidelines is actually one of the most powerful and important intraministries in the Stellar Shura due to their handle on all export and import guidelines, standards for aeronautical construction and policy for economic competition. To defy them is a ballsy move.
[7] - Neptune and Mars, respectively.
[8] - Mercury.
[9] – Cislunar here refers to everything between the Moon and the Sun; Mercury (Otared), Venus (Jinxia) and Earth + Luna. Between their population -topping 46 billion between them-, their economics -especially Otared's lucrative solar power stations-, and their military force -they maintain the few decked out battle stations that'd be classed as 'capital ships' as well as hundreds of thousands of smaller ships- they are easily the most powerful collection of planets in the Shura.

Reply

A few, but their numbers are carefully managed and contained to high ridges and plateaus due to the flooding and marshes that hazard the coasts. The largest numbers are in Marstadt, which brings in a lot of tourism. The Mosirian Mammoths are quite a bit larger than their Earthbound equivalents due to the lower gravity though are subsequently frailer.
Reply

Was there life indigenous to Ganymede prior to terraforming?
Reply

Microbes and extremophiles, largely. Some greenies wanted to preserve it to let them evolve but between letting some germs evolve over million of years and colonising a moon larger than Mercury the colonisation lobby won out. There is rudimentary life on Europa, although it's inedible for Humans as we can't metabolise it, and in any event it tastes terrible and scares children.
Reply

Lol
Not only was that a "yes", but far more information than I was expecting.
Reply

I was so inspired by this world that I wrote the translation into Russian.
Do you mind if I posted this, it's okay?
Reply

Oh wow, that's unexpected. Sure, absolutely. Just give me credit and that's perfectly fine.
Reply

Is Mosir Ainu or Scandinavian?
Reply

The word is Ainu; it comes from Aynu Mosir, which means "Land of the Ainu".

The planet itself has several ethnic groups, including Ainu, but also Carolingians (Franco-Germans), Siberians and Vermonters. As well as Sotho, coloured South Africans, Irish and Mongolians. But no, not really many Scandinavians aside some Norwegians operating out of Chibelsk, who run some arctic fisheries.
Reply

"Chergowee"

The name looks suspicious. Are there any Native Americans?
Reply

A few; Greater Vermont includes most of Upstate New York, and so a few Iroquois found their way to the stars and ultimately to Chergowee, though the state is still far more white and Asian than Indigenous American. There are also large communities of Native Americans in Salum, Tuoalund and Kamuy.
Reply

Reply

That's a Siberian-descended state, mostly by ethnic Slavs who didn't like what was going on in Siberia itself, where Chinese, Turkics and indigenous peoples were increasing in number whilst their own numbers dwindled. Coming to Mosir didn't really work in the long run, however, as their numbers continued to decrease due to low birthrate and they ended up but a plurality against larger groups of Hokkaidoans, Irish, Yakutians and Evenks.
Reply

Yeah that's real fuckin' pretty all right. Was there no native sea life when humans arrived?
Reply

Thanks. Microbes and extremophiles, they were as let down as you are. There were a few rudimentary fish looking bastards on Europa but they tasted weird and scared small children. Still the settlers of Europa have taken great care to ensure no introduced species messes with the local ecosystem too badly and have made genetic alterations to that effect, and some neat crossbreeds have started appearing here and there.

A few evolutionary biologists made a fuss that the colonisation of Ganymede might destroy the budding life there, but between saving some bacteria and terraforming a moon larger than Mercury the colonisation lobby won out.
Reply

Nice work I can't wait to see more from you
Reply