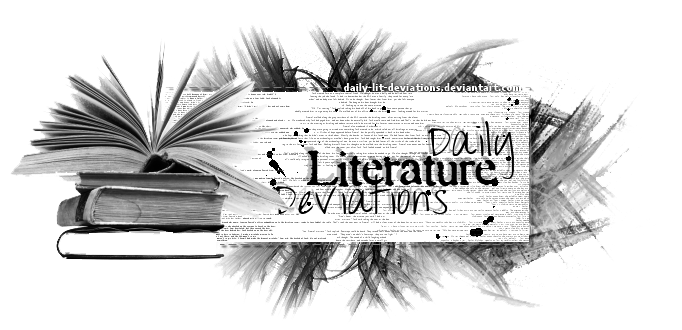 Guidelines
|
How to Suggest a DLD
|
Group Administrators
|
Affiliation
|
Chatroom
|
Current Staff Openings
Daily Lit Deviations for September 26th, 2012th, 2012
We are proud to feature today's Daily Literature Deviations!

You can show your support by

ing this News Article.
Please comment and

the features and congratulate the artists!

For all of the featured artists:
If you receive a DD for one
of your pieces featured by DLD please note

LiliWrites

.
We will include you and your piece in a special recognition news article.

Poetry
Suggested by

inknalcohol


Featured by

LiliWrites
The Defense of Gawain (Fragment 1)He brushed his wavy hair from his pale face
Just like his horse was shaking off the flies
While following behind. Their limping pace
Was slow, although the city rang with cries
Surprised from friends who thought that he was dead--
But still his head slumped down, and still his eyes
And clammy cheeks were flushed with streaking red,
Though they were running, dashing to his side.
And then his young brother, half-laughing, said,
"Oh god, I thought--you know we thought you died?
That awful task--you left, you rode away--
And then did not come back. Oh, how I cried!
I thought you died. On last year's new-year's day
A year since you had left, they all agreed
You must have failed your quest, but I said nay--
I knew my brother Gawain would succeed
Although it seemed to all impossible.
But you did not come back, and I concede
I thought you died." And then his voice sunk low
From where it had been shouting in delight,
And then he said: "But brother, may I know--
Your hair is snarled, unkempt--yo
The Defense of Gawain - Fragment 1
by
williamszm
Suggester writes: This NEEDS to be featured.
It's awesome and perfectly depicts Gawain.
I quite concur. Excellent, fresh rhyme and
appropriate use of traditional form make
this bit of Arthurian legend stand out.
Suggested by Parsat
Featured by: LadyofGaerdon
"Bare your soul"
by
MozartsNemesis
Suggester: "an honest reflection on poetry
as a source of timeless beauty
and wisdom passing through the ages".
Featured by: LadyofGaerdon
HeartlessIf you want to kiss me,
Kiss me
I'm sure I'll enjoy the way you taste
Just don't expect my heart to beat
Don't worry, love.
If you press your ear to my chest
You'll probably hear a steady rhythm
I've filled the gap as best I can
With a composite
Of blood vessels
And nerve endings
My heart?
No, love.
It's not that I've never had one
I just gave it away
To a girl with bright, pretty eyes
She took it with her, you know
Over six thousand miles away
Where it probably picked up
A fine coating of sand
And the smell of gunmetal
Where?
I don't know, love.
I'm not really sure where it is now
Collecting dust, maybe
In a shoebox under a bunk
With an old letter
And a photograph
And sometimes, I think it gives a little flutter
When that girl smiles
Because I always loved her smile best of all
But if you want to hold me,
Hold me
I'm certain I'll fit right into the crook of your arm
And if you want to touch me,
Touch me
I've no doubt you can make me feel good
Just don't wait for my heart to beat
Becau
Heartless
by
o-ohhai
Precise diction, potent imagery
and universal relevance make
this poem unforgettable.
Prose
Suggested by Nichrysalis
Featured by: LadyofGaerdon
:thumb321737711:
HIDDEN. Chapter 1 by Serina Hartwell
by
SerinaHartwell
Suggester: "I'm not sure how this has
received such little recognition.
It's excellently paced and though
I am only one chapter in I'm hooked,
despite it being a genre I don't prefer."
Featured by doodlerTM
The SketchHe loses his first kiss in autumn. He's twelve, she's just turned thirteen, and at the time he isn't sure what all the fuss is about but knows how special it is anyway.
She's gorgeous, pale-skin, brown hair, dark eyes always filled with happiness and joy the way he wishes he could be. She doesn't want to be there any more than he does, and they grouse to each other about how they don't need a 'special school.' It's the first time he's worked up the courage to say it.
She carries a book too, just like his sketchbook, but she says it's a diary. It's hung with a little lock on the front and he jokes about it being the key to her heart, a little boy's poor attempt at flirting but she laughs anyway. He wants to hear that laugh again, and he does, when he shyly asks if he can draw her.
It's half-way through his sketch that she leans in and presses her soft lips to his. It's a little clumsy and awkward, given how she's standing up and he's cross-legged on the ground, and nowhere as romantic l
The Sketch
by
Treo-LeGigeo
A poignant historical fiction piece that
really pinpoints the feelings of romantical regret.
For more information, including how to suggest a Deviation
to be featured, please visit us at
DailyLitDeviations
.
Thanks so much for supporting the lit community and this project!
~ The
DailyLitDeviations
Team ~
Prepared by: LadyofGaerdon

What a wonderful end to a really poor day. I discovered that my work had been featured after taking a sick day and nipping onto the site. From a lurgy filled day to cloud nine, I would like to send my gratitude out to all, with special thanks to NicSwaner who suggested my work and to LadyofGaerdon who featured my work, and gave me such a fantastic write-up.
You have made my day, and when I'm feeling better, I will do a celebratory dance around the room. Thank you to all who have followed my work and supported me.