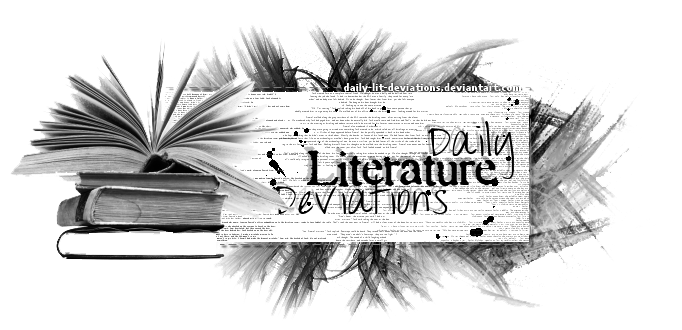 Guidelines
|
How to Suggest a DLD
|
Group Administrators
|
Affiliation
|
Chatroom
|
Current Staff Openings
Daily Lit Deviations for January 5th, 2012
We are proud to feature today's Daily Literature Deviations!

You can show your support by

ing this News Article.
Please comment and

the features and congratulate the artists!

For all of the featured artists:
If you receive a DD for one
of your pieces featured by DLD please note damina.
We will include you and your piece in a special recognition news article.

Poetry
Featured by spoems
Pyre
by
Adeimantus
The musicality of this masterpiece
won me over, and I was content to let the
words wash over me; the currents of their
meaning sliding with ease between the grooves
of my subconsciousness.
Featured by: LadyofGaerdon

The Thin HoursI.
Those of us here in this skeleton time,
this time of the year when the nights are thin
and dark, and dark with anxiety, peeling
as layers of an oyster shell, brittle and effaced
and somehow iridescent.
When the bell tolls out the time the sound is thin
and reaches into fractured air and softly
seeks the spaces between the atoms and
misses the vital Os and CO2s in a lasting,
failed pinball. The bell sound dies in
some space between midnight and thereafter,
and each tock tock of slipping cogs is
a repeat and not a moving on.
The air is filled with each dull sound,
each tock a repeat and a repeat again. And the
slip between this old year and the new is the
slip of ice on ice, a thing that will melt and
lose its meaning before the sun can rise.
These dead hours can spin out with
no regard for time, and
no regard for the drub of a beating heart
and – no regard
none at all.
II.
The moth at the window is a silent ghost, but
the wind has
"The Thin Hours"
by
Aconitum-Napellus
This poem doesn't just capture perfectly
the feeling of those "thin hours" of which she
speaks - her words grab us and pull us right into
those hours.
Prose
Featured by doodlerTM

The Last Time"I'm telling you, this really is the last time. After tonight, I can't see you any more." I look at the girl in front of me. The girl who I've been having an affair with for the last 18 months. I got married a year ago tomorrow.
"You said that last time, and the time before, and every time for the last six months. You know you don't mean it, you'll call me up again next week. You can't do without me." She sounds desperate
"I have to stop; my wife doesn't know. It'd tear her apart and I can't do that to her. I love her and I always will. Nothing you can do will stop that and nothing you can say will make me leave her."
Tears well in her eyes "What about me? Don't you love me? Can she say something that would make you leave me? You're the only man in my life, I love you too, just the same as you say you love her except you don't love her. I know you don't love her because you love me. I know you love me otherwise why would you keep coming back to me, I know you love me..." She trails off
The Last Time
by
smitusjonix
A emotion-packed piece that brings fresh
thought to the theme of cheating.
Featured by shebledgreenink

Red FlowerIn Katie's garden everything grew. She first put this to a test planting jelly beans, being rewarded with a miniature tree bearing sweets. Post-it bookmarks grew into a plant with rectangular leaves in neon colours. An USB stick buried sprouted small chips covering the ground, moss-like. A pin was a seed for a silvery bristling cactus.
Everything grew, bigger every day, until there was hardly any room to move left. The plants were starting to spread beyond the boundary.
Katie planted a coal. It brought forth fire, blooming brilliantly.
Red Flower
by
ankewehner
Whimsical, vivid, and unforgettable.
Foreign Language
Featured by shebledgreenink
:thumb274391897:
La Fille au chapeau melon
by
Alraghan
A very French piece with an enchanting
woman and a startling twist.
For more information, including how to suggest a Deviation
to be featured, please visit us at
DailyLitDeviations
.
Thanks so much for supporting the lit community and this project!
~ The
DailyLitDeviations
Team ~
Prepared by: Ebahr