17 Favourites
5 Comments
1K Views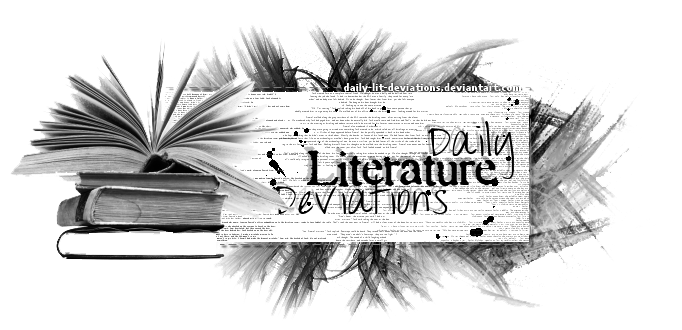 Guidelines
|
How to Suggest a DLD
|
Group Administrators
|
Affiliation
|
Chatroom
|
Current Staff Openings
Daily Lit Deviations for August 16th, 2012
We are proud to feature today's Daily Literature Deviations!

You can show your support by

ing this News Article.
Please comment and

the features and congratulate the artists!

For all of the featured artists:
If you receive a DD for one
of your pieces featured by DLD please note

LiliWrites

.
We will include you and your piece in a special recognition news article.

Poetry
Featured by: betwixtthepages
The Straw HouseLittle pig, little pig,
Let me come in.
Do you remember when fancies were shiny and new?
There wasn't a hair on your chinny-chin-chin,
And our toes chilled on floorboards 'fore we dipped them in,
Our mothers held us tightly; our troubles were few.
Little pig, little pig,
Tell me the time?
Am I too rough and ragged, a gruff wolverine?
You once talked for hours, sharing tales and rhymes
Eyes alight in the spilling of secrets sublime
And now I'm too sickly and grey to be seen.
Little pig, little pig,
Just spare me a glance,
Or a word or a smile or a sentence or two.
I don't ask for blessings, I don't want to dance
Or to sing or weave stories of adventure and romance
All I ask 'fore we part
If you have the good heart,
Is a sweet recollection of when our troubles were few.
The Straw House
by
bonfirelights
This piece, reminiscent of the fairy tales
we grew up being told before bed, sheds light
on a topic familiar to--and missed by--all of us:
the innocence of childhood. Take a step back in
time, to the days when we weren't weighed
down by worries, with The Straw House.
Featured by: LadyofGaerdon
A Name Into The WindA Name Into The Wind
Be forewarned sweet honey circles of the hive,
Or the cave moss deep underground mastering your lair.
And you too salty ocean waves that bellow from sea to land,
For I am coming for your immortality.
I shall drape myself in your behavior until
I and we are one and thou can no longer distinguish
Between right and wrong.
I will blend into nature as nature blends into me.
Evaporate my body from the air that fills my lungs
And become the breath of the land,
Immortally as one
Yet take to heart this forewarning gentle human beings,
For I am coming for you too.
Keep safe not the airy thoughts of man
Where the dreams of tomorrow are born
And the romantic nostalgia of yesteryear lies.
Because within thoughts I will plant seeds.
They will bare my life and revise my integration
Into the endless cycle of forever.
But do not worry about the jagged rocks,
For they are stubborn and words cannot reach them.
And do not worry about the lava,
For it is hot and my hands cannot touch i
A Name Into The Wind
by
HeyCori
An invigorating journey of a poem,
a jolt of inspiration and motivation
for the creative among us.
Featured by VicariouSoul
Of Children and SweetsI see the faces of angels
Where laugh lines have freshly started
I see chocolate-covered wings
Dripping souls of youth departed.
There- upon their candy-coated fingers-
Innocence lies sticky on the nail-beds
Hope and pleasure are stuck in their robes
Tangled close in the loosely woven threads.
The glitter that used to dot their eyes
Is littered on their dirty, crooked toes
The blooms that found homes in their cheeks
Have left for that dark land called No-One-Knows.
They bid me to speak and to sing
They ask me to remind them how to laugh
I show them and they try to do it too
But the closest they ever get is half.
They have business to attend to
They drift off, trailed by streams of licorice
They didn't even say goodbye
But only left me quiet and sheepish.
I saw the faces of angels
That drank so deeply of Nature's death cup
I saw their sorrows and finally realized
I know how awful it is to grow up.
Of Children and Sweets
by
lalaith913
This poem defines childhood qualities
in terms of candy and how its characteristics
become almost grotesque when children age.
It is something very different for readers.
Prose
Featured by doodlerTM
The ChangeMiss Basildon liked us.  Our parents often let her baby-sit, but they didn't bother telling her where they were going.  Before she arrived, they'd write down all the important phone numbers and give them to Anne.
I was the fourth child, so Miss Basildon had been coming since before I could remember.  Anne and Lucy told me that she used to lean over my cot, fondling my hands and saying, 'Such sharp little fingers.'  Joseph joined them in telling me how she used to pull down my lip with her forefinger and say, 'Such pointed little teeth.'  I remember well how she used to run her fingers through my hair and say, 'It grows like ivy, doesn't it, dear?'
I started to avoid her when she came to baby-sit.  As there were so many of us, it was easy to get lost.  Miss Basildon was happy to read stories to Molly, or to lean over Daniel's cot and cluck.  Once, Anne caught me watching her from the doorway, and she said, '
The Change
by
ThornyEnglishRose
A fantasy story that could be
relatable to anyone who's felt left out...
or who wanted a little magic.
Featured by xlntwtch
The Fantabulous Clown Machine of London SuperiorThe suited gentleman entered the office with that particular swagger that could only suggest pockets bursting with money. Sillywig Stevenson hurriedly set aside his paperwork: customers like this didn't know the meaning of the words: "just a minute."
"Can I help you?" he asked.
"Mmmmmm, I very much hope so." With a flourish of his cigarette holder, the gentleman sat down and folded one gangly leg neatly over the other. "It's my nephew's birthday and naturally my brother would just have to go out of town. Inevitably it falls to me to organise the little blighter's party: streamers and cake and all that. I had heard that your business would be the one to visit for the entertainment. That you had some sort of...clockwork humour device."
"The Fantabulous Clown Machine of London Superior." Stevenson stood up, moved to the corner of the office and pulled away the oily canvas covering his masterpiece. "Capable of inflating thirty-eight balloons per minute and with a repertoire of sixty-four t
The Fantabulous Clown Machine of London Superior
by
DamonWakes
Those who followed prompts given for July's
Flash Fiction Month knows the last one was insanely
complex. This writer gives us a seamless and amusing
story that doesn't appear to answer the prompt, yet
does so in unmitigated steampunk splendor. When two
men must find the right part for their broken clown machine,
the race is on to get it to the right place at the right time.
For more information, including how to suggest a Deviation
to be featured, please visit us at
DailyLitDeviations
.
Thanks so much for supporting the lit community and this project!
~ The
DailyLitDeviations
Team ~
Prepared by: LadyofGaerdon