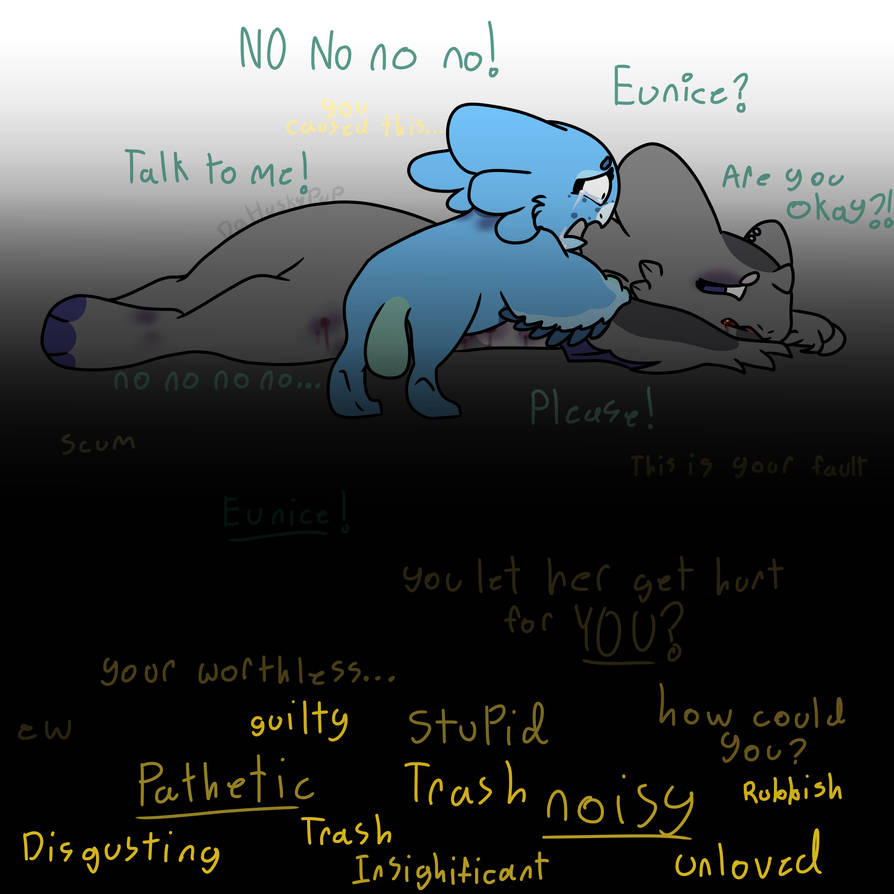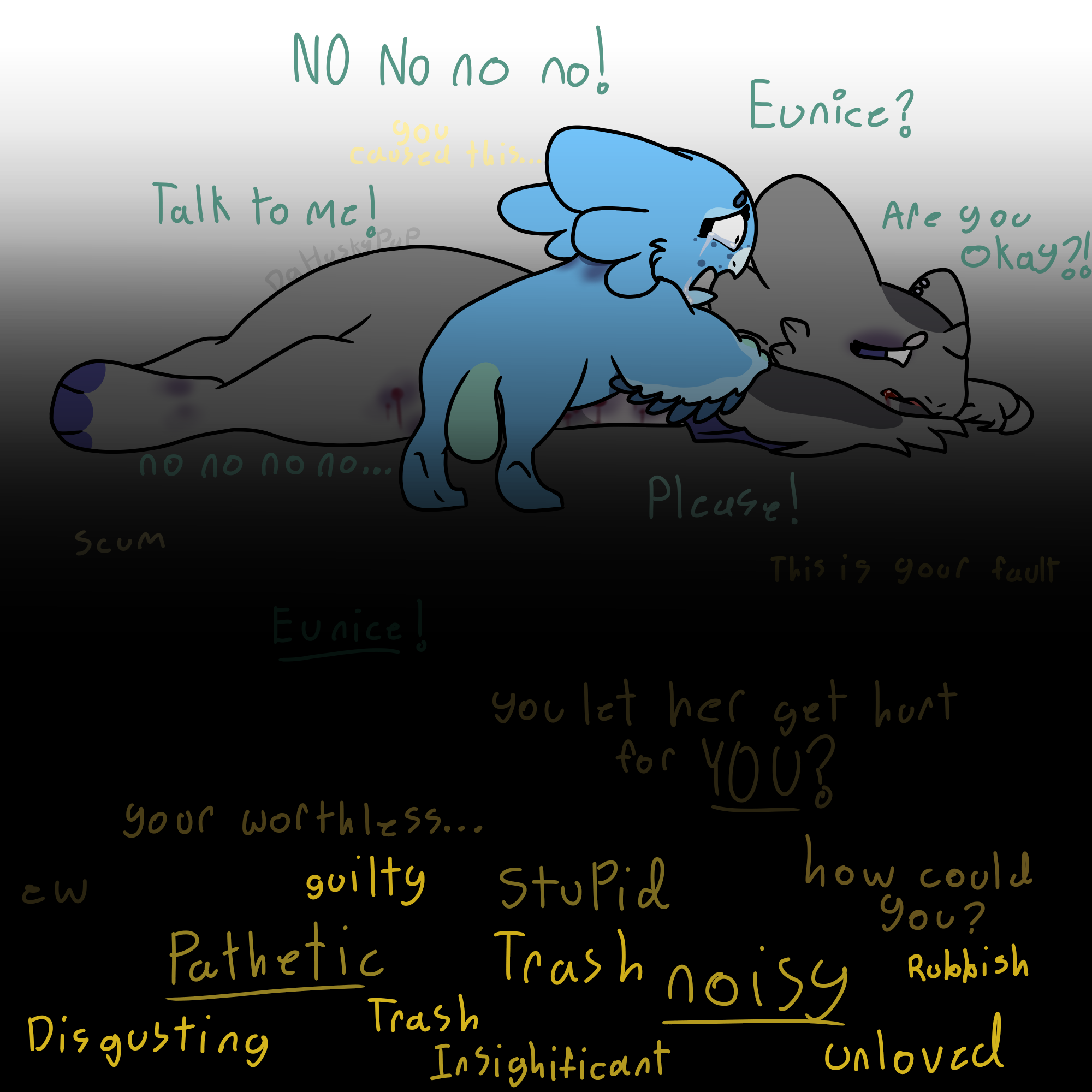 Watch
Please click on the image to see full resolution!
~

Also was provided a wonderful redline ™provided by Ozawells !

~

Fey placed her paws on Eunice's arm in fear, She yelled so loud! Begged for her to say anything! But she just laid there, She had to do something! This was her sister! Her bruise on her scruff hurt so bad but Eunice had to be in much worse pain! She had to help, Was she going to pass out? Was she going to DIE? She had to do something! Fey kept yelling her name but no response! This wasnt right! Why did they attack them? 'This is your fault...' A voice rang in her head, She tried to block it out but to no success. It continued, 'You let her get hurt for Y O U ?' Her stomach screamed in pain at her in guilt. She shook Eunice's arm again, anything to wake her up! Please wake up! WAKE UP! 'You should have let yourself get beat up instead of her...' Tears ran down Fey's face as she tried to wake Eunice up. 'Your worthless...' Fey screamed at Eunice "WAKE UP! PLEASE WAKE UPPP!" Fey sobbed as she shook her arm again. 'Pathetic...' No no no NO! 'trash... Stupid...' WAKE UP! 'Disgusting...Loud...Annoying...' PLEASE! 'Insignificant...Unloved...Scum...Hideous...' Please Eunice...Wake u p .... (199 words)


~

5/627


~


The characters are Fey, Eunice, And Kieran (The yellow Voice)


Fey belongs to Me

Wyngro belongs to Nestly


Critiques ALWAYS open!
Want art like this? Check out my requests! fav.me/dbo18p6


~

This is MY art DO NOT copy , trace , steal , repost ect without my permission!

OMG I ADORE THIS RESPONSE IT'S SO GOOD
there is so much paaaainnn and sufferinggg i looovvee itttt

Reply

OMG I ADORE THIS RESPONSE IT'S SO GOOD
there is so much paaaainnn and sufferinggg i looovvee itttt

Reply

i knOOWWWWWWW, Let Fovos beat up those guys ple a se
Pain and suffering am i right! Gotta love it~
Reply

Reply

That means my writing is good : D
Reply

ooooooooooooooooooooooooooooooooooooooooooooooooooooooooooooooooooooooooooooooooooooooooooooooooooooooooooooooooooof
Reply