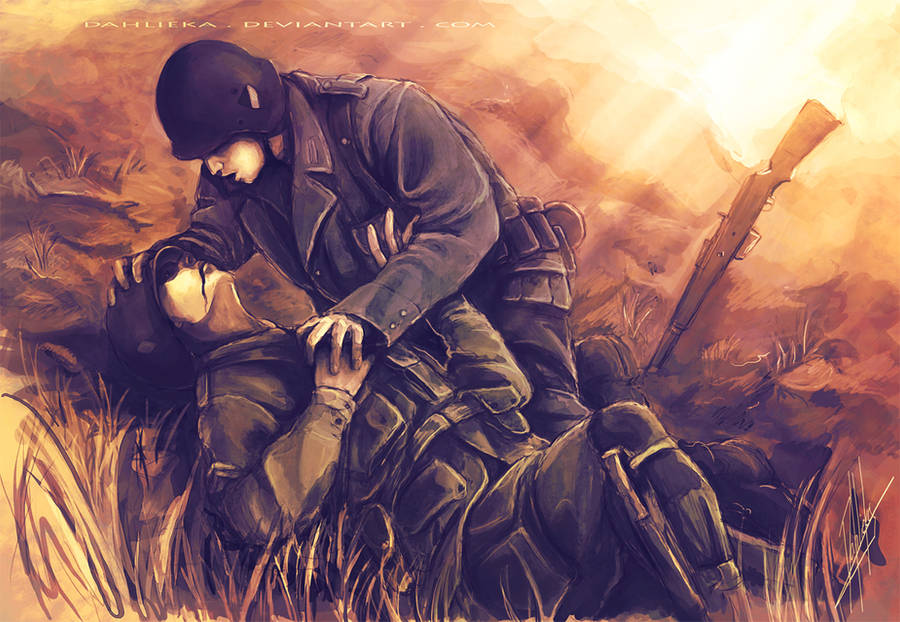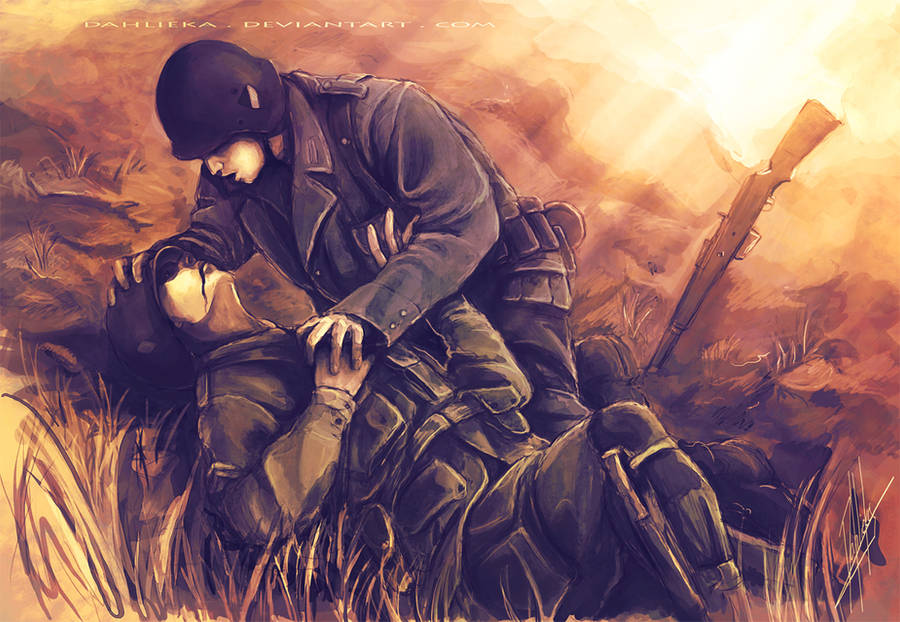 Watch
"[...] But now, for the first time, I see you are a man like me. I thought of your hand-grenades, of your bayonet, of your rifle; now I see your wife and your face and our fellowship. Forgive me, comrade. We always see it too late. Why do they never tell us that you are poor devils like us, that your mothers are just as anxious as ours, and that we have the same fear of death, and the same dying and the same agony ? Forgive me, comrade ; how could you be my enemy?"
Erich Maria Remarque,
All Quiet On The Western Front
, Ch. 9
---------------------------------------
All Quiet On the Western Front is by far my favourite book ; it describes WWI from a german point of view, with a very strong style.
The characters of this drawing are two WWII men, american and german, while the book's scene relates a WWI german soldier trying to save the life of a french ennemy. This changing was just a graphic choice. Anyway this scene could happen during any war...
---------------------------------------

PRINTS INFORMATIONS

This is an absolutely lovely image--the warm red colours portray a sense of human warmth and emotion at the same time as being somewhat war-like, a moment of beautiful grief in a place of pain and terror.
The soldiers themselves don't seem to have individual personalities with the helmets covering their eyes, but this serves to highlight the similarities between them rather than undermining their individuality. The differences in their uniforms seem insignificant, and the grief and pain evident in both their postures, they seem as close as if they really were on the same side and speaking the same language. The full-body shot allows the viewer to see all that's going on between them, and remains close enough to focus all attention on the two soldiers; the only other feature that draws the eye is the discarded rifle, but the moment that's really important is what's happening between the two men and the rifle's presence is really just another reminder that the fighting isn't what's really important.
It's really effective in portraying the issue, and I didn't need to look at the artist's comments to know what was going on or what I should feel while looking at it. Top job.
The Artist thought this was FAIR
67 out of 67 deviants thought this was fair.