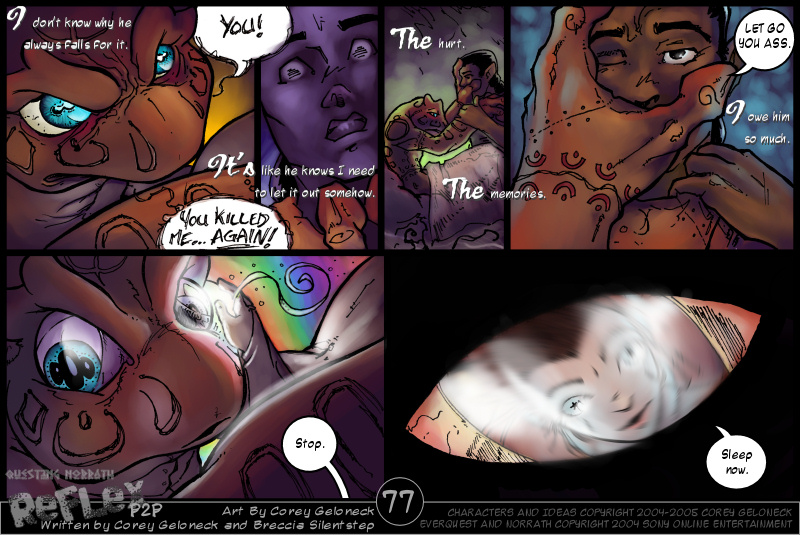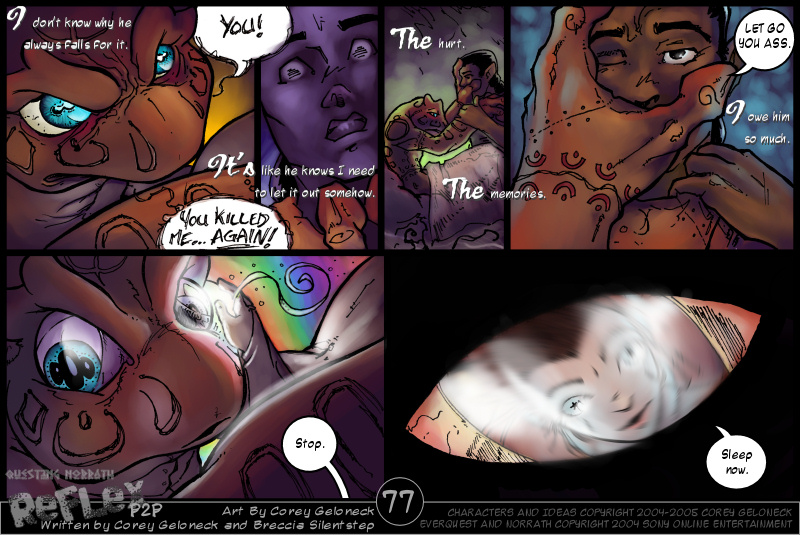 Strip 74 - I owe him so much.
--
originally posted 2006.02.05
--
This comic proves one of my recent theories. I've run this theory past a few people and they agree with me... I'll run it past you too.
This theory has a back story. See I started drawing when my mom and dad got divorced at the age of 8 as a sort of self therapy. It continued on and then started to die down, but then my mom got remarried, and picked back up. Moved in with my dad, and we moved around a lot. Up... down... up... down... He kept losing his job over and over again. Up... find another one... down... Then my mom killed herself when I was 13. Skyrocket...
Now that I'm older and have dealt with a lot of problems in my life the amount of drawing I do has really died down. Where I might have gone through a sketchbook a month back 5 years ago... now I am lucky if I get the first 3 pages of it filled up. It hasn't been easy to find the urge to draw.
Do you see the pattern yet?
In times of high drama in my life I draw more than other times. I came up with a simple formula (playing off Einstein) to explain this, A=LD2... "Art" is equal to what's going on in your Life multiplied by your Drama Squared. The more drama in your life, the more art you make.
How does this comic prove my theory? Well, the past week has been chalked full of stress with drama, more so than just about any other in the past. If you really want to know why you should read the forums.
But drama = pretty comic. So I guess drama isn't all that bad.
--
Anyone is allowed to color my comic pages, so long as I get to see.
--
For the most recent updates head to my website.
[link]