ID by
Thira-Gerard
Got premium: 11/12/12!
Enabled beta testing: 3/23/13
Hi, everyone, my name is Chris. I live in the United States. I make fractals, write stuff in general, make all sorts of digital art and I also do the occasional photomanipulation. I've really gotten better from your feedback, plus your support (watching me, faves, comments, llamas) really means a lot to me. See ya soon!
If you want to use something I've made, just ask! 95% of the time I'll enthusiastically say yes.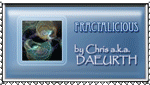 Deviants who inspire my art:











If you really want to commission something, just shoot me a note