The initial code for this bot was written back in 2013 when I started the project with a simpler name: dA Buddy.

I wanted to create something to assist myself on the repetitive routines I had to do when visiting DeviantArt. Some of them included replying to many comments, thanking people for adding my submissions to the favourites, gathering some points from dAhub, and stuff like that.

I got really some really positive feedback when I introduced the early bot to my friends, and I was surprised by the potential it had.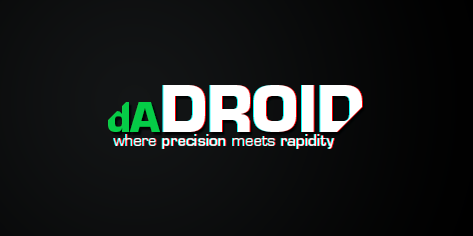 So I continued working on this bot, later renamed dADroid, to help me do things here with much more speed and accuracy – hence the motto
where precision meets rapidity.
Interestingly, I found out that this could prove useful to other people, so once I saw how it could be used, I made the decision to make dADroid accessible to public, so everyone can use it.
I should also point out that
dAhub
was a great source of inspiration when developing early versions of dADroid, and I valued his take on my work. He was a great help learning many of the mechanism on this site.
In the meantime, some amazing group moderators contacted me and asked me if I could write some really specific features for them. Among them were the llama groups which I see that dADroid could really shine. I was impressed with the amount of users using my bot!
I continued working on dADroid, making several more features and integrating some other accounts with dADroid. It was cool and I really liked working on dADroid. However, eventually, I lost some motivation. So I stopped working on dADroid for a time.
Sadly, it appeared that I had made some mistakes along the way; There have been some negative feedback about my work in the past, which made valid points. dADroid was inactive for a period of time, mainly due to me losing interest, focus and enough time to work on it.
I had some hiccups along the way. I launched some features that not everyone liked. On the other hand, I had to fix the bot whenever a dA site update caused the bot to break. I also had to come up with many ways to bypass dA's security in order to keep the bot running.
Many times.
Fortunately, I recovered from these problems and was happy that the bot was working again, perfectly, and actually helping people.
I have to say this has been an educating path for me, I have learnt a great deal of things these couple of years running dADroid.
First of all, let me thank you for all positive comments you have sent me, and for supporting my work even though there have been some difficulties along the way.
That's why from now on I plan on changing some of my policy on dADroid-bot. Additionally, I'm going to ask dADroid-bot's users about ideas before I implement them, from now on.

I also want to apologize for any distress I caused for some people.


---
I'd like to see if dADroid is still relevant - and useful to you. You can vote your opinion
here
.
I'm also planning on a full release of dADroid's source code on GitHub, and building a graphical user-interface for it. This way, anyone can inspect the source code, build it themselves, and use it like a single PC-based app or a mobile app.
This is somehow like what Kishan-Bagaria's apps has been doing for a long time. The difference is that dADroid-bot was designed to run on servers first.
If you have any ideas for things you'd like @devdadroid-bot to automate for you, please leave me a comment. I'll include it in the source code.
I would also like to know what a bot should NOT do. An example would be giving out mass amounts of favorites/watches without your active consent, as dAhub has previously stated in our conversations.
Any conversations about dA automatic activity "bots" is encouraged at: DeviousBots. Further information about bots is also available there.

Thanks for using my bot!