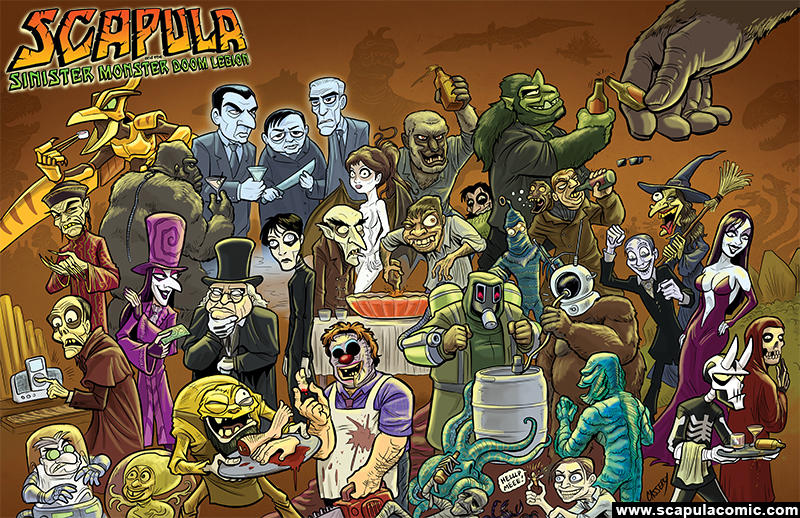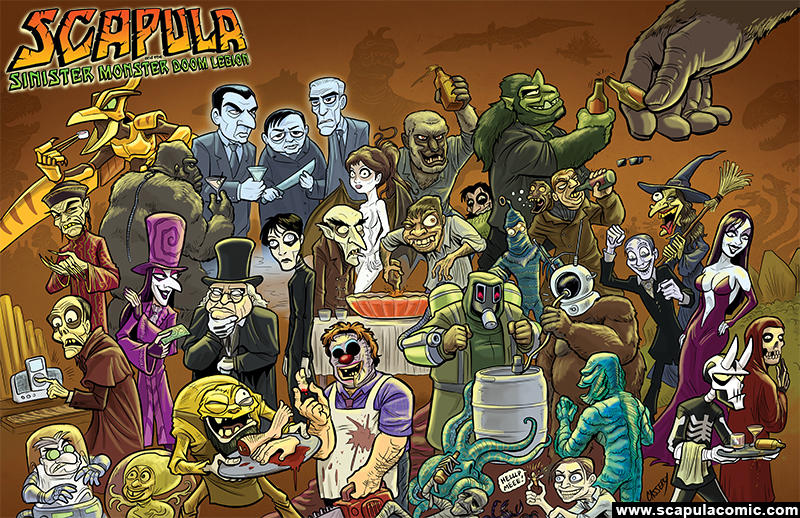 Watch
A two-page art spread that appears in the print version of SCAPULA AND THE SINISTER MONSTER DOOM LEGION (
scapulacomic.bigcartel.com
), showing Scapula and his creature crew celebrating with some classic horrors. Can my fellow monster kids identify every creep in the crowd?

Is it me or did no one notice Peguila from Ultra Q in the background?
Also this should be a comic series.
Reply

Peguila is one of my all-time favorite kaiju, so I had to throw him in there.

...and yes indeed, this is totally a comic series! See more at www.scapulacomic.com
Reply

Pretty awesome stuff. I knew a lot of it. but there was so many that stumped me. What is the Gold Pterodactyl thing from?
Reply

Thankya! Tigadactyl is a character from SCAPULA; you can read more about him (and the other critters!) at www.scapulacomic.com
Reply

Did nobody invite the Beast of Yucca Flats?! Poor guy! We should send him a fruit basket later.
Reply

There wasn't enough room in a two-page spread to fit in Tor Johnson!
Reply

Crap, there's a huge amount that I can't but...
The Phantom of the Opera
Dr. Caligari and Cesare
Fu Manchu
Leatherface
Creature from the Black Lagoon
Renfield
The Mummy
The Crimson Ghost
Wolf Man
Mr Hyde
Alice Cooper
King Kong's hand
Stegosaurus (from King Kong, most likely)
Count Orlok (Nosferatu)
Zacherly
The Robot Monster
I recognize Bela, Boris, and Peter Lorre, I know they were all in that one movie together, but I forget what it was called.
I also recognize that alien in the bubble, but also forget the movie.
And then I suppose the guy in the gorilla suit could be from a few things.
Oh and Rodan, King Ghidorah, and Varan in the background. And possibly the Gorosaurus.
Reply

The bubble alien is from Invaders from Mars (1953).

Babirus and Leatherface feels like a predestined meeting, hahahaha.

I almost missed the Invisible Man, rocking his shades (and nothing else?!) next to the Thing with Two Heads.

For a second, I thought the naked zombie woman might have been the Linnea Quigley character from Return of the Living Dead, but the hair's wrong. I admit, I'm stumped.
Reply

I didn't mention The Thing with Two Heads because I thought it might have been some other two head movie. They don't look quite right. But now I look at pictures of the movie and the shirt at least looks right, so maybe it is The Thing with Two Heads.

Yeah, and I somehow missed The Invisible Man.
Reply

Very impressive! It's always great to see how much my fellow monster fanatics can recognize the most obscure of sources.

To clarify a few of the last puzzle pieces:

Bela Lugosi, Boris Karloff, and Peter Lorre all appeared together in one film, 'You'll Find Out'. They weren't ghosts in that movie, but I guess they are now, right?

The gorilla suit fella isn't any specific reference, just one of those things that pop up in a lot of old horror films. It could be Charles Gemora, Crash Corrigan, George Barrows...take your pick.

The two-headed guy is 'The Manster', a crazy fun Japanese horror film which inspired the sequence in 'Army of Darkness' with Ash growing a second head (beginning with an eye popping out of the shoulder).

The pale nude woman with the bat wings (between Nosferatu and Mr. Hyde) is from a painting by artist Albert Joseph Pénot, titled 'La Femme Chauve-Souris'. I thought Id throw in a curveball by including a monster not from a movie.

The silhouettes in the far background are (from L to R): Baragon, Rondo Hatton, Peguila (Ultra Q), Rodan and Varan (both of their designs are altered in fear that Toho would come after me...not sure why I bothered), Tom Servo and Crow, the Hydra from 'Jason and the Argonauts', and Gwangi.



Reply

In retrospect I wish I had left out the Invisible Man, since it's such a cheap gag that's obviously stolen from 'Mad Monster Party?' and later 'Hotel Transylvania'.
Reply