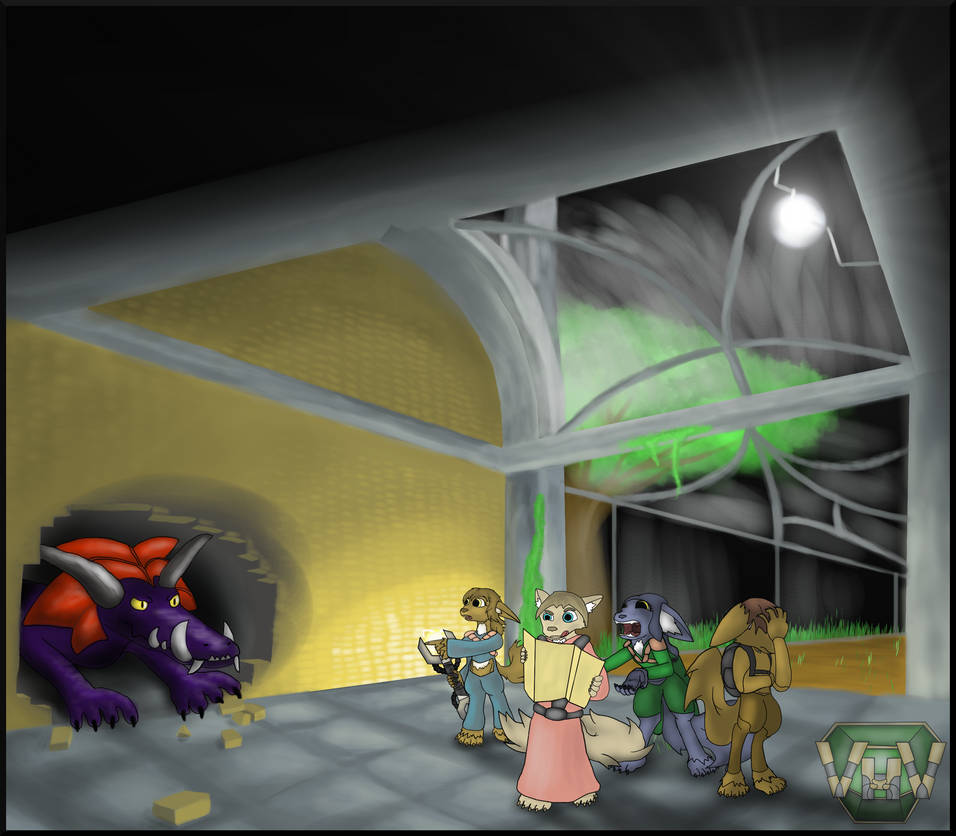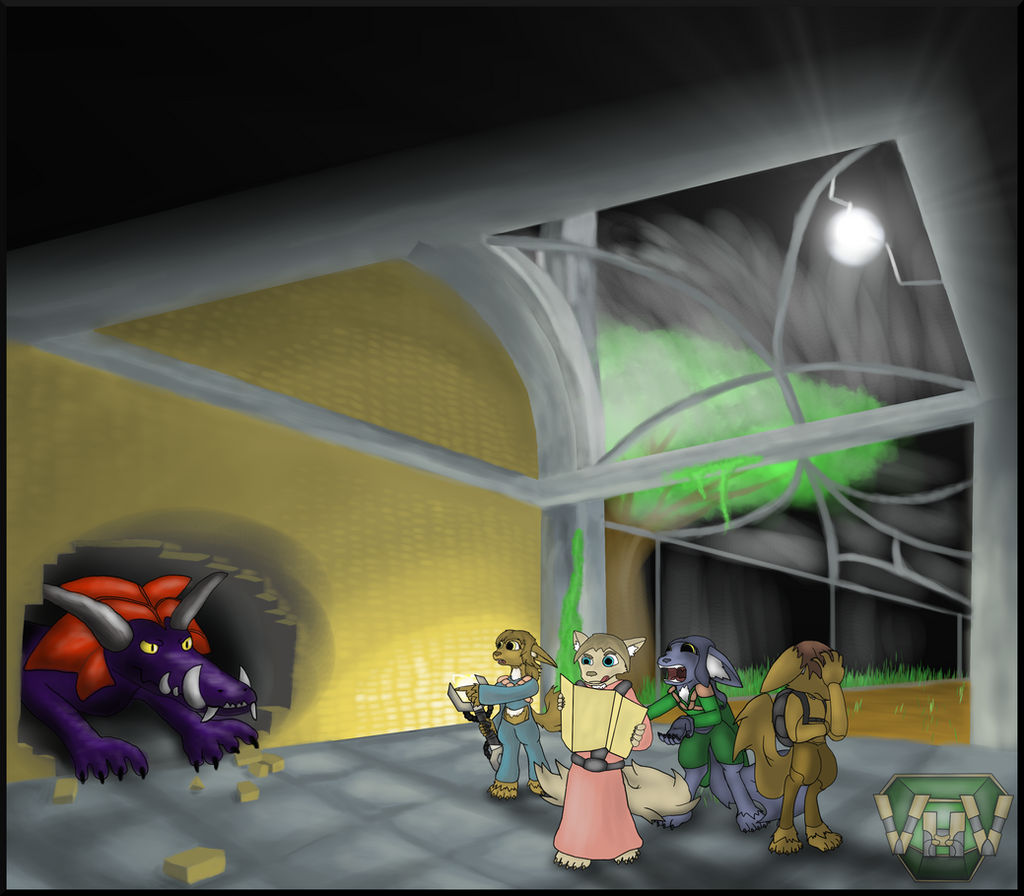 Here it is, original description included!
"Guys, hang on-" Buttercup pointed to the huge hole, which seemed to currently house a very intimidating reptile.

Well, actually, everyone called her "Butter-C", or just "Butter", for short. Mostly "Butter". She really wasn't a flower person, but she did like tasty foods (Within moderation, for she isn't exactly fat), so "Butter" it was. Buttercup "Butter" Cookee.

She is also team "Light Person". She's done more for the team than hold her currently mundanely used weapon of searing pain that happens to provide extensive light, but her captain is strange, and naturally thought no other title would be better for her than "Light Person".

Her captain was also engaged in a heated "discussion" with the map (Its inky "stare" intimidated him), team "Map Person" and team "Stuff Person". Anabelle "Belle" Rinin, and Samuel "Sam" Aritan.

While we're on the subject of names, the captain's is very ornate: Leonardo Damien Andreas Lysander. Naturally, he declared it too fragile to make the trip and left it at home. He's just Leo Lyse now.

Yes, the captain is strange. Speaking of...

"But it's just a river of 'V's! Why can't we cross it?" The captain moaned.

"It's not an exact representation, captain! Those 'V's symbolize spikes! As 'Map Person', I should know!"

"If you Veelievee, then they're just 'V's! We can cross 'V's! It'll be like walking over a newspaper!"

"Captain, that makes no sense at all." Sam scoffed.

"Veelievee!!! I knew it! This map hates me! It won't change the world for us!"

"Guys-" Butter tried to draw attention again.

"Quiet, Butter, grownups are talking!" The captain retorted.

"CapTAIN! You love Butter!" Belle blurted in shock.

"Butter, I owe you a hug. Now why won't Stuff person go by the river if we can't cross the 'V's?" -The captain said river because the complex they were exploring was old enough to have a river going straight through it without it being deliberate.

"Deadly spike traps, captain."

"Right."

"This pack is not water proof!"

"Of course it's not proof of water, it's a PACK."

"GUYS-" Butter tried again. Louder.

"IT MEANS WATER WILL GET INTO IT!"

"WHY DIDN'T YOU SAY SO?"

"I THOUGHT YOU KNEW!"

"I'M SORRY FROM THE BOTTOM OF MY HEART! I DIDN'T KNOW!" The captain practically sobbed.

"So we go down this hall?" Belle suggested.

"What hall?" The captain asked, in perfectly calm mood in stark contrast to seconds before.

"The 'X' marks a door to this hall here'."

"No, that's treasure."

"Captain, I think we all are sick of this nonsense from you. Read the key, please."

"Oh, okay, back to business."

"BACK TO- ??" Sam began to seriously question his life choices.

"Hush, Stuff Person! We take the hallway by the river until we meet up with the rest of the team. From there, we'll exchange information and clean up the remaining rooms. At our current rate, we'll be finished by dawn."

"Excelent leadership, Captain." Belle complimented.

"About freaking time, Captain." Sam belittled and canceled out Belle.

"GUYS!!!" Butter practically screamed! Seriously. It was a little bit short of shrill.

Needless to say, she got everyone to shut up this time.

"Big lizard? In hole? You know? Might wanna NOT get it angry?"

"...Oh." The three said, having just woken the reptile.



Click me to go back!