As the 'pointperson' for Sculpture and Artisan Crafts in dA-Morgue, one of my responsibilities has been to "seek out new life" in the genre in the hopes that talented artists will want to join the group. Now that I have some more 'bodies' collected, I'd like to introduce you to some of them.
MrSoles
mrsoles.deviantart.com/
has graciously (and bravely!) consented to be my first interview. An extremely gifted and accomplished artist, Jason Soles creates original sculptures from various mediums and casts gorgeous creations in bronze and marble.
Here follows a fascinating interview from a fabulous artist--enjoy!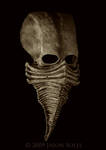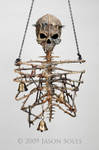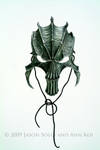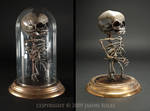 1. why are you an artist and when did you first 'become' one?
That is a surprisingly hard question for me to answer. The creative process is so ingrained in me that it is impossible for me to think of a life without art and writing. My mind is never so focused as when I am sculpting. It really is second nature to me.
Growing up, my mother put a lot of emphasis on arts and crafts. Later I learned to paint toy soldiers. During my college years I created all manner of props for film projects. After school I became a 3D painter for a retail chain that filled their shops with amazing life-sized fiberglass sculptures. Because part of my job was patching and repairing the pieces before painting them, I learned the fundamentals of sculpting. With some added training from the sculptor who ran the studio, I began creating my own works.
I first identified myself as an artist when I learned to mold and cast my pieces. Almost immediately I started assembling a small product line, the profits from which went into paying for molds for ever larger pieces. Within a year I founded the dark arts collective Catalyst Studios with Ann Koi
www.moritorium.com/
. That was 1999 and there was no looking back.
2. tell us more about your sculptures
I consider myself a kind of crypto-anthropologist creating the artifacts and relics of civilizations that never were. The notion of "pre-history", a time before record, has always stuck with me. I like the idea that in creating the tactile remains of the past you are in fact creating the past, or at least as much as we will ever know of it.
My earliest works of art as such were a series of masks based on mummies and photographs of preserved corpses. I was struck with the ageless peace captured in some of those faces. With flesh like leather or polished hard wood, to me they looked like the most skillfully realized works of art. Of course there were examples as grotesque as beautiful, but in all of them there was a sense of peace and calm. Later I started creating the skeletal remains of ancient gods. Like those preserved corpses, my gods were left to the vicissitudes of time.
I have also always been fascinated by the tenacity of nature to reclaim energy through decay and have tried to capture it a number of times in my work. I especially the image of tree roots consuming and replacing bone buried in the earth.
More recently I have been a little obsessed with the absurd notion that aliens helped build the pyramids and so I started sculpting the pharaonic funeral masks of unknowable space gods.
From a purely technical standpoint, I employ two very different styles of sculpting. I create one of a kind assemblage works from bone, metal scrap, anatomy models, epoxy putty, and found objects. My other works are painstakingly sculpted in wax based-clay. By comparison the assemblage pieces are very fast and enable me to capture more "life". My clay sculptures are far more time consuming and meditative, taking up to three months to sculpt before I can even begin to cast the first piece. Once out of a mold, my style and materials are such that no two finished pieces are exactly the same.
For years I hand painted all my pieces, giving them the appearance of moldering bone or rusting metal but in the past year or so I have begun working in cold cast bronze and marble which are perfect for capturing the look of timeless antiquity at the heart of my imagination. My hope is next to learn lost wax casting so I can see and feel my pieces in true bronze.
3. your work is 'dark'--a lot of skeletal aberrations--why choose this?
Because bones are the artifacts of life. That said, I often use skeletal remains as a metaphor in my work. For instance, my Baphomet is more than an aberration of goat and man. It is an attempt to capture the ancient spirit of the old gods as they have been battered across the centuries. I chose the entity said to have been worshipped by a secret cabal of Templars precisely because I think we saw the same pagan elements that could be reinterpreted for our purposes.
4. what famous artists have influenced you and how? and/or what
inspires you and makes you tick?
I am driven to explore the world around me and find as much inspiration in travel, architecture, history, and mythology as I do in the work of any artist. That said, I am in awe of the artwork of the ancient world and of aboriginal people. I also study the shapes and structures of nature. I am fascinated by both the root networks of great trees and the mechanisms of man... Yes, especially the skeletal structure.
My art influences include Gustave Dore, Bernie Wrightson, and Ian Miller. As an artist and sometime student of the natural world, I love art nouveau and Alphonse Mucha in particularly. While I was always a fan of HR Giger's work, realizing it was essentially a reworking of art nouveau motifs was truly eye opening for me. Lately I have been inspired by
the work of my girlfriend, Anita Arora
morbidanatomyart.deviantart.co…
, whose experiments in the aesthetics of antiquated medical science and alchemy have had an affect on my own work and ideas. Finally, I very much enjoy the work of sculptor Yasushi Nirasawa. The man's creativity is as endless as it is inspiring.
5. what are some of your other interests besides art?
I am very interested in history, film production, game design, travel, rum, and the classic cocktail. While I am a general history buff, I am particularly interested in Victoriana, military history, and the ancient world. I am the lead developer for Privateer Press
privateerpress.com/
and spend my days detailing the Iron Kingdoms as viewed through the lens of table-top wargaming. I am also the co-creator of Unhallowed Metropolis
www.hallowsevedesigns.com/unme…
, the gas mask-chic role-playing game of Neo-Victorian horror, with Nicole Vega.
This year I also worked as the prop master on Matt Wilson's steampunk film short, Wolfsbane
www.wolfsbanefilm.com/
. Wolfsbane gave me another opportunity to work with one of my favorite people on the planet, sculptor George Higham
www.poepuppet.com/(
, who created a wonderful mask for Matt's film. George is also the cover artist for Unhallowed Metropolis and an all around incredible guy.
6. what do you think is your best creation to date?
I believe that my single best piece is my mask Excarnate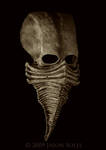 . Certainly it is my work that I am most proud of.
7. if you were no longer allowed to create art, how would your life
change?
Funny, I have wondered that myself... I am quite adaptive as a person, but I cannot easily imagine what life would be like if I could not sculpt. I took a break for a few years to focus on writing, but I always knew I could return to working clay whenever I was ready.
8. what are the best and worst parts of being an artist?
I cannot think of a best part of being an artist. I enjoy the creative process from inspiration to completion. I love sharing my knowledge of art as well as learning new techniques. I very much like the satisfaction that goes with selling my work, but have suffered my fair share of seller's remorse. May be my best moments are when someone suddenly puts their finger on a detail I buried in the fabric of one my works, when they suddenly "get" what I was trying to say.
Not to be dramatic, but certainly my worst moments are the catastrophic periods of depression and frustration that follow the completion of a GREAT WORK. I those moments I am left in the depths of an existential nightmare for two or three days while gasping for the inspiration required to start my next project. It almost feels like separation anxiety as I try and make sense of my newly acquired "free time".
9. where else can we find you on the web?
Catalyst Studios
www.moritorium.com/
Etsy
www.etsy.com/shop/mrsoles
Carbonmade gallery
jasonsoles.carbonmade.com/