Hey guys, I accidentally deleted the last copy of this (I'm an idiot), but I'm back! With points! Now, I will name honorable mentions and second and third places. Sad to say, you get nothing but the honor of being advertised by DA-Gamers. That should be enough (I hope. Thanks for joining!)
HONORABLE MENTIONS
Avalerion
By
1stawesome
Good concept and somewhat unused(-ish), but more could have been put into the character.
Scratch
By
EmperorMinilla
The main thing that killed this is being much like Godzilla cookie cutter. Good amount of info (if some a little obsolete), but it could be trimmed.

Wing Hummer
By
AltairSky
A well developed character (again, a little bit crazy overboard with useless information, especially once you actually LEFT the character). I don't need to know sexuality and what he likes, I just want to know about the character. Keep that in mind, yeah?
Dexter "Tex" Darkflare
By
CyberII
The character is basically Sam Vimes from the Discworld series, but flipped upside down and turned into a cynical criminal rather than a cynical police captain. The info provided requires people to have an intimate knowledge of your works, which is fine but bad for contests.

Topaz
By
AzizlaSwiftwind
I saw at least two Skyrim based characters in this comp, but this one was rather more interesting (is it because I have a thing for mercenaries? The concept is neat.) Anyways, good but not good enough.
NOW THEN...
THIRD PLACE
The Shepherd
da-gamers.deviantart.com/art/O…
By
MediatorIridescent
<da:thumb id="460876910"/>
A genuinely unique concept, but not nearly enough information given on the character. I suggest developing it more and trying to flesh out its story; its history must be interesting enough, why not start with that.
SECOND PLACE
Niisha of Secrets
da-gamers.deviantart.com/art/D…
By
KomradApex

Deity Profile: Niisha of Secrets

Niisha of Secrets
Titles: Our Collected Hell, A River Running Backwards, Sanity's Antithesis
Material Form: Niisha's material form is a column of translucent darkness, inside of which is the barely-visible shape of a humanoid figure. This is contained within an iron cage, which the figure inside writhes against in an apparent struggle to break free of its prison. With every thrash against the barrier a whisper and shout are both heard, the whisper carrying a secret and the shout trying to drown it out. Hovering above and below the pillar are twin pyramids. It is said that divided amongst the two, all the forgotten secrets of Therma's universe is contained.
Spells: Rewire Thought Patterns, Invert Reality, Nullify Natural Law, Self-Fulfilling Prophecy, Against All Odds, The Ultimate Lie, Truth Delusion, Horror of Horrors, Unravel, You Don't Want to Know, Mind Slitter, Blessing of the Madman, Fool, Upset the Vessel, Primordial Eruption, Pillars of Black Light, Forget, Se
You're my friend mate, and you're great at developing OCs, but this is something of an overused trope. And I have no idea what the picture with it is supposed to mean. However, enough information is given to suggest at unique and original concepts with just enough data to get a clear image in my head of what this being is. Well done as always.
Now then. This is my favorite one out of them all, and it IS wonderful and... well. I've never seen an OC outside of professional writing like it, have you?
FIRST PLACE
Pangaea
da-gamers.deviantart.com/art/O…
By
DenaLee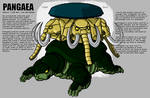 This is much like a baby version of the Great A'tuin, which was based on the same myth as Pangaea. While based on myth, it is more original than most OCs I see come through this place daily, so it deserves a pat on the back. While the usage of this OC is unclear (a battle of some sort?), but it is truly a good OC concept, and that's what I want, OC concepts. Not artwork, because this was for the quality of the character, not what they look like.
CONGRATULATIONS WINNERS!
Update: Winners get thumbnails.