Journal paid for by some kind gents who'd like to see more contests and a Super Group logo on us, the ever fantastic

and

. Thanks gents!
Right-o! A long while back I started a Hobbyist Only Contest, and... well, today was the day I set to end it. We didn't have a huge overflow of submissions (unfortunately) but what we got I am proud of. Here I'll show the submissions and the top three winners and their prizes!
(Oh, and here's the original contest if you want to look at it:
fav.me/d9zrd94
)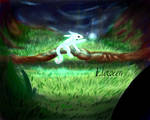 -by
Eleween
Fanart of Ori and the Blind Forest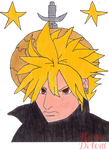 -by
LocalAlly
Fanart of Final Fantasy XII
:thumb604275577:
-by
AuriV1
Fanart of Dragon Age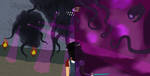 -by
RosaGem
Fanart of Minecraft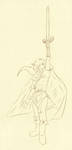 -by
Hyenapocalypse
Fanart of Legend of Zelda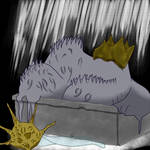 -by
trainer-mana
Fanart of Dark Souls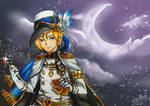 -by
Ambbey
Fanart of Maple Story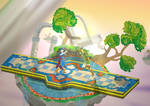 -by
NotaNameWaster
Fanart of Smash Brothers
-by
IviEnchant
Fanart of Yandere Simulator
Alright! Let's see some winners now...
I will choose winners... basically over my favorite pieces based on actual look and not what game it's from. I will also say this beforehand: a well done simple piece looks a helluva lot more pleasing to the eyes than a complex piece taken too far and over the top. Now then!

Third Place (Bronze) Winner

Eleween
with their Ori and the Blind Forest fanart!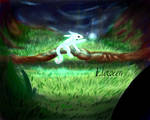 The lighting here fits their theme of almost a mythical forest and, while the background isn't the most advanced bit of art I've ever seen, it's good enough to allow the enjoyment of the piece as a whole, especially with the cute little bugger himself. I've never played the game, but based on this piece, I fear I shall do so soon, and if it looks like this, then I'll be damned grateful.
Congrats on third place! Your reward has been donated by
IviEnchant
; a full body portrait of... anything, I suppose. Talk it out with them.

Second Place (Silver) Winner

Hyenapocalypse
with their Legend of Zelda fanart!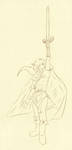 Allow me to say that this would have almost certainly gotten first had it been colored; nostalgia aside, the heroic pose that is, if not required, heavily asked for in a hero is all there, flowing cape and all. The minor details given all throughout the body, while simple, are well placed and give a sense of depth without actually going into things like shading. Well done, sir!
Congrats on second place! Your reward has been donated by
AuriV1
; a portrait of a character, or... anything. I guess. I'm not sure, but it's a portrait.
Right then.

First Place (Gold) Winnnah!

AuriV1
with their Dragon Age fanart!
:thumb604275577:
Now then. I've never played the game, and I'm not sure that I want to because it sort of sounds like a lot of other games I've played, buuuuuuuuut... This guy is pretty damned good at the whole "Realistic Human Being" scene. I will say the eyebrows creeped me out, but beyond that the man looks as if he might simply step out of the screen and ... I dunno. Perhaps steal your ice cream. Anyhow, the piece is well done and realistic and colored, so there really is no way I could say no, now is there?
You got first place, mate! Have 400

and a hug! I suppose you could also brag and say "YEP! I won. Gwahahaha." on its page, but people on the deviation's page will have no idea what you're talking about, but like... if you want to, more power to yah.
So! Didja enjoy the contest, I guess? If we get some more points I'll gladly start another one... perhaps for game concepts. Yeah.