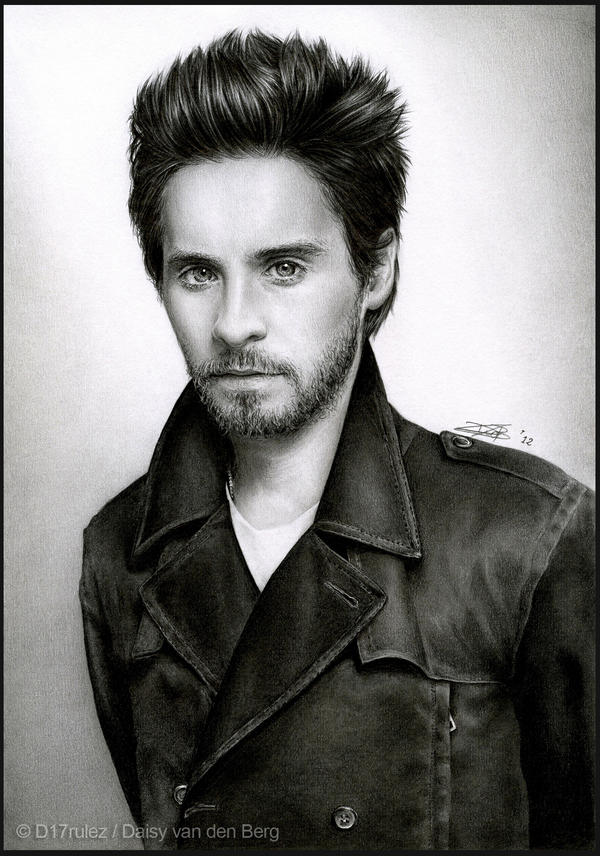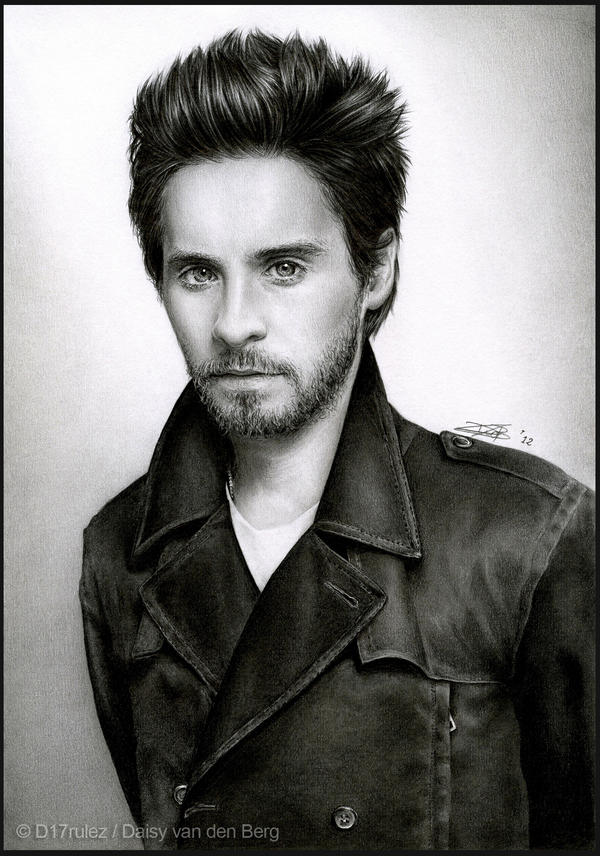 Watch
FULL VIEW PLEASE

Find a
Time Lapse Video
of this drawing here on my YouTube Channel


[link]

Jared Leto...
It's done...

Me and my friends ~
M-i-n-c-a
and ~
L-a-u-r-a
saw 30 seconds to mars
live
last year.
We were only a couple of meters away from Jared Leto

.
So after this amazing experience Minca asked me to draw another Jared Leto.
This time I've
filmed
almost the entire work in progress of this drawing. It took me alot of hours to put the video together and it took aloooot of time to upload the dAmn video on youtube. I waited 2 hours for youtube to upload my video, when it was completed I checked the link... BUT THERE WAS NOTHING THERE

only the text: The user has removed the video. So I tried uploading it again *sigh so I waited another 2 hours. AND THERE IT WAS

For more video's see my Youtube channel:
[link]

Tools:
Used:
2H, 6B, 0.5 mm mechanical pencil, Tortillion for blending, kneaded eraser
Time:
around the 40 hours
Size:
A4
Paper:
200 g/m2 paper

Commission for:
~
M-i-n-c-a

Previous WIP's:

My other Jared Leto drawing:
Thanks for looking!

This drawing is © to Daisy van den Berg
this is an amazing piece!
I'm always so impressed about your technique! you're a great rolemodel for me!
anyways, i think the textures are just far beyond incredible!
It looks just like him! all ratios are perfect!
I also really like the way you drew his hair, with the combination of using dark hair and the high lights, with his beard it must have been a really precise job, and you did it very well!
Maybe it's an idea to make something that is really your own, by getting some portrait photos together and put them together in a way that it's expressive, photorealistic(that you already do), and has a little nonrealistic-twist to it, in the way that you draw something superduper realistic, but cant be a photograph or can't be actual reality, because of what's happening in the drawing. By example: add some effects.

Just amazing! cant say anything bad about it!
The Artist thought this was FAIR
32 out of 32 deviants thought this was fair.