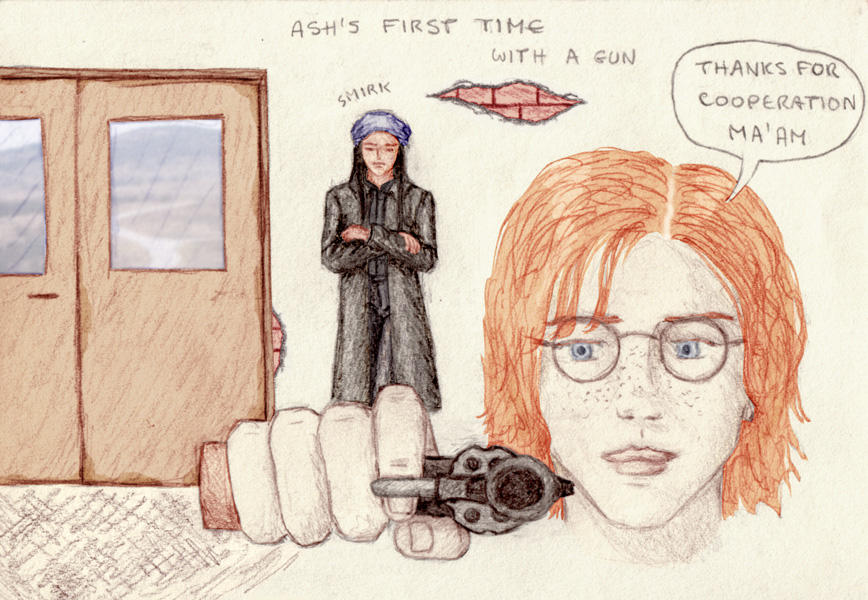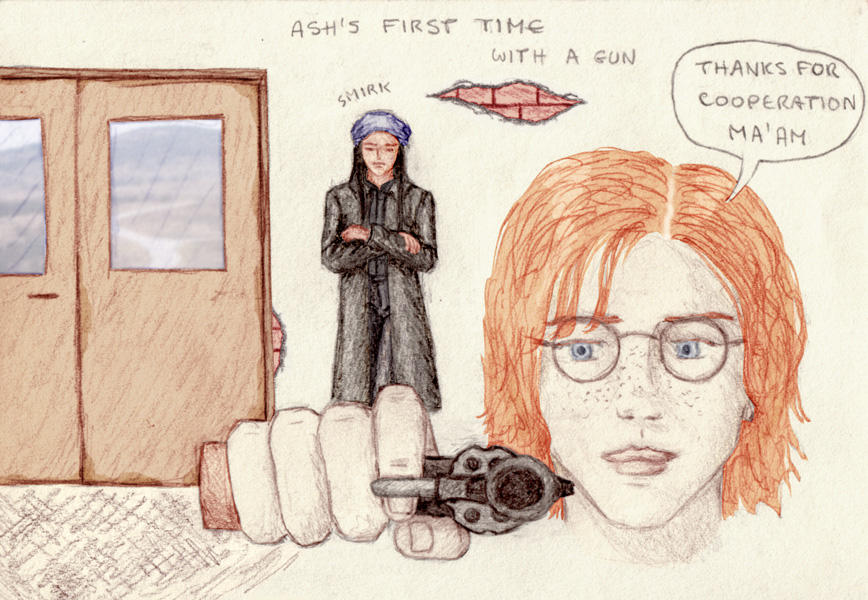 Watch
Another illustration to "The God Eaters" - colored version
Ash threatens a person with a gun... for the first time in his life.
(After coloring the pic seemed empty so I added the floor and scratches on the wall and the view behind the window, I'm not sure if it helped. And I'm not quite happy with Ash's hair.)

Chwaliłam już prywatnie, teraz pochwalę publicznie. Podoba mi się krajobraz za drzwiami. Naprawdę nieźle Ci wyszła technika nakrywania obrazka pół

rzezroczystą warstewką, chociaż wciąż moim pierwszym wrażeniem jest "deszcz?" a dopiero drugim przestawienie się na wysuszony step Dzikiego Zachodu. Winię tu własny mózg.
O mojej sympatii do zacieków i cegieł w ścianach doskonale wiesz, więc nie będę się bardzo szczegółowo obśliniać: pasują, dodają trzeciego wymiaru, uplastyczniają i drzwi i ścianę.
Na koniec typowy, detaliczny zachwyt (też nic nowego). Kciuk Asha. Realistyczny, b. dobrze wygięty, z wcale nieoczywistym, a prawidłowo oddanym łukiem paznokcia.
Jeślibym się miała czepnąć, to tylko dwóch drobnych rzeczy. Rzeczywiście po pokolorowaniu rysunku wygląda to tak, jakby w powietrzu wisiała zdekapitowana głowa Asha obok jego ręki. I - choć to znacznie drobniejsze zastrzeżenie - przedziałek. Nie wiem, co jest nie tak. Może po prostu przedziałki są, jak piszą nastoletnie bloggerki, "evul".
A generalnie - bardzo mi się podoba. Zilustrowałaś jedną z bardziej dowcipnych i wdzięcznych scen "Bogożerców".
Reply

No dzięki, dzięki. Co do przedziałka to nie mam zastrzeżeń, mi się wręcz podoba jak to wyszło. Co do głowy... hm, niestety masz rację. Być może wypadało by dorysować Ashowi resztę ciała. Chociażby schematycznie.
Reply

I thought it looks pretty good ('v') again, the effect of your PS job is really neat, it's so natural (the windows are nice too). I like the way the "Smirk" works so well with the drawing <G>
Reply

Oh, thanks! Although I guess on this pic it's pretty clear that the effect was not achieved by the color pencil - anyway it's possible to notice it. On surfaces like the door or Ash's hair, or bricks. Thanks for the 'smirk' comment. It just needed to be there.

Reply

Nic więcej z dłoni chyba nie widać. Co do tła, to miałam zagwozdkę, bo zaczęło się po prostu od pomysłu na niewinną buzię i wielkiego gnata, i nic więcej nie chciałam rysować, rysunek miał być prosty i w miarę schematyczny. Potem dopiero pojawił się Kieran (czyli ten przystojniak co się smirka w tle) i drzwi. I na szkicu wszystko było OK. Ale po pokolorowaniu zrobiło się pusto, dlatego dodałam elementy.
Jedyne tło pod Ashem, które mogło by być to sam Ash, a to by było za dalekie odejście od pierwotnej schematyczności i przejście w zwyczajną ilustrację, czego chciałam uniknąć. Może niepotrzebnie.
Reply

Ajc, nic w ogole nie musisz zmieniac! Jesli juz, to w takim razie wyczysc nieco tlo z prawej i bedzie sie rozmywac tak samo, jak pod Ashem. Ale to tylko takie moje gdybania, praca nie wymaga zmian

Reply

Fajny, piegowaty rudzielec

Swietnie oddany pistolet i dlon, ale przydaloby sie dodac jej dol - o ile widac cos wiecej w tej pozycji. I moze dodac tlo na dole pod Ashem - tak jak dodalas tlo wokol.
Reply