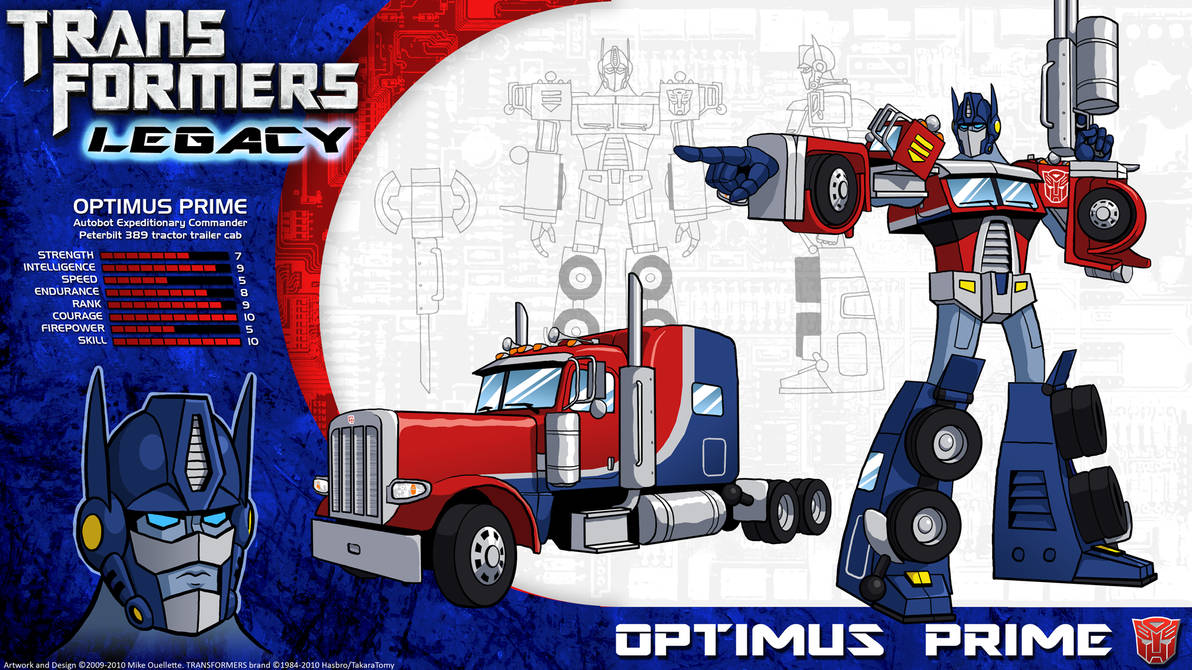 Watch
Comments, criticism and questions are welcome and encouraged!OPTIMUS PRIME

Function:
Autobot Expeditionary Commander
Alternate Mode:
Peterbilt 389 tractor trailer cab
[
Instructions
]
Strength: 7
Intelligence: 9
Speed: 5
Endurance: 8
Rank: 9
Courage:: 10
Firepower: 5
Skill: 10
Optimus was a young Autobot soldier serving under the command of Sentinel Prime during the height of the Great War between the Autobots and Decepticons on the planet Cybertron. His heroic efforts in combat earned him numerous military decorations, eventually earning the prestigious designation of
Prime
for himself. After the conclusion of the Great War, Optimus retired to pursue his original calling – space exploration – as captain of the expeditionary starship the
Ark
.
As captain, Optimus is the
de facto
commander of the Autobot crew stranded on Earth, his military career lending him the combat prowess and bravery to play the part. Despite being battle-hardened, Optimus is a genuinely compassionate leader, viewing his crew as equals rather than subordinates and never giving an order he would not carry out himself. He values his troops' input and is only stern when the situation calls for it. Having never actually commanded a team before, however, Optimus is not entirely confident in his abilities as leader, occasionally seeking the advice of his old friend Ironhide when faced with a dilemma.
An environmentalist at heart, Optimus is protective of all life that he encounters during his travels, making him the ideal guardian of the human race against the Decepticons. When forced into combat, Optimus is armed with a double-barreled ion blaster, which is designed to force opponents into stasis lock rather than damage them outright. The gun can also split in two and reconfigure into a pair of energon hand-axes in melee combat.
-------------------------------------------------
This is the first entry in Transformers Legacy, which is my new Transformers redesign series. This is something I've had in mind for a long time - I designed a few updated G1 characters about 10 years ago ( way before Robots in Disguise kicked off the reboot-happy state the franchise has been in since) - and which has been in its current form for about a year and a half. Legacy is a big melting pot of character designs and personalities from ALL of the different Transformers franchises throughout the years, with a few new surprises thrown in as well.

Optimus is definitely the most conservative of the Legacy designs, and for good reason. G1 Prime is undoubtedly the most iconic Transformer in history - the red and blue, the windshield chest, the truck mode - very little has changed throughout his different incarnations. As such, Legacy Optimus has a ridiculously convoluted transformation scheme in order to get him looking as much like G1 Prime as possible despite having a different alternate mode (I could've even put the rear wheels on the sides of his legs instead of the front, but I wanted him to remain semi-unique). His personality is based a lot more on Optimus Primal and Animated Optimus, though - I find flawless, heroic leaders like G1 Prime to be pretty boring as characters.

Just a note, I'm taking a lot of stock in realistic transformations in Legacy. That is, it would work if developed into a toy. A lot of fan designs I see just plaster car parts over a blocky armature, and that's not fun or interesting. I try to make unique transformation schemes when I can, but in some cases (cars) it will have been done somewhere along the line. If anyone's really interested I can draw up a scrap of how the transformations work and post it up here.

As far as the art itself goes, this was my first real piece using a tablet, and it probably shows; a lot of the lines are shaky and I didn't utilize the pressure sensitivity as much as I probably should have. I'm definitely better now than I was when I started, so it should be uphill from here. From start to finish this took me three weeks of on-and-off work (I wouldn't say more than 12 hours of actual time spent, though). I mean it's basically two separate, fairly detailed pictures that both need to be fully colored and shaded. I'm streamlining the process as I go, though.

Guess that's it for now. I'll make a journal entry that lays out the framework fiction for the series later, but I won't be doing individual stories for each character like I did with the Godzilla series (which is NOT necessarily over, by the way), just brief tech specs outlining each player's personality and weaponry. Thanks for reading and I hope you enjoy the series.

Revision Edits (6/28/10): Cleaned up line and color work, the chrome shading in particular. His Ion Blaster has been slightly downsized to portray a more accurate scale relative to the robot. The "Prime" symbol has been added to his right shoulder to denote his rank - future Primes in Legacy will also bear this marking. Finally, he gets a new mugshot (though it's still pretty close to the original).

Revision Edits (1/19/12): Cleaned up the schematics and removed drop shadows (which'll be the case with all revisions so I won't bother mentioning it every time). Tweaked the colors a bit; most noticeably the blue is more of a cobalt shade than the older slightly violet-tinged blue. Also, the black has been desaturated and darkened, and the red shading is deeper. Lastly the size of both the vehicle and robot modes have been increased to better match the balance of the other entries. This results in the top of the gun barrels getting cut off a bit, but who cares.
Next up:
Megatron. Big surprise there.