United States

Deviant for 11 years

She / Her
My Bio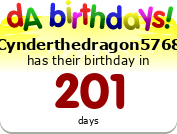 My favorite things



Bayonetta


FNAF FNAF 2 FNAF 3 FNAF 4


Caffeine


Complaining
:thumb547537671: Sun tanning


Unicorns


My OC Green Guy


Wii U





My favorite video games




Bayonetta II


Ice Age 3 PS2


FNAF II


Snowy the Bear Adventures


Wandering Willows











:thumb507189217:




:thumb513702965:









:thumb340032986:



:thumb468530741:






:thumb585104955:


:thumb182507864:




:thumb290185564:

:thumb586866573:













:thumb611482217:



:thumb505120137::thumb587551523:

:thumb542322994:

:thumb589524177:

:thumb623117292:







:thumb559963862:






















:thumb102054868::thumb210029292::thumb210053807::thumb210133876::thumb210157777:






















*Stamp/Button thingies made by me*(use if want)



***

<--Slavedriver Mc. Bitchy
Slow artist who likes to take their time with commissions? Don't let Slavedriver Mc. Bithcy commission you, she exspects things done in a week. Added me to a 'black list' because I was too busy to finish her FREE stuff and cater to her every whim. Refuses to remove me from her 'black list', thus trying to ruin my buisness in commission.
F*ck you Dragon for trying to make me look bad

PS: She's also convinced people not to buy my stuff because I'm a 'terrible awful person'. So don't buy her shit. She's a bitch.














467
badges sent
,
2.1K
badges received
: