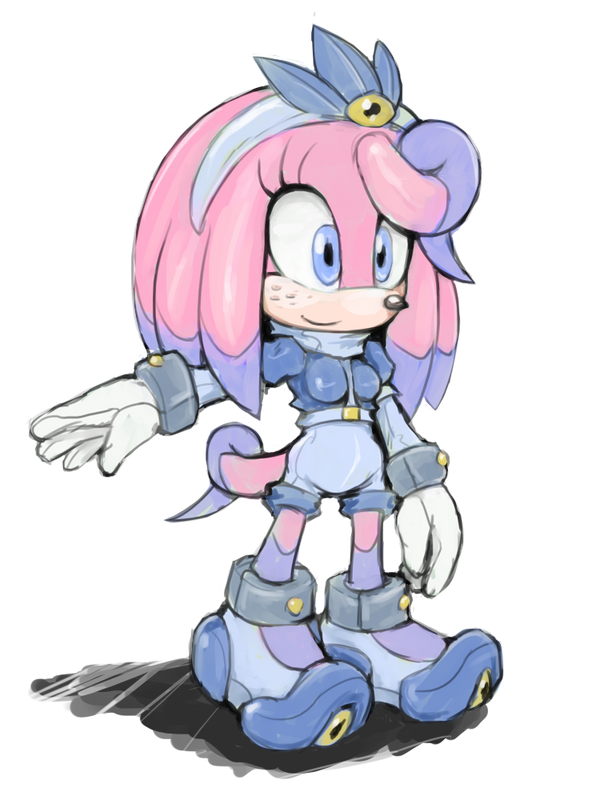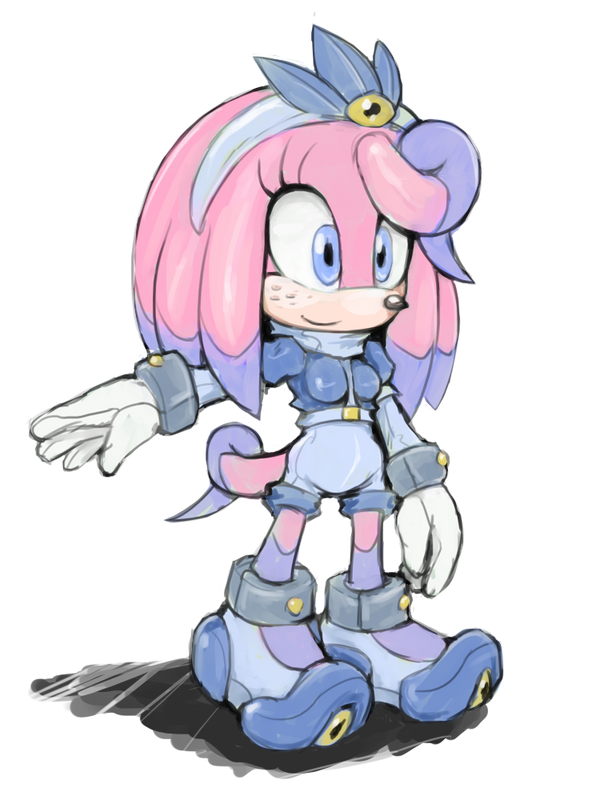 Watch
A very random character I came up with quickly based on an idea that was discussed with a few friends of mine. In my Sonic Expanse continuity, I explain that Black Doom and Mother Wisp are two sides that are manifested from the deity Argus, and are essentially two sides of a single coin. The idea that was discussed was the question of "
What if Project Shadow was created using the DNA of the benevolent Mother Wisp instead of the malicious Black Doom?
", thus creating this alternate timeline variant. So please meet Proj the Echidna!
Essentially the idea that I wanted to work with was to subvert and parody the common "anti/nega Shadow" idea while discarding the Shadow-y elements of the character and making it completely unrecognizable to him. Proj here is an entirely separate character to Shadow, but shares his same position in time and space. I have decided to make her an Echidna instead of a Hedgehog; While Shadow is commonly thought to have gained his Hedgehog form based on studying the Super Sonic murals from ancient Echidna civilization, I have decided that through the Mother Wisp's resonance, Proj would manifest as an Echidna instead based on Gerald Robotnik's other facets of research- particularly in regards to his studies of ancient Echidna history, as well as directly studying Project Gizoid, which was created by the Nocturnus Clan Echidnas themselves.
Her overall design is based on the Mother Wisp's colour scheme while translating it into an Echidna form (her fur colour scheme is also accidentally reminiscent of Julie-Su's colour scheme, which is neat!). Her outfit is based on Maria Robotnik's SA2 outfit, I like to emphasize that this kind of clothing is a common garb for those on the ARK. Her shoes and gloves are based loosely on the design of Shadow's Air Shoes and Inhibitor Rings. Her headpiece is inspired by Princess Alucion from the French "Sonic Adventures" comic. The curl in her fringe and her tail is inspired by Yacker's curled antenna. And finally she has freckles on her cheeks, much like Mother Wisp herself, haha!
With her namesake, I thought I'd be a little different; Despite having completely different genetic origins, Professor Gerald's experiment is still going to be titled "Project Shadow" (still keeping the reasoning in the experiment reports explaining the naming scheme behind the project- the reason being that it is actually impossible to create a physical "shadow"). Upon being introduced to Maria as "Project Shadow", she thinks the name sounds icky and doesn't suit her at all, so she calls the young Echidna girl "Proj" for short instead, which ends up sticking.
Anyways, despite being a randomly created character, I have practically fallen in love with her, and have been giving her a lot of attention as a result. So I certainly hope others can appreciate her as well as I do! She's a very nice and unique play on the whole "anti-Shadow" idea as a whole, which is fun to take advantage of. The art itself was fun to do too and didn't take long to do at all, I've since been playing around with going back into my painted style, and finding it much easier and efficient to do now!
Edit 4/7/14:
Just a random update as Proj is now officially a year old!
Edit 4/7/15:
Another update another year later, it's been two years since Proj was made! Where has the time gone!
Edit 4/7/16:
It's Proj's 3rd birthday! My baby girl is growing up (and the years are going by) too fast! ;___;
---

Proj the Echidna - Art Display!I don't normally care for pageviews and whatnot, but it gives me a reason to a make a journal, so whatever! Thanks all for the 50,000 views! Also coincidentally falls on 1,400 watchers, which is pretty neat! So thanks again!
I haven't posted an update on stuff in a while, but I thought it would be worth making a journal. I've been pretty busy over the past few months working my new job as a receptionist, which is rather time-consuming. But it allows me to enjoy my free time much more dearly, which I have been spending on drawing once again! So I will get working on more of my Sonic Expanse related storyline concepts which many are eager to see-- So stay tuned! There also a few commissions from yonks ago that I owe, which I haven't forgotten about.
Also randomly, I've grown very fond of my newest character, Proj the Echidna. So much that I've gone about commissioning art of her from others. So it'd be worth showing off a display of all the great art done of her and ad