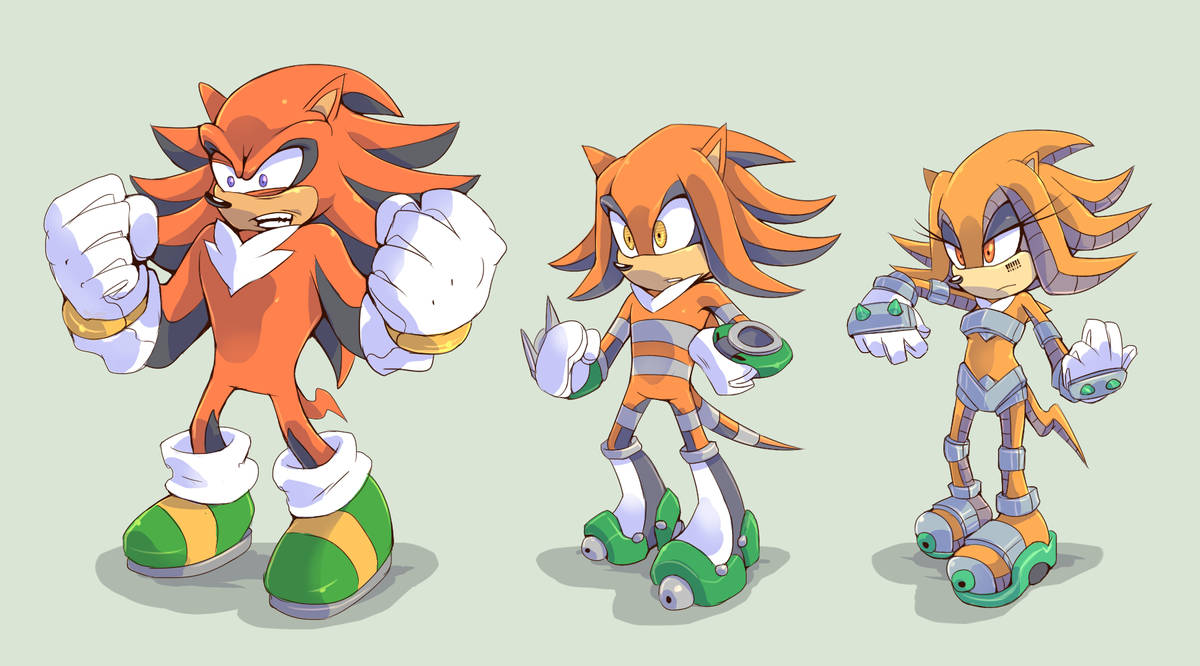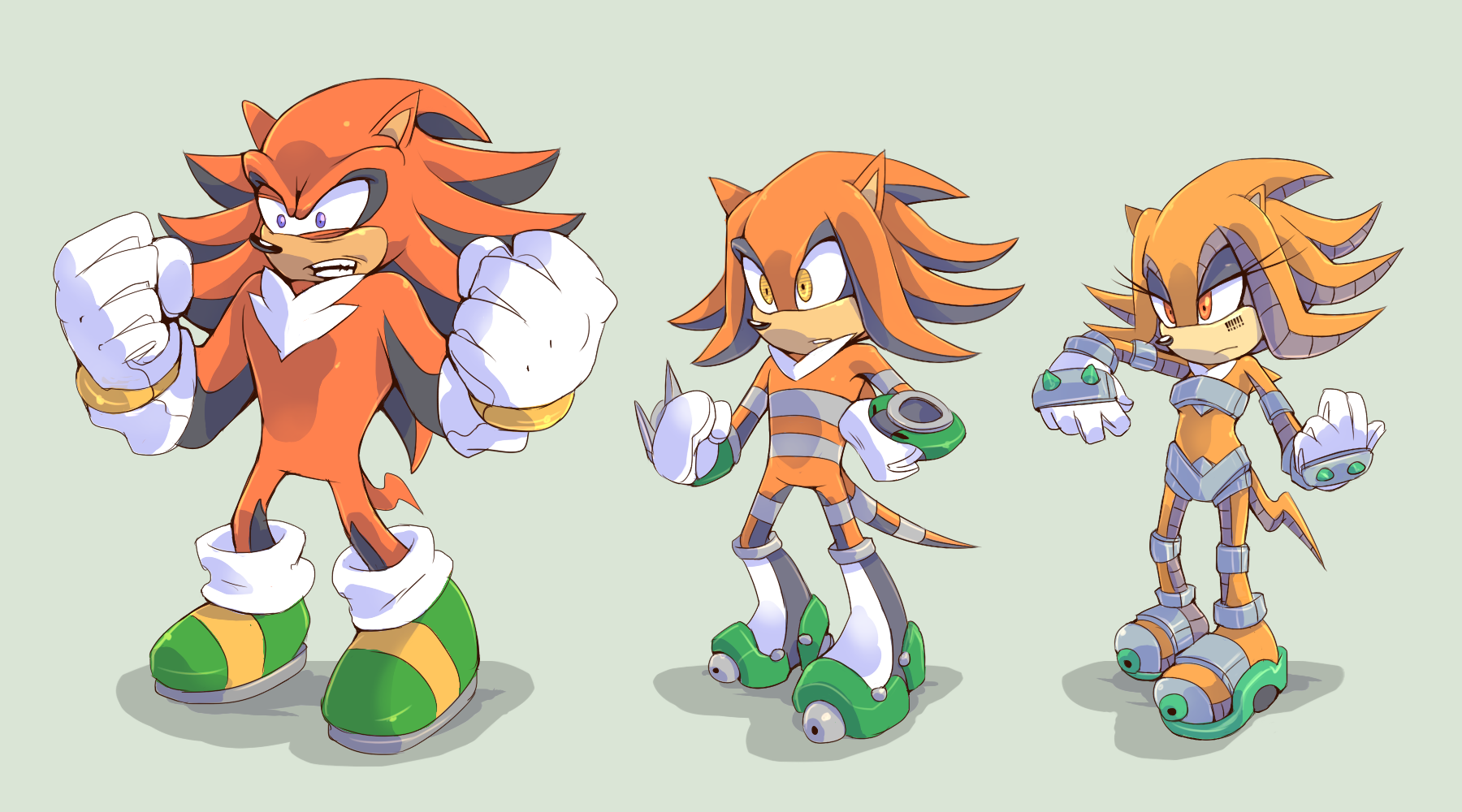 Watch
As per my more recent pieces, I've found a nice style that I've found enjoyable for design presentation, so I'm going to keep using it while I still have the momentum, haha. Here's a design display I've been wanting to do for a while now of characters relating to my Earth-2 future timeline.
[Project Shadow 2.0] - Destiny the Chimera
Most who've followed my gallery would probably be familiar with this old character of mine,
Destiny the Chimera
. For a period of time he was my main focus character, but sadly I don't do as much with him anymore. So
Destiny the Chimera
(center)
is displayed here in this image along with his "siblings",
Kismet the Chimera
(left)
and
Fate the Chimera
(right)
.
I've tweaked Destiny slightly from the above updated design, so as to suit the revisions I've made for Kismet and Fate. Fate is updated from her original design that I posted up back in 2010:
Fate the Chimera - SA Style
. I've created her to be more noticeably evil in appearance and not redeemable by any means, since she's meant to be pretty heartless.
Kismet is the third in the trio, whom I've never done a proper image for. I have however sprited the three together back in 2008:
img.photobucket.com/albums/v12…
His design has changed quite dramatically to suit my more current ideas. You'll notice as well between the three of them there are different tones in their fur colours, when before they all shared the same colour scheme.
So just as a brief run down of the three Chimeras' storyline
(you can read in more detail Destiny's individual origin in the more recent image of him linked above)
, the three of them are created by
Eggman Nega
as artificial genetic hybrids, or
"chimeras",
blended between
Shadow the Hedgehog
's DNA and
Tikal the Echidna
's spiritual essence under the
Project Shadow 2.0
banner.
---
Kismet the Chimera
DNA:ESSENCE Ratio
SHADOW:
75%
TIKAL:
25%
Kismet was created as the very first
stable
prototype in the Project Shadow 2.0 series. For the longest time Eggman Nega had been attempting to physically
clone
Shadow the Hedgehog
as a means of attaining a controllable weapon for himself to rule over the world of the future. But as Shadow himself is a clone of
Black Doom
, all of Nega's results would prove to be unstable failures, with the specimens losing their physical structure after only a short period of life.
After the discovery of
Tikal the Echidna
and her spiritual properties, she was captured by Nega and used in experimentation as the second element in his work. Her essence revealed to have similar mollifying property as the
Master Emerald
itself, making it the perfect counterbalance to Shadow's chaotic Black Arms DNA.
Kismet still retains the same somewhat unstable nature of Shadow's Black Arms DNA, taking on the physical build on the level of a Black Arms warrior. His mental functions are also very hindered, slow to taking in new information and breaking out in fits of rage frequently. Despite being the first stable prototype in the series, Nega deemed Kismet a failure due to his uncontrollable nature. During one of his outbursts, Kismet caused massive damage to Nega's base and escaped into the firey wilderness.
---
Destiny the Chimera
DNA:ESSENCE Ratio
SHADOW:
50%
TIKAL:
50%

Destiny was created as the first
usable
prototype in the Project Shadow 2.0 series. After the "unsuccessful" creation of Kismet, Nega was quick to use his recent findings to begin the next stage in his experiment, giving birth to Destiny. Realizing that even with Tikal's spiritual essence being applied to the cloning process, Shadow's DNA found to be still very chaotic. Extracting more and more from Tikal, Nega aimed to find a balance between the two sides, wanting a working prototype but still wanting to retain the
Ultimate Lifeform
aspects of Shadow whom he is trying to recreate.
In the initial stages of his creation, Destiny's development was very promising. But just like his predecessor, he was also prone to emotional outbursts and mental instability with Destiny experiencing blurred visions and memories of his progenitors. In his outbursts, Destiny would summon the use of his inherited Chaos abilities, however this would also cause deterioration to his own physical body.
To counter this, Nega installed Destiny with cybernetic implants to his brain to enable him more focused control over the vessel, and to counter his unstable Chaos energy output,
Inhibitor Bands
were applied at several points of his body to contain and restrict Chaos energy, disallowing him use of his powers. To make up for his limitations, Destiny's limbs were replaced with artificial ones to focus his strength and speed, and his eyes were replaced with cybernetic implants, to both give Destiny clear vision through Iblis' flames, and to allow Nega insight into Destiny's outlook.
---
Fate the Chimera
DNA:ESSENCE Ratio
SHADOW:
25%
TIKAL:
75%
Fate was created as the
final
and
perfect
stage in the Project Shadow 2.0 series. At some point in Destiny's development, Nega observed that Destiny was beginning to falter and overcome Nega's impants with his developing will. Nega aimed to use Destiny as long as he can while he began the development of the final stage of his experiment. Deciding that while it was his original ideal to recreate his ancestor's work through cloning Shadow, he began to realize that he shouldn't discount the value of the secondary element, turning his focus more towards the spirit
Tikal the Echidna
. His sights were now changed from cloning Shadow to attempting to
clone
Tikal.
Nega creates Fate perfect in his sight, more physically stable than her predecessors, and much more mentally controllable. Fate has full control of her functions, even being able to harness forms of Chaos Control and other Chaos abilities. Despite being completely obedient to Nega's orders, when in the field Fate displays a very ruthless persona, showing no empathy for other living creatures, and in fact takes pleasure in ending life. Fate considers herself the true
Ultimate Lifeform
, considering all other living things as inferior to herself.
One of her first displays of apathy was during an encounter with her prototype, Kismet, whom on sight she set out to terminate him. Instead of destroying him however, Fate would take joy in torturing and toying with the inferior subject, which stirs up Destiny's conscience and leads to his defection from Nega.
---
Anyways, rather fun working on these guys again! So as you can see with redesigning Kismet and Fate and tweaking Destiny, I've created Kismet to appear more like Shadow in features, while Fate is more like Tikal, with Destiny being somewhere in the middle. I'll do more with these guys later, haha. Enjoy!