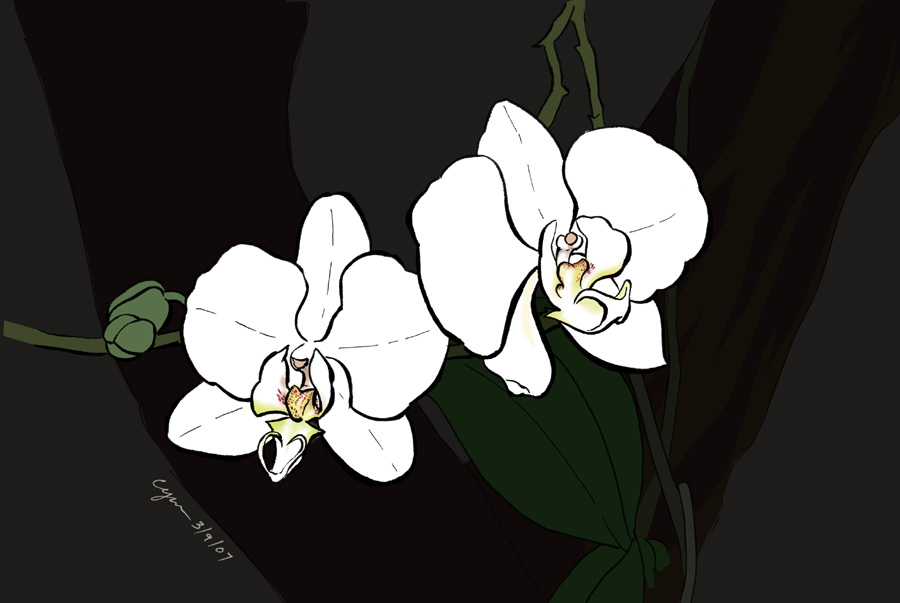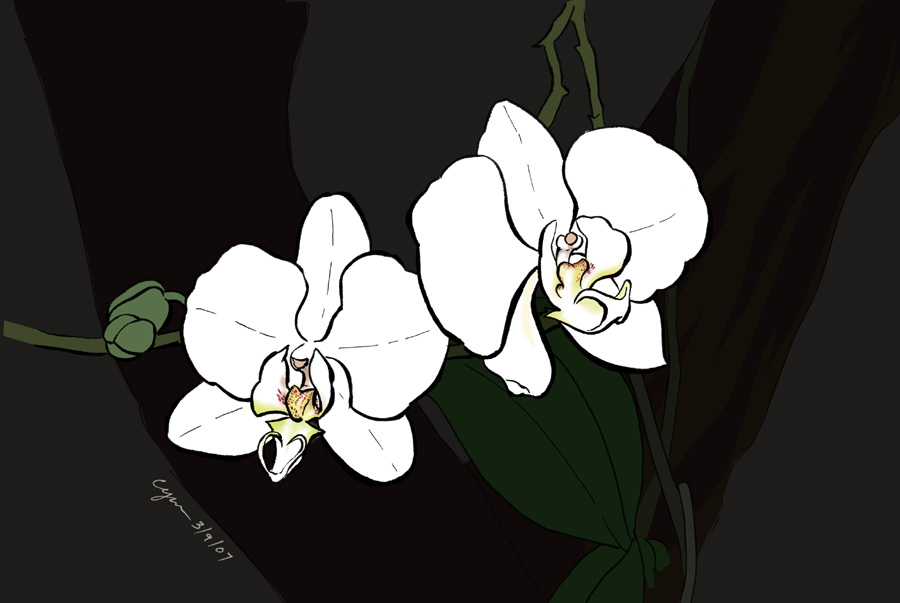 Watch
I've been doing way too many fanarts recently.

I wanted to try something different, bolder with the coloring and lineart, but the end result is still not exactly what I wanted. I guess I'll try again another time. Line art got covered up by the colors, but I actually tried to have a bigger variation in line width to show the spacial relationship between the different elements.

The reference came from the photo I took of our orchids at home.
Reply

Thank you so much for the comment and the fav! Not many people fav my original stuff. Hehehe.
Reply

Flowers <3
I think they are a bit too dead center though.
Reply

In the inked version the flowers are actually more off centered, but after I cg'ed it, I cropped the drawing so the flowers were more centered. Maybe I should have just left it alone. Hehe.
Reply

looks beautiful

i love orchids

Reply

Thanks, Maru!! I love orchids too even though the weirdo Victorians thought orchids are so sexy that they wouldn't allowed the flowers in women's bedrooms. Then again, they saw sexual organs in everything since they were so sexually suppressed. XD
For our wedding I requested the florist to add some orchids and he came through with flying colors. The flowers were gorgeous.

The drawing is actually based on some of the orchids that survived the wedding and now thriving thanks to the cook.
Reply

Heee sexy really? Wow i never thought it like that before hahahaha.. it's very interesting. Good thing u didn't listen to them, orchids are simply pretty

Ur wedding must have been beautiful

Reply

Hahahaha, I didn't come up with that; the Victorians did. XD Technically speaking, flowers are the sex organs of plants, but I don't think of people's when I look at flowers. Orchids are indeed very pretty. Did you see my wedding pics? I have it somewhere online. I'll email or send you a note with the url later.

Reply

That's just beautiful @_@
Reply