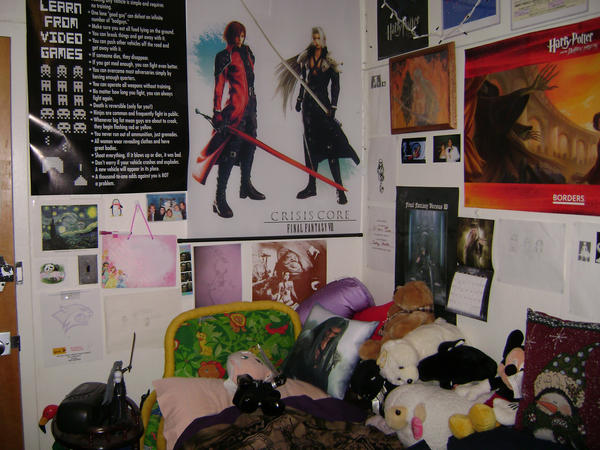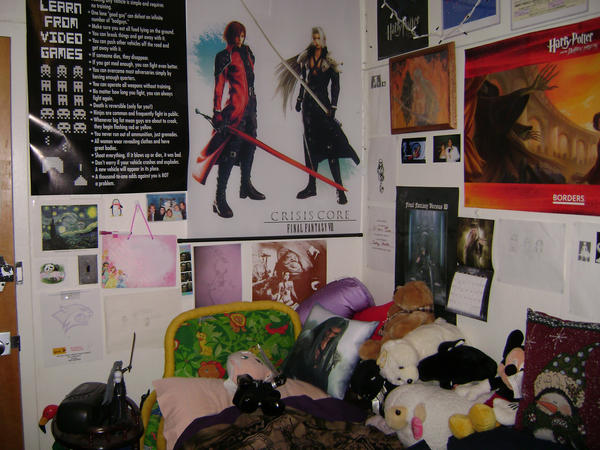 Watch
This is arguably art, because decorating this was no easy task, and somehow I made everything work. So this is my humble little abode. It's about the size of a shoebox, but it's all mine (ie no roommate! I live in a single). My room is a funny shape, so I couldn't get the whole thing in one shot. But here's a picture of some of the area by my bed. You probably notivced the Sephiroth Crisis Core wall scroll above my pillow. I also have a Sephiroth plushie, a Sephiroth pillow, a Sephiroth figure on my nightstand next to my clock, a Final Fantasy XIII poster, and a painting of Sephiroth that
painted for me for my birthday. I also have some miscellaneous posters, including a couple of Harry Potter and some Star Wars. And ya, I know, I have a lot of pillows and stuffed animals. What can I say? I love cushions and soft things. Oh, and yes, that is an Ancient Egyptian bedspread.

Reply

OMG! I

love your room! It is so awesome!!!

Reply

I wish I had gotten one of those HP 7 posters. It looks awesome! Your room too

!
Reply

Thank you! Yes, those posters are awesome. I was so mad though when one of the ends got crunched during the scramble of move-in day last year. It was rolled up, and one of the ends got crunched. I was mad, but oh well. It's not that noticeable anymore. But thanks for the comment, and glad you like my decorating!
Reply

Hey, I know that room

lol. You like taking pictures much?
Whee!

Reply

lol, yes, I am obsessed with my camera. and you should know this room, cause you've spent enough friggen time in it this year! lol.
Reply

Reply

its my birthday today

and cool room
Reply