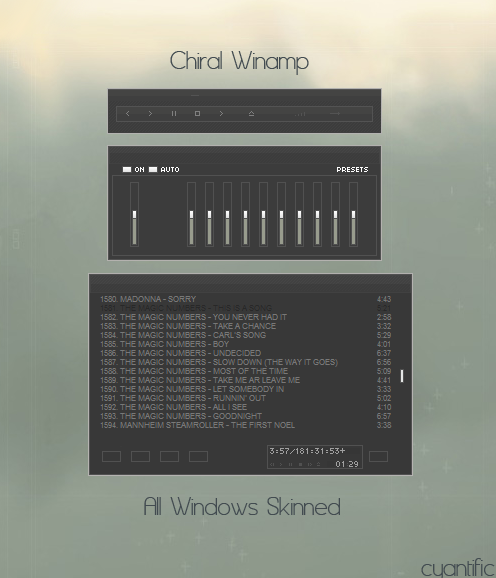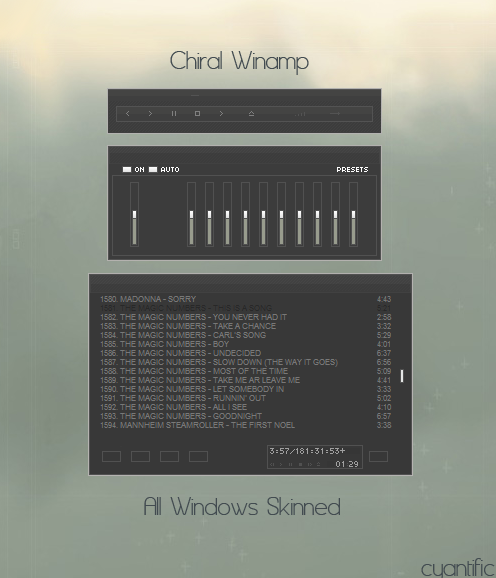 Watch
The Chiral Winamp.

To accompany my Chiral visual style.



Not a part of the Oneiro Lucid Suite.

how do i adjust the volume from the player?
Reply

Classic.
Will always come back to this!
Reply

I'm getting a folder with the skin's particular files, but I'm not getting any installation files for this skin. :/
Reply

nice

Reply

It fits in with my darker theme, but still stands out enough to be usable. Great stuff
Reply

Reply

I'm really not sure what you mean. My guess is that you have never used this type of minimal theme. You can't drag the top of the skin...thats the seek bar. Anywhere outside the buttons and below the seek bar can be used to drag. The buttons are spot on as far as alignment and the seek bar thumb is supposed to be discrete. I have been using this skin for months now, and it definitely doesn't "suck to use."

If you have any experience whatsoever with minimal winamp skins you should have no trouble using this. But, if you are jumping right off of classic fullscale skins it might take some practice.
Reply

That is one beautiful skin.

Reply

only thing ive found I dont like about this skin is that its easy to hit the seeking bar on accident when I try to drag the window.

other than that, I thouroghly enjoy it.

Reply

That is very slick. Love the simplicity

Reply

Reply

Great job, man. Minimal without being too simple; I also love how you shortened the main window. I'll definitely try this out.

Reply