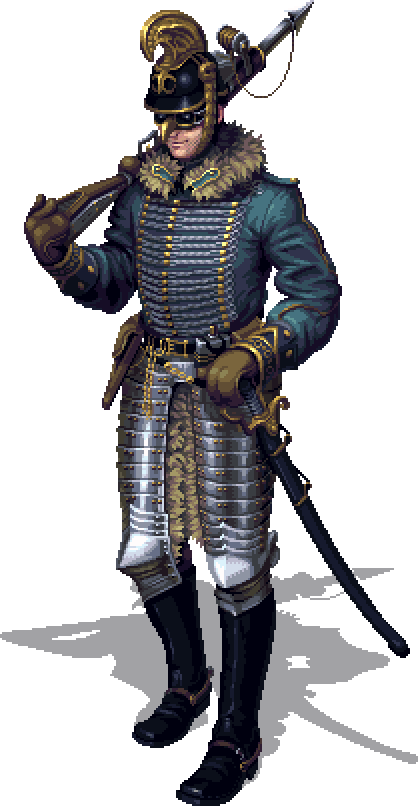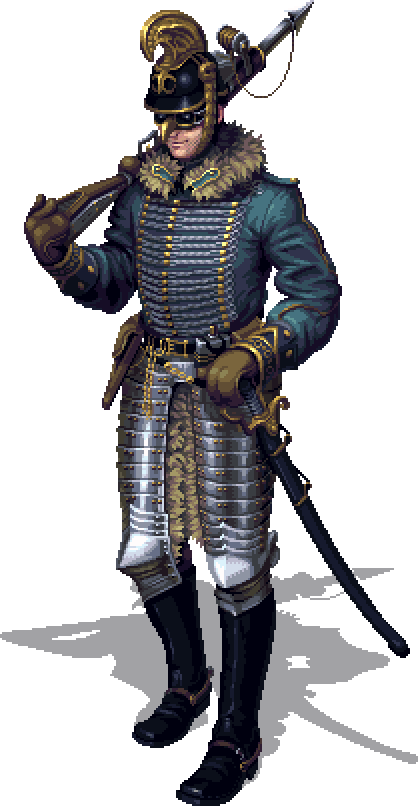 personal pixel art illustration

60 colors

Description:

When the big war started the Imperial Riding School, as many other things was militarized. Acrobatical and ceremonial riders, having perfected their skill soon were used as scouts under the name "Owls". Nowadays everyone partaking in the war has to have gone though basic military training, before those willing to take the heavily specialized training of mounted marksmanship.
The Owl Guard's inventory consists of basic weapons such as a knife and pistol. They have also been equipped with harpoons, allowing them to pin enemy vehicles, immobilizing them, or dragging them around. They can setup tripwires spanning large areas, changing the control of a battlefield within minutes.
In the cold of the north their equipment had to be adapted like any other unit. Well-fed boots, armor and jackets are a must for everyone. Their collars can of course be popped, and together with their goggles and nose protection will cover the entire face from the high speeds on horseback. Their rig is finalized by three-fingered gloves, a must for any cavalier in the cold.

what the pixel size of this? 100 x 100 ? 200 x 200? can u answer? X)))))) lov this work
Reply

All the little details! Ugh. This is gorgeous.
Reply

Reply

Simply amazing detail, my god it's like a photo.
Reply

yeah realistic styles tend to have a lot of details. Realistic pixel art howeve rlooks sharper than photographs, pretty unique in terms of style, even compared to paintings.
Reply

I agree completely, I do a lot of PA myself just not photo-realism. I like paintings more for that, but I'm always amazed by Realistic Pixels, the detail and patience.
Reply

I love your work so so so so much.
Reply

You should make game. I'll definitely buy it.
Reply

This is stunning, I hope I get this good someday
Reply

Reply